Our family's 2017 goal is to visit all of the Waukesha County Parks in one year.  So we set out to visit the 11 Waukesha County Parks on this list: Click here to find a Waukesha County Park.
The adventure continues
Naga-Waukee Park is located at 651 Hwy 83, Hartland, WI 53029.  It includes 296 acres.  Amenities here include swimming, hiking, camping, geocaching, bicycling, volleyball, fishing, boating and golfing.
Park Hours: Sunrise to 10 pm (Year-Round)
Swimming Hours: 11 am to 7 pm (weather permitting)
Naga-Waukee Park admission can be found in the Fees and Admission section of the Waukesha County Parks post here.  A county park day or annual pass is required.  If the entrance booth is unattended, place your cash or check payment in an envelope, drop it in the box, and place the envelope stub on your dashboard as proof of payment.  If you get an annual sticker and no attendant is available, then it will be mailed to you.
County park attendants check the parking lot regularly to ensure that all vehicles have an annual or day pass, so be sure to have yours on display.
What we packed
Family
Frisbee
Sunscreen
Bug spray
Hats
Watermelon
Water
This is a park that most of our family has visited, but we never explored the beach area.  We parked at the parking lot near the lake access and walked down to the beach.  We enjoyed a nice shaded walk down the stairs to the beach.  We did not have any problems with mosquitoes this August afternoon.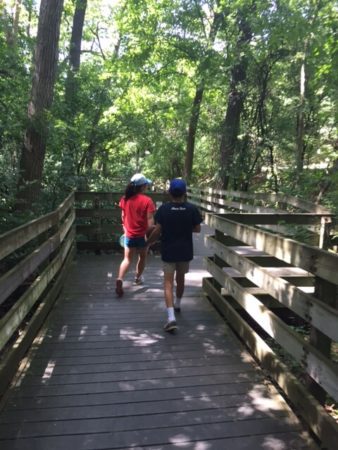 We were rewarded at the bottom of the hill with concessions, a playground, beach, and boat launch area.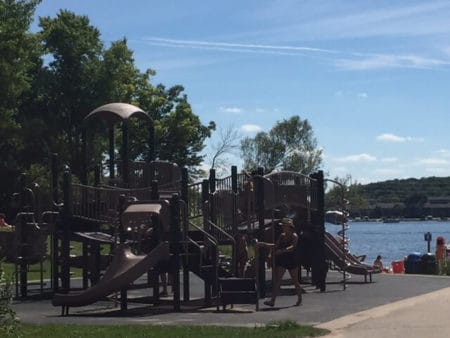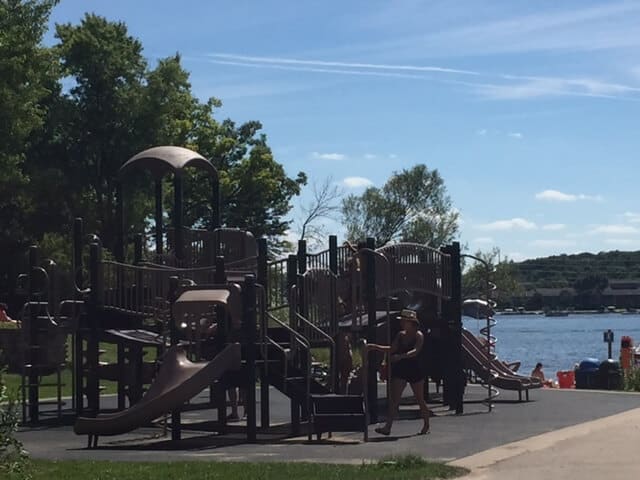 This beach has a lifeguard and was filled with people of all ages.  The lifeguards may conduct safety checks at 1:00 PM, 3:00PM, and 5:00PM. During this time, everyone leaves the water for twenty minutes.  If you follow the boardwalk at the beach, then you end up at the boat launch.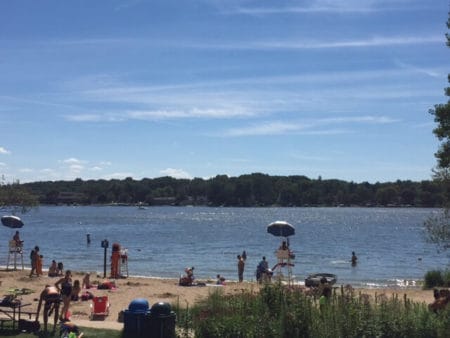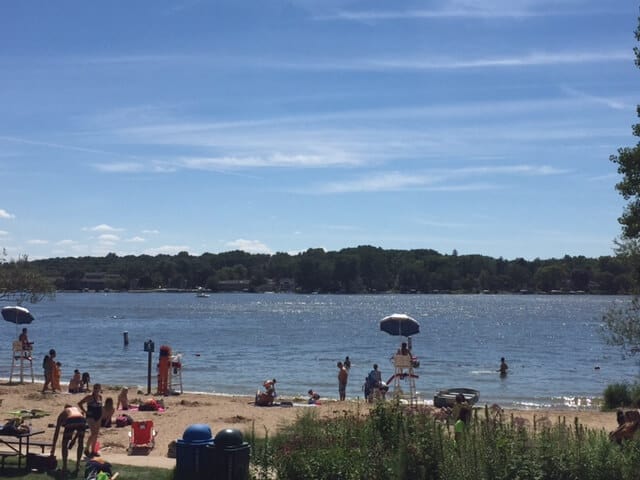 We trekked back up the hill and made our way to the main park entrance to toss our frisbee.  We had the entire field to the right of the main entrance all to ourselves.  Through our various park adventures, our frisbee skills are definitely improving.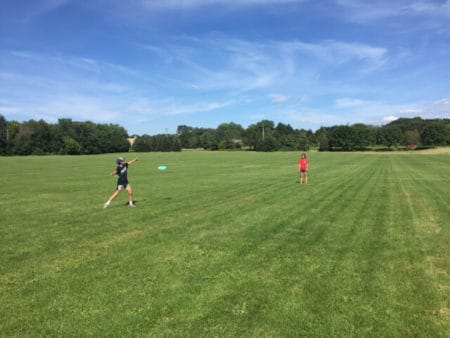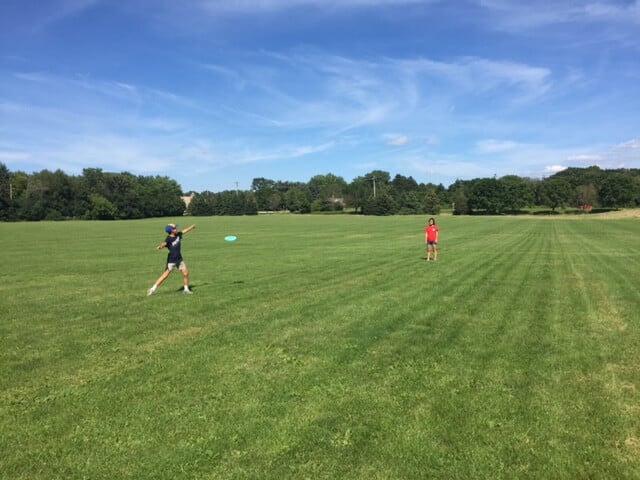 This field is also home to a pop up beer garden during the summer.
Ahoy matey!
If you are planning to take your boat, the lake access entrance is 1345 Mariner Dr, Hartland, WI 53029.  This is north of the Naga-Waukee Park entrance.  You will need an annual or daily lake access pass, which is available online or on site.  Park attendants radio between the lake access entrance area and the lake to ensure the that the lake launch area is not overcrowded.  On busy days, you may have to wait in line at lake access entrance area at the top of the hill in order to launch your boat.
Fishing is an option at Naga-Waukee Park.  Those under the age of 15 do not need a fishing license in the state of Wisconsin.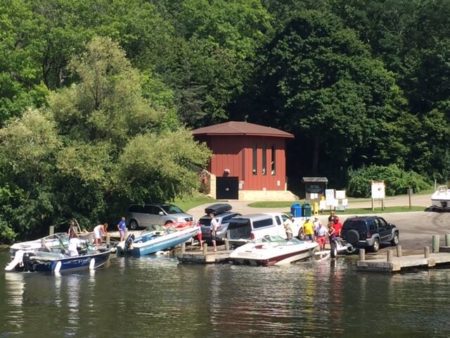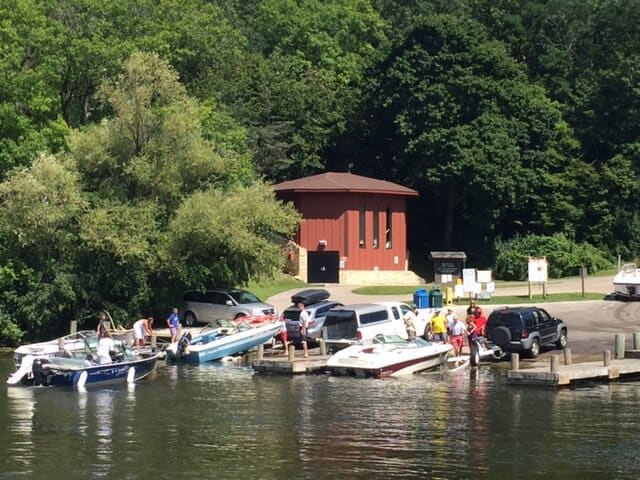 Camping
Naga-Waukee Park offers group and family camping sites. Reservations can be made online.  If your family is looking to expand your camping options outside of your background, then this would be an ideal first camping adventures.  The park is close to big box stores at Hwy 83 and Interstate 94, in case something wasn't packed or you need supplies quickly.
Firewood is available for purchase on site and the attendants drive through the park with it in a pick up truck.
Fore!
Just east of Naga-Waukee Park is the  Naga-Waukee War Memorial Golf Course at W307 N1897 Maple Avenue, Pewaukee, WI 53072.  These 200 acres were transformed by golf course architect Lawrence Packard into an 18-hole course to take advantage of the Kettle Moraine geography and view of Pewaukee Lake.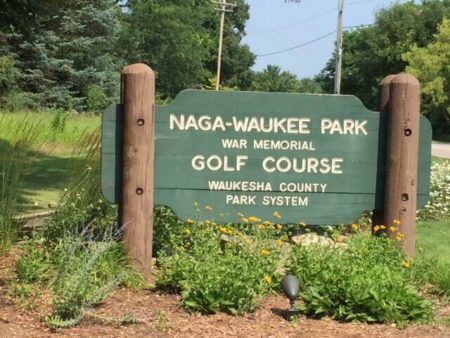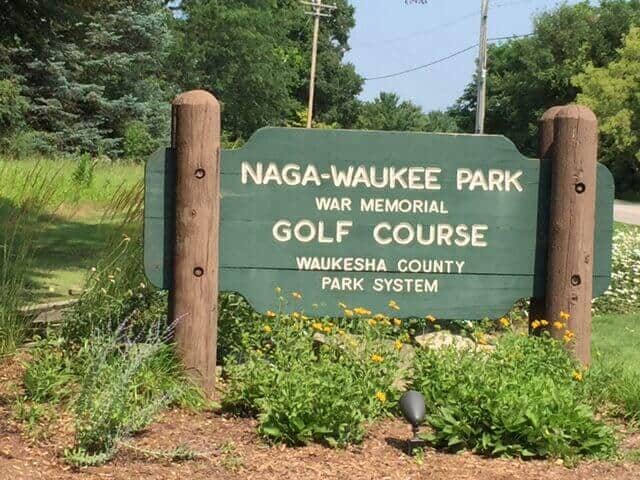 I'm glad we had the chance to explore the water and fields on such a beautiful summer day in Lake Country.  We hope that you get out to Naga-Waukee Park too because it really has a lot to offer the entire family.
Four Waukesha County parks down, seven to go!
Please read about Jann's other adventures here.
—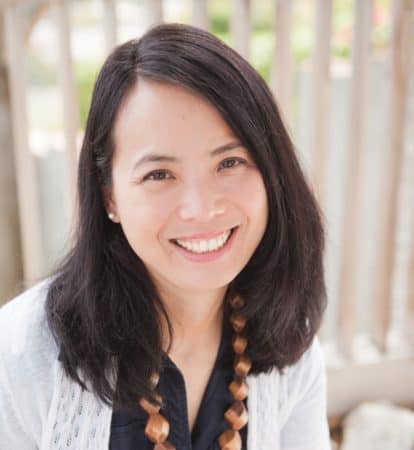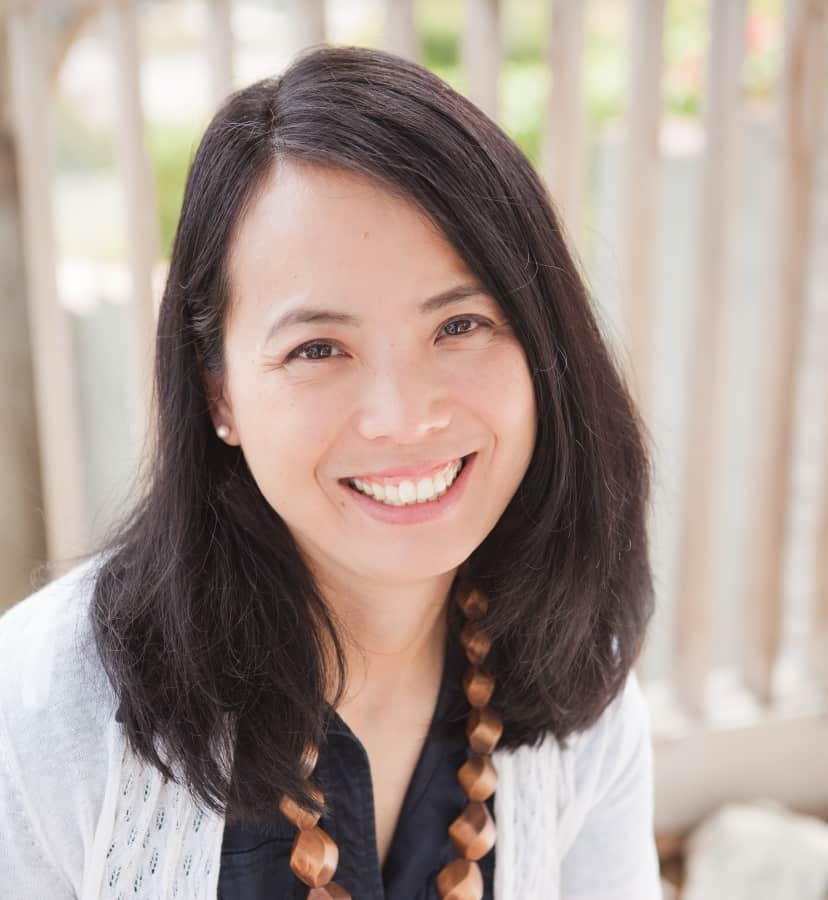 Jann Fujimoto is a wife, mom to two, and speech-language pathologist.  Her family has lived in Lake Country for 10 years,  the longest she has ever lived in any one place.  She enjoys traveling, reading, and gardening at the Fuji Farm, which in reality is a couple of raised garden beds in the backyard.