Oconomowoc Festival Week is a week that we look forward to every year! There are so many things to do that keep the whole family entertained. The week starts with Kids Fest at Roosevelt Park and Kids Day at the Beach on Tuesday, August 14th and ends with the Festival of the Arts over the weekend on August 18th and 19th. If you are looking for a rundown of the schedule of events, please see below and follow the links for all the details on each specific activity.
Oconomowoc Festival Week Schedule
Tuesday, August 13th
Oconomowoc Kids Fest is a great way to get out in the morning and start your day with fun!
Need some afternoon plans? Head to the beach for Oconomowoc Kids Day at the Beach. Be sure to get in on the sandcastle contest.
Wednesday, August 14th
Start your evening by relaxing with some Yoga on the Green from 6:00 pm to 7:00 pm.
Then, head over to the bandshell at City Beach for the American Legion Band Concert at 7:30 pm.
Thursday, August 15th
Moonlit Movies is Thursday night in downtown Oconomowoc. Bring your family early to check out the pre-movie festivities. The movie will be released closer to the date.
Friday, August 16th
Then catch the last Bands at the Beach concert at City Beach and enjoy a summer evening out!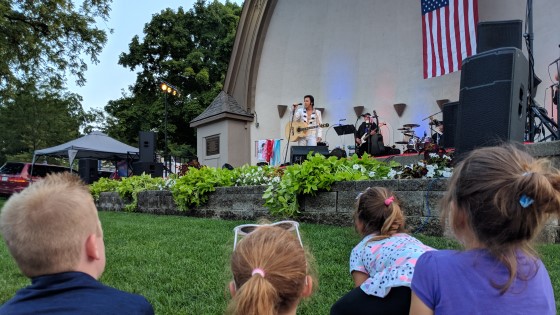 Saturday, August 17th
Start your Saturday out with the Oconomowoc Farmer's Market.
Then, be sure to check out the largest Art Festival in the area at Fowler Park. Oconomowoc Festival of the Arts will not disappoint. There is food, music, performances, a children's art area, and LOTS of art to peruse and purchase.
Have you taken the Fowler Lake Pontoon Boat Shuttle to the Festival of the Arts? It is a favorite memory-making event of ours. The shuttle runs from 10:00 am to 5:00 pm on Saturday and Sunday for the Festival of the Arts.
What better way to spend a Saturday summer night than with a Light Up the Lake Boat Parade on Lac La Belle?! View the parade from City Beach. The Boat Parade lines up at dusk, followed by fireworks.
Sunday, August 18th
Sunday continues at the Oconomowoc Festival of the Arts as well as the Fowler Lake Pontoon Boat Shuttle.
What is your favorite event of the week?