If you've been following along, you know that a few weekends ago we completed our raised garden bed, but have been holding out on planting because of frost warnings. Catch up here. We did decide to start by planting some flowers in pots for our patio and the front of our house. We also determined that we should plant our herbs in a separate planter box so we can keep a closer eye on them and also so we have the ability to move them if the sun gets too intense. We were able to use the same planter we used last year – which we keep on the patio for easy access to the herbs.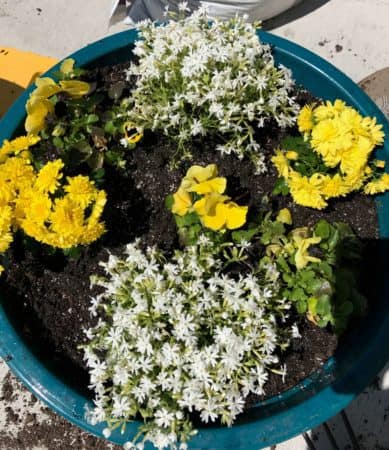 We are most likely pushing the actual planting until the weekend after Memorial Day. This upcoming weekend looks like rain, and we are traveling to Denver for a family wedding for the holiday weekend so the first weekend in June will be planting day! I've been doing a lot of thinking about the types of veggies we're going to grow this year. It's important to be sure we will actually use them in lots of recipes or eat them raw so I'm trying to choose wisely. Being a first-timer – I'm going with vegetables that are pretty simple to grow and typically are bountiful for our area. Here's our shortlist, and some growing tips for anyone else that's interested!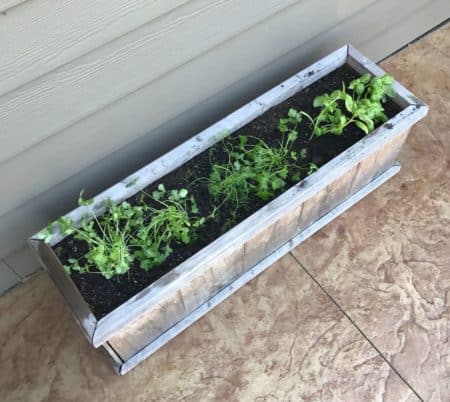 Tomatoes
From what I've read, tomatoes need at least 6 to 8 hours of sun to bring out their best flavors. Because the fruits get heavy, and the plant grows straight up, it's a good idea to stake, trellis, or cage most tomato plants to keep them off the ground. Luckily, my mom brought over some of her tomato cages last weekend, so we'll be adding these to the tomato plants.
Green Beans/Snap Peas
We are also planning on using a couple of trellises for both the beans and peas, because the plants like to spread out and attach to something, plus this makes it a lot easier to harvest the vegetables when they're off the ground. We're planning on planting these on the outermost edges of the garden for easy access. Make sure to plant your beans about 6-7 inches apart to give them enough room to grow.
Bell Peppers/Jalapenos
Peppers are so versatile, I'm looking forward to growing them this season! Typically grown in pots, they need a little extra support just like tomatoes do. We may end up using a cage or two or stake them up while they get started. Fun fact: did you know that red bell peppers and green are the same plant? The red peppers have just been allowed to ripen longer on the vine! Jalapenos are great for homemade salsas, guacamole and spicing up just about any recipe there is. We've grown them in pots in the past, and I always find that home grown peppers are way spicer than those we find in the grocery store, so proceed with caution! 😉
Zucchini/Yellow Squash
For both of these, you'll need a lot of space, because they tend to really spread out and are a plentiful veggie, so you'll likely have extra to share. I'm so excited to plant these for my zoodle dishes this summer! With plenty of sun and water, these plants grow quickly and you will have a great harvest by July/August.
Cucumbers
Who doesn't love cucumbers in summertime? Casey and I like to slice and soak them in a little salt water in the fridge for a few hours – they come out crunchy and delicious, the perfect cool treat. If I find success with growing these guys, I may even try my hand at making some homemade pickles. We recently found out how much Dane likes them, and it would be great to know what he's eating is homegrown!
—
Lastly, I wanted to tell you about this great website I found that helped me plot out our garden by square foot. It's super easy to plug in your size and add the different fruits and vegetables you're planning on planting. It also shows you how many plants one square foot can accommodate properly. You can see that tomatoes, zucchini and cucumbers need a bit more room than plants like peas and beans. Casey and I are considering marking each foot on the garden frame to keep us organized. Check it out for yourself and let me know if you have any other tips that might be helpful!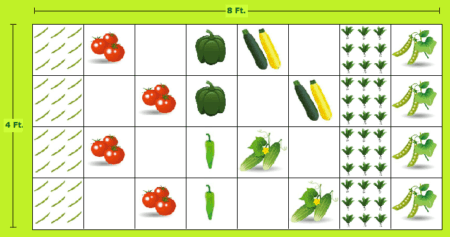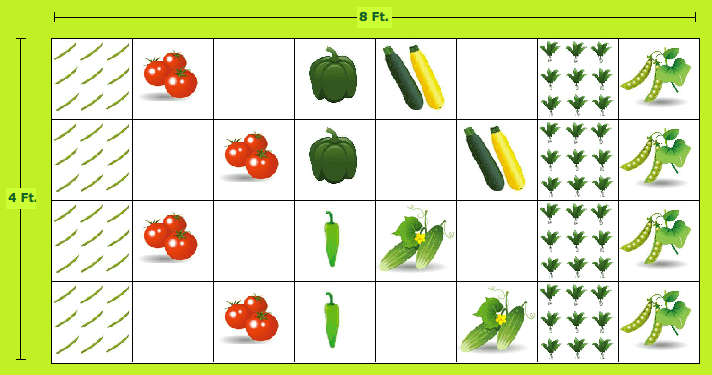 -Martha
Instagram: @marthaherdy
—
Garden Series:
Gardening Newbie: Where to start