May is Water Safety Month – 6 Tips
According to the CDC, Drowning is the number one cause of accidental death for children ages one through four. America has deemed May as National Water Safety Month, a time to educate and raise awareness of a silent, but deadly killer.
"Having a designated time devoted to promote and teach our country water safety is so important, especially seeing that drowning takes 3,500 lives annually," stated Rita Goldberg, former professional swimmer and CEO and founder of British Swim School, the pioneer of gentle, non-traditional infant water safety programs.
Read more information on water safety here, including six water safety tips! The tips, in short, state this:
Water Watchers –  obvious, constant and active supervision; designate a water watcher
Flotation Device vs. Toys – the only devices to be used for safety are life jackets approved by the US Coast Guard; remember that no device replaces supervision
Barriers – backyard pools require four-sided isolation fence with self-closing and self-latching gates
Communication – talk to children about importance of water safety; have them take a pledge
Swim Lessons –  children are safer when they master swimming skills at an early age
Know the Symptoms – remain vigilant for 24 hours after a close call in water because dry and secondary drowning can occur
What is British Swim School?
Rita Goldberg founded British Swim School in 1981 and remains CEO. Goldberg's methodology has evolved over the last 35 years, but began by teaching water safety survival skills to children as young as three months old. The back float is considered the most important water survival skill, as it enables swimmers to rest, breathe and call for help, alleviating the "silent" danger of floating face down.
The organization holds more than 9,000 lessons per week nationally and conducted nearly a half million swimming lessons in 2016. Lessons are available for babies, children and adults.
British Swim School ranked 309 in the Entrepreneur Franchise 500 in 2017, as well as Top 50 New Franchises, and Top 10 Types of Franchises to Watch. British Swim School aligns itself with Stop Drowning Now and Pool Safely, which both share its mission to protect every life from drowning through education and water safety awareness.
Levels
There are several levels of swimmers.  You can find the entire list here including criteria. They include:
Tadpole- 3 months old to 3 years old – Mommy&Me style class which helps children become acclimated to the water environment

Swimboree- 3 months old to 3 years old – The second level of a Mommy&Me style class which will focus on muscle memory techniques for water survival

Seahorse- 18 months old to 3 years old – Parent assisted program will help your child grow their independence and get ready for independent water study

Starfish- 3 year old to 12 years old – The first steps for new student where we focus on gentle water acclimation

Minnow- 3 year old to 12 years old – The water survival course work will focus on teaching your child techniques that could one day save their lives

Turtle 1- 3 year old to 12 years old – This level starts working on forward and backward propulsion in the water

Turtle 2- 3 year old to 12 years old – This level introduces your children to the 4 strokes

Shark 1- 3 year old to 12 years old – Shark courses begin the refining of the 4 strokes and endurance

Shark 2- 3 year old to 12 years old – Shark 2 is all about distance, endurance and fine-tuning of your children's strokes – getting them ready for team (Known as our pre-team level)

Barracudas Swim Team- Small team competition within the school and working on starts, flips, and keeping personal bests

Adult- Beginner to Advanced, the small class sizes for adults are 2:1 and focused on tailoring the aquatics program for each individual's goals

Special Abilities Program- Private or Group as recommended based on each child's ability level – BSS has an adaptive aquatics program that can be tailored to each child
Wisconsin Locations
British Swim School has ARRIVED in WISCONSIN!!! Headquartered in Fort Lauderdale, Fla., British Swim School is a franchise organization currently operating over 130 schools in nearly 20 states in the U.S.
There are 3 nearby locations and one is in Lake Country.
My Review
My son Quinton (5) received lessons in the Minnow group in return for a fair review from me, his mother.  What I like about British Swim School is:
They teach safety and survival first, and swimming skill development second. My son is a fish in the water, but honestly, if he fell in the deep end, I don't think he has the skills for survival yet. I liked the survival focus and I can already see the difference.
British Swim School teaches back floating before swimming. They say that the back float is the ultimate survival skill. Throughout the class, my son was able to float within a few classes!  Imagine that.
Their website has easy scheduling and they get you set up in their electronic system where you can manage your account, classes, etc. It's up to par technology-wise.
Small class sizes were helpful for Quinton to learn quickly with dedicated attention.
Work Hard / Play Hard approach – The class times are 30 minutes, which was perfect for him. The class was working hard (in a fun way) on essentials for 25 minutes and the last 5 minutes was fun/play time. Quinton loved the play time so much, he had the biggest smiles!
We were both very happy with our experience with the British Swim School for lessons and will continue with them.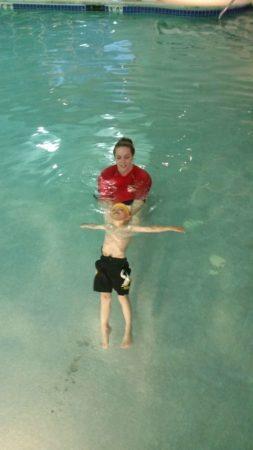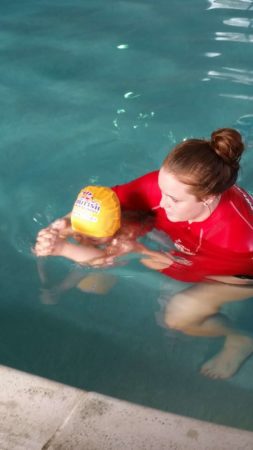 Details and DEAL for You!
There is summer deal for new families! 20% off lessons in June, July and August!
For more frequently asked questions about the British Swim School, click here. You may also email or call them for more information at: goswimmilwaukeesw@britishswimschool.com or 262-312-2678.
Safe Swimming!