Howdy!  For those of you who don't know I am Melissa, the owner and founder of Lake Country Family Fun.  I am a Mom to 4 beautiful children (3 boys, and 1 girl) who are from age 8 all the way down to 3 years old.  They have always been my first priority in my life, they are the reason I get up in the morning and the reason I also need tons of coffee! To learn even more about Melissa, click here!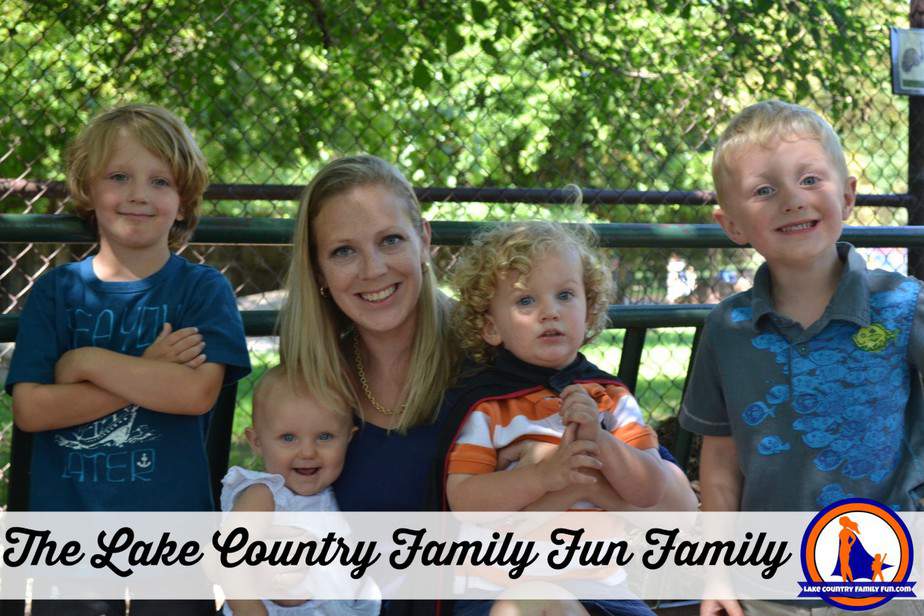 I am from Annapolis, Maryland and ended up living in the Lake Country of Wisconsin with my husband who grew up in Oconomowoc and went to college at Madison.  As odd as it sounds I am not surprised I ended up here, it seems as if it were fate.  As a child my Dad would travel often to Madison for work and just raved about the beauty of Wisconsin and always wanted us to come up here for a vacation.  My father passed away in January of 2001, but I feel him with me often as I travel around and hear the clink of the lines on the masts of the sailboats, and when I take the kids to Memorial Union Terrace and we eat our ice cream, he is with me.
I feel that the Waukesha County area is my home now.  I love raising my children here, there is always something to do.  But when I first moved here, I didn't feel that to be the case, I couldn't find a resource that wasn't overwhelming with information and updated regularly and specifically for the area that I lived in.  From that realization, Lake Country Family Fun was born.  After about a year of filling my calendar with fun events, I wanted to be creating fun, not just letting people know where to find it.  I formed an LLC for Lake Country Family Fun and started my first event, Oconomowoc's Annual Costume Swap in 2012.  Since then I also founded Hartland Kids Day, an annual event,  in 2013 where Nixon Park is filled with everything a family would need, and of course fun!
I do want to clear up a few misconceptions about my site and many others like mine, but mind you I am only speaking for my own sites.
Most of my posts are paid for by businesses that are mentioned in them.  FALSE, while I do have some sponsored advertising within the blog, it is not my main focus and I abide by all FCC regulations and state that they are sponsored.  I am very selective about who I do business with, and if I don't see it as a good fit, I wouldn't accept something that you wouldn't be interested in, or that I personally didn't think was a good product or company.
Lake Country Family Fun makes a TON of money.  FALSE, while I do make money with the site I have NEVER taken a paycheck.  Yes, you read that right.  I keep the money in the bank and use it to create more fun events from the funds. There is no filtering from a PayPal account into my own pockets.  That is how Oconomowoc's Costume Swap was started, as well as Hartland Kids Day.
The pictures on Lake Country Family Fun are just stock photos.  FALSE, I take my own photographs for the most part and the others are available under the creative commons licensing.  So if you see a photo more than likely I was there at some point or have permission to use.  Please do not take my photographs from my site, it is a form of stealing.  If you would like to talk about licensing my photographs please contact me.
It is not a real job since it is just online.  FALSE, I spend countless hours making sure the calendar is full, I go to each website and vet all the information to have the most accurate information for my followers.  I do make mistakes, and I do miss events.  I am human after all.
I have a crazy life/schedule and must be insane.  TRUE, I have three children in soccer, two in tae kwon do, my own business, 4 kids, 2 dogs and a husband who travels for work.  My husband is a board member for a local non-profit, and I am a board member for one non-profit, and a committee member for another.  So, yes it is crazy, but we have a method to manage the chaos, and luckily everyone knows to more than likely expect us to show up with at least one kid where ever we go.
My life is perfect and everything must be so in place!  FALSE, my house always has dirty dishes in constant rotation, as soon as they are washed there are more.  There is dog hair constantly flying that I can't control and my floors always need to be mopped, lets not get into the bathrooms with 3 boys either please.  I am constantly battling my housework, yard work, and my business work and having fun.
I hope this gives you a little insight on what I am really about, Lake Country Family Fun is really about.  I love what I do, my family and the community around us.  I am constantly coming up with new ideas, and I am always open to your ideas as well.  If you would like to contribute to Lake Country Family Fun we are always looking for other parents in the area who have something to say!
"Life moves pretty fast. If you don't stop and look around once in a while, you could miss it."
Thanks for reading,
Melissa