Mama D's is turning 10 on May 10th!! Happy anniversary!!  
1000x thank you to:
Alisha "Peachy" Worden – our manager of Wales SINCE DAY ONE
Leslie Bley – our original landlord and now baker-extraordinaire)
Lynn Deabler – our amazing CPA
Michael of Three Brothers
Robb Kashevarof of Valentine Coffee 
Tim and Jim of The Soup Brothers 
Tracey Catarozoli of Sally's Sweet Shoppe
Truly, this community is a treasure. Thank you for continuing to make it bloom and grow! 
Will you pop in and help them celebrate?!
No compensation was received in exchange for this visit. All opinions are my own.
Upon seeing that Mama D's, the presenting sponsor of the Lake Country Family Fun Coffee Shop Guide, had multiple locations, I decided that I'd visit just one for my tour de coffee guide sponsors. I visited their Waukesha location, which I later learned was their smallest location.
Wouldn't you know that in December I attended a party and the first gift opened at a white elephant exchange was a gift card from Mama D's! A few thoughts went through my head while I (impatiently) waited for my turn: 1) I am totally going to "steal" the gift card and 2) Who doesn't want a gift card for a local coffee shop? To my surprise, none of the other eight people before me stole the gift card and the person I stole the gift card from seemed relieved, so it was a win-win.
Erin mentioned that the Wales location was along the Glacial Drumlin Trail and an awesome shop, so armed with this information and a gift card, I decided to visit Mama D's in Wales.
Exploring in my own backyard
I looked on a map to figure out where Main Street in Wales was because I couldn't picture it. When I turned on Main Street from Hwy 83 and passed a church and homes with beautiful architecture, I realized I couldn't picture it because I'd never been there in my 13 years of living in Lake Country. I even explored the surrounding roads afterward, nope…it was all new to me.
You'll find vehicle parking in marked parallel parking spaces on the street, and you'll also find parking in a lot across the street. There is no parking lot behind the building.
Mama D's in Wales has ample outdoor seating. It was blanketed with beautiful snowfall received over the weekend, but I can imagine it being full of hikers and bikers during warmer months as they take a break from the Glacial Drumlin Trail.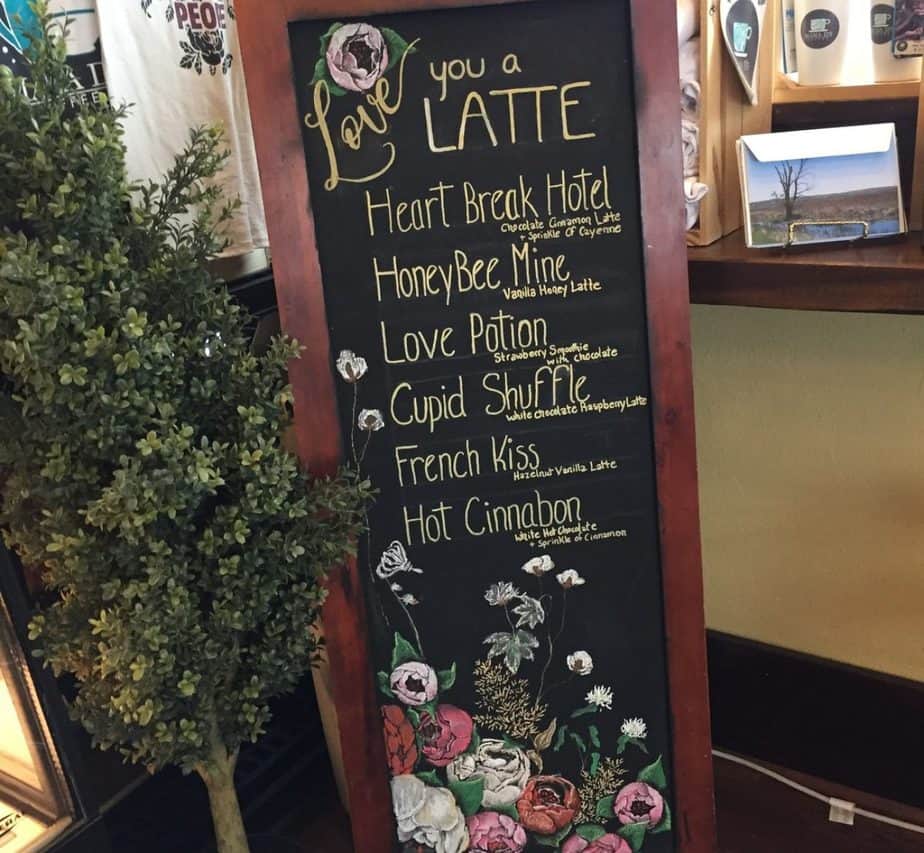 The screen door on the entrance reminded me of the entrance to the 1863 Saloon, but instead of stepping down, you have to climb a few steps. Just like the Mama D's Waukesha location, you'll find their menu hand-lettered on signage behind and by the counter. Regulars can pick up their frequent coffee punch card in a box at the counter.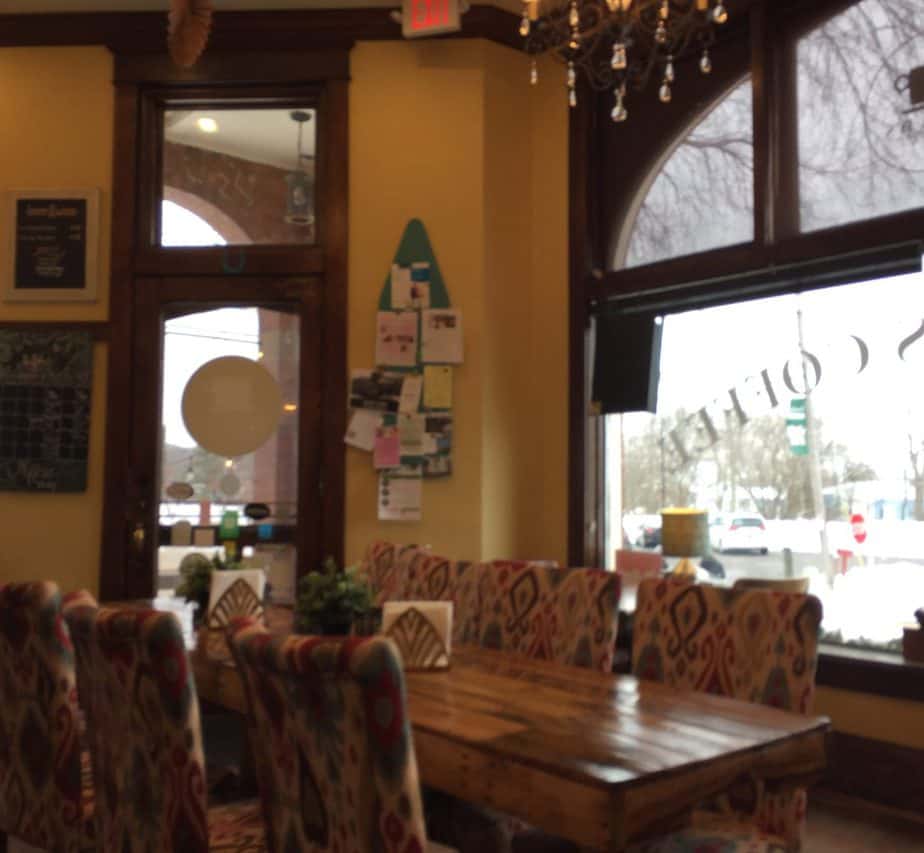 Since it's close to the Glacial Drumlin Trail, they have a variety of grab and go type snacks like power bars, nuts, and candies available to help people fuel their treks. You'll also find coffee from Valentine Coffee, soup from The Soup Market, ice cream from Mullen's Dairy Bar, and tea from Rishi Tea. Besides the assorted coffee drinks, smoothies, and ice storms available, they sell beer and wine.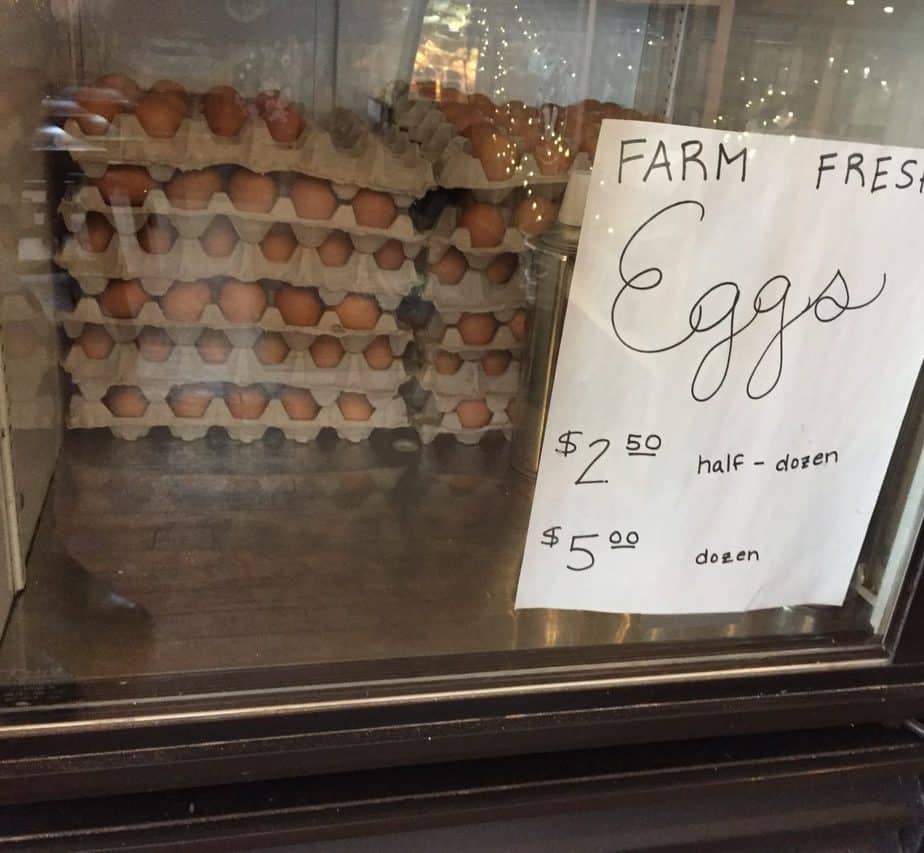 Their front room has a variety of items for sale from local businesses. Honey, yep. Shirts, yep. Eggs, yep. And if you buy your eggs and get them home intact while bicycling or hiking to and from Mama D's, then you are a better cycler and hiker than I will ever be.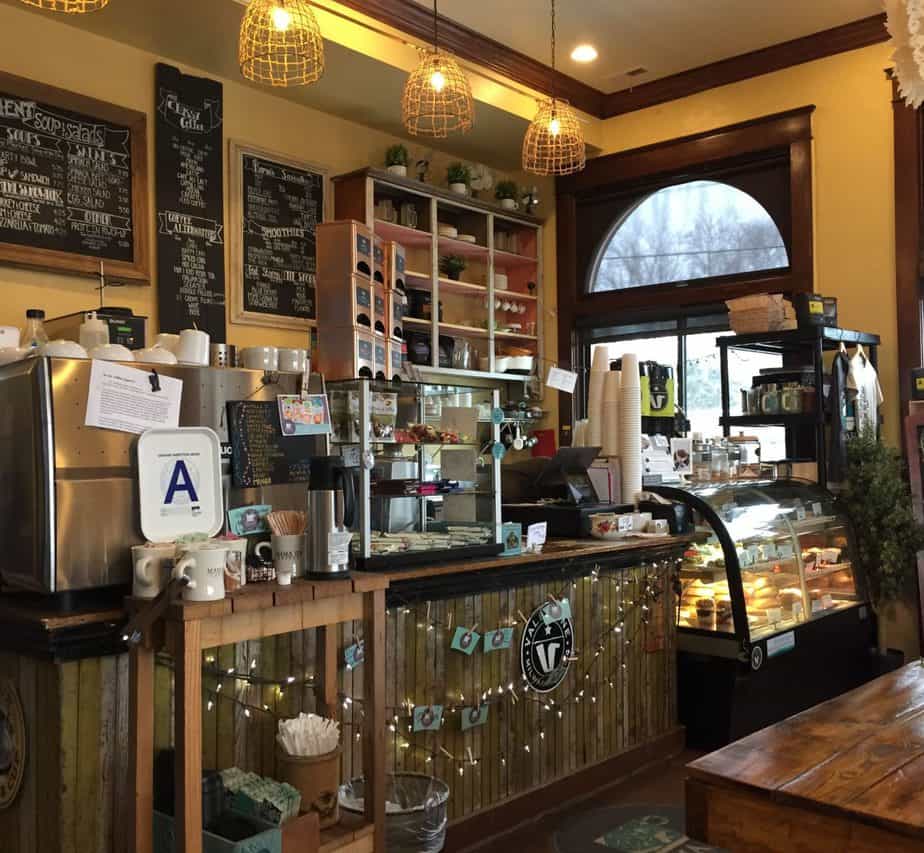 You'll find two large dining tables that easily seat eight in the front. They have a high chair available for your little but no changing area in the bathroom. I settled in at a table for one and saw a poster for Lake Country Currents, so it was like having my quiche and Heart Break Hotel latte with a group of amazing female entrepreneurs, makers, and bloggers!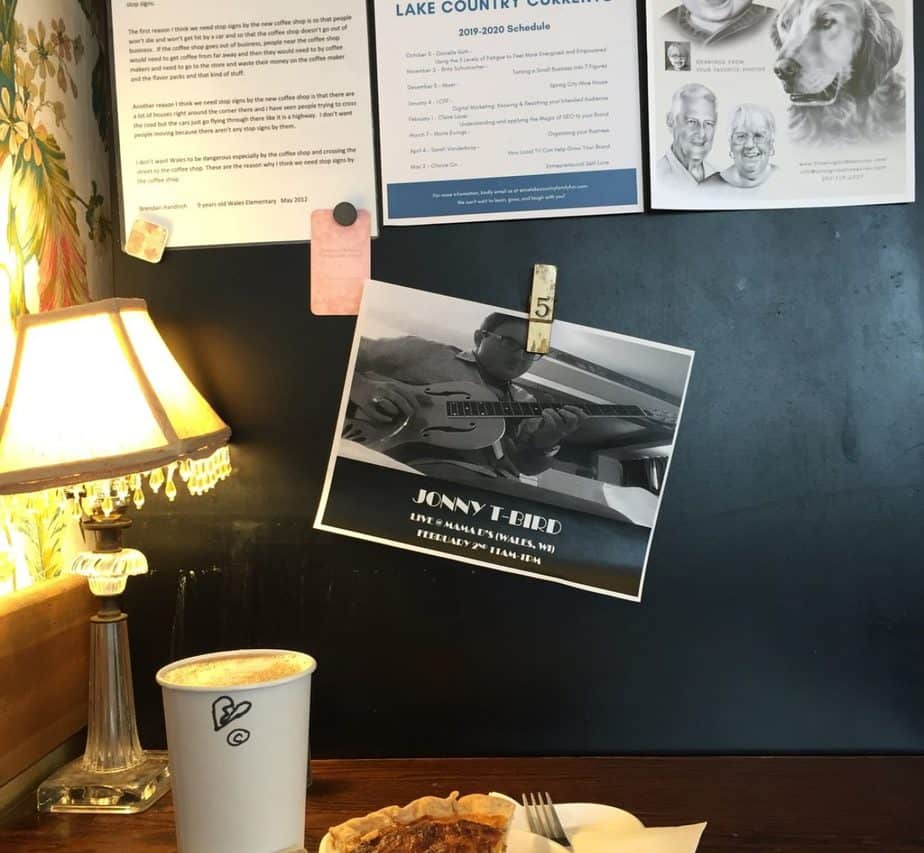 Mama D's in Wales reminded me of the Town Hall Library because it was filled with delightful other rooms around corners to explore.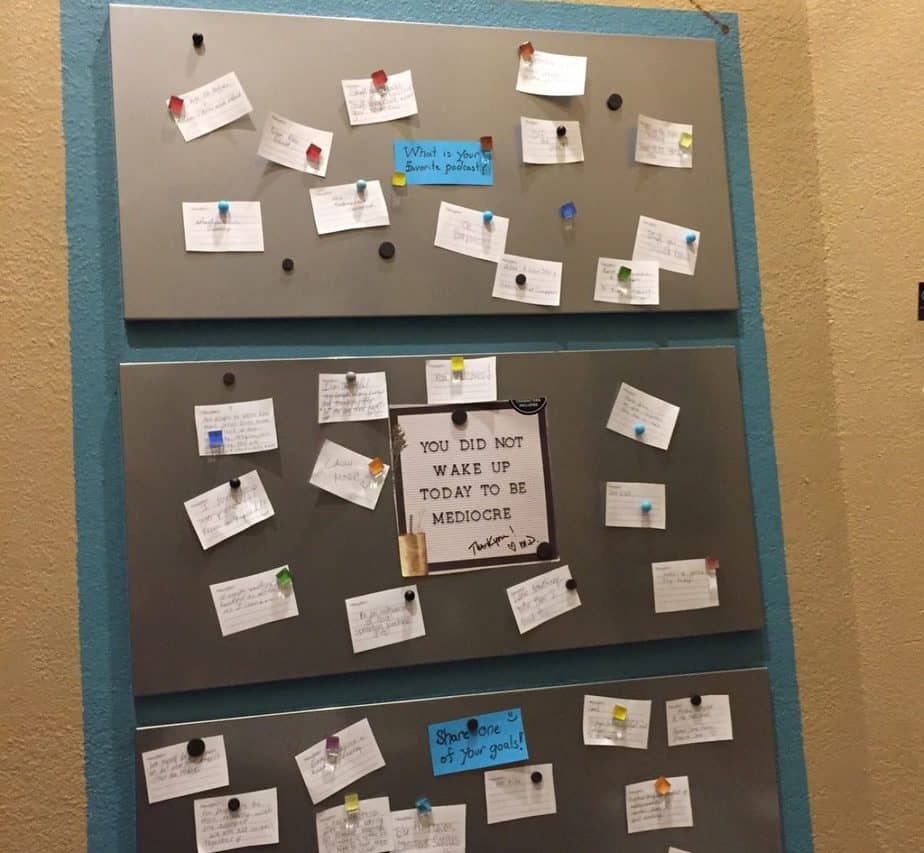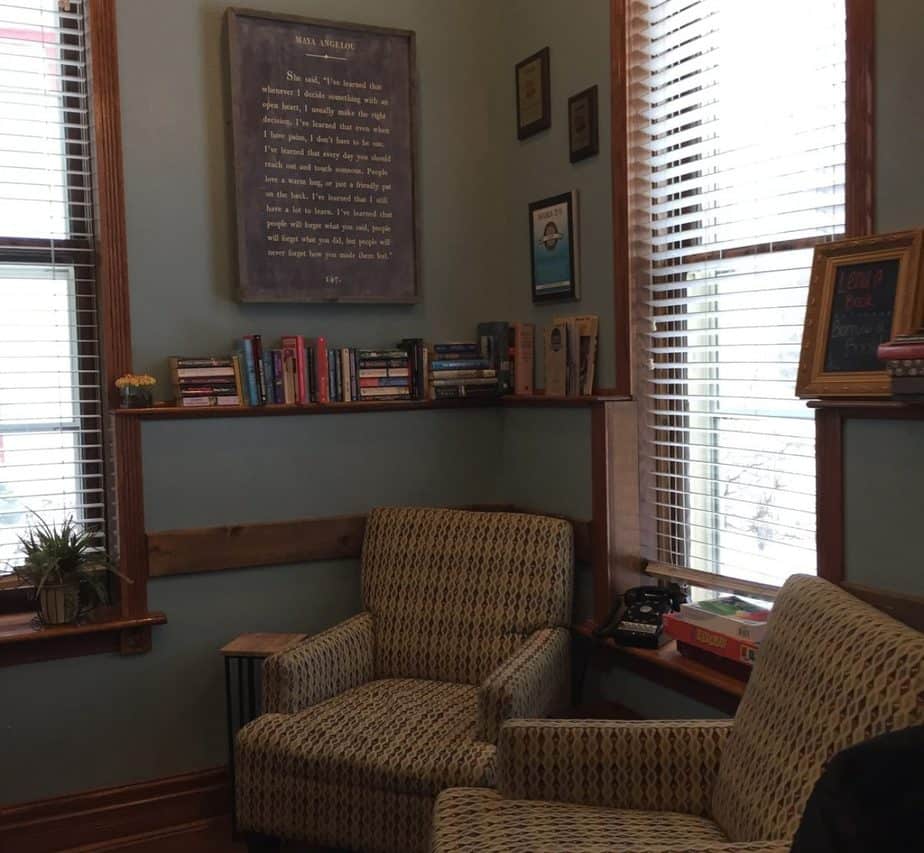 Behind their counter is a smaller room with cozy seating and the bathroom, which featured a map of the Glacial Drumlin Trail and a magnetic board where you can "Share Your Thoughts." On the day I visited it was a board of thoughts, favorite podcasts, and goals.
Beyond that room is a smaller room available for your group to meet. It's available on a first-come, first-served basis and can seat up to 12.
The earliest this location closes is at 6PM, and their calendar showed that they have musicians and artist visiting regularly each week.
Now that I've visited the Waukesha and Wales location, I'm definitely going to visit the location in Genesee Depot for a Mama D's trifecta. Two Mama D's locations down, one to go!