If you didn't catch our first post on camping click or tap here to read where to camp in Waukesha County.  At Family Fun Joy, we think camping is just about the best family activity there is available!  We have done it all backpacking, tenting, pop-up and travel trailers, we LOVE camping!!  Camping is not expensive, provides fun for everyone in the family, can provide a place to stay when being a tourist, or just allows you to hang out and relax.  Our last post was about the four county parks right here in Waukesha County.  This one will give you some options if you want to take a short road trip to your destination.  If you have any questions about camping you can email us at pamwhyte@familyfunjoy.com or join us on Instagram.
*Originally written in 2020, updated in 2023.
Camping Outside Waukesha County
Dodge County has four great campgrounds!  All of the campgrounds have a choice between electric and non-electric.  Some have kayak and canoe rentals and other fun amenities.  Our family camped at Harnischfeger Park in the fall, which was the perfect time to camp there.  There is a wooded area and the leaves were amazing.  These campgrounds in Dodge county will be taking reservations.
Astico Park
Derge Park
Harnischfeger Park 
Ledge Park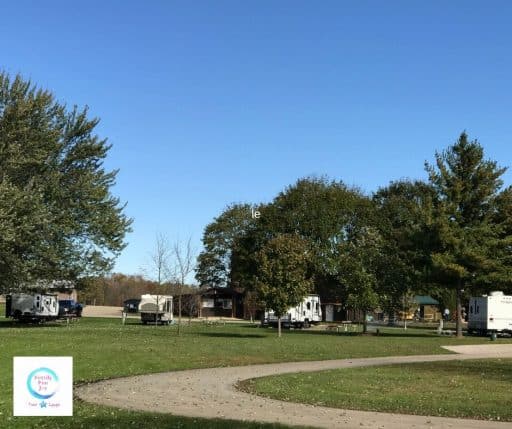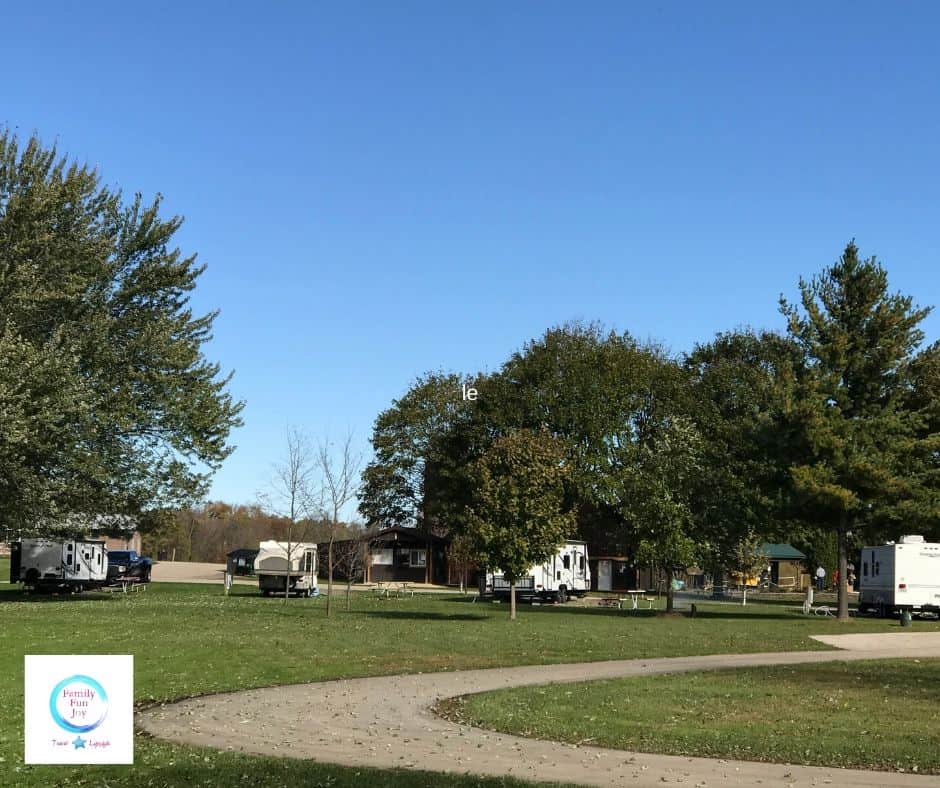 Whistle Stop and Little Amerika
We think this is one of the best secrets of Wisconsin.  Little Amerrika is a fun amusement park in Marshall, Wisconsin.  It is like a tiny Six Flags, but with enough to do to fill an entire day.  Next to the amusement park is a campground, Whistle Stop which gets it's name from the train that runs between the campground and Little Amerrika.  The campground is very new and has a great beach with inflatables, go-karts and more.  The campground is open, but some of the amenities are not open now, give them a call before you head out to find out what amenities are open for your family.
(See image above from Whistle Stop campground.)
Kettle Moraine
The Wisconsin State Park system is such a beautiful way to get outdoors and enjoy your family and nature.  Kettle Moraine stretches from Fond du Lac county to Walworth county and everywhere in between.  
Kettle Moraine North has two main campgrounds, Mauthe Lake and Long Lake,  both with electric sites and showers.  Mauthe Lake also has a Teepee your family can stay in while camping.  Also in KMN is New Prospect Horse Riders campground and backpack camping along the Ice Age Trail.
Kettle Moraine South has three main campgrounds, Ottawa Lake, Whitewater Lake, and Pinewoods campground.  Ottawa Lake is the only campground in KMS that has electricity and showers.  An interesting thing about Pinewoods campground is the Quiet Loop.  The Quiet Loop has 24 hours a day quiet hours, no radios, no pets, and no mechanical devices (like engines.)  So it's super quiet and lets you connect with nature.
Milton KOA  
The Milton KOA is a great way to relax, enjoy camping, and spend quality time with your family. Milton KOA is a modern campground with a heated pool, clubhouse, disc golf, and wooded trails.  Nearby is Lake Koshkonong which is 10,000 acres and a perfect place to go boating.  We love that there is a dog park too!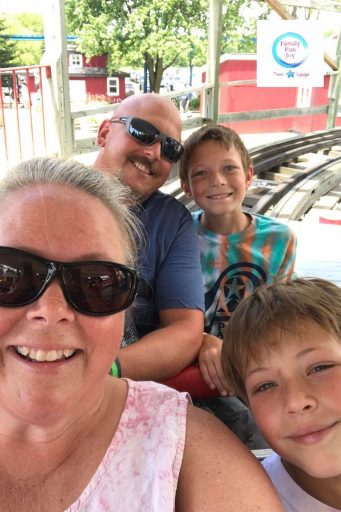 We hope you were able to find something you liked in all of these recommendations for camping close to Waukesha County.  Venturing out into the greater state of Wisconsin? Check these road trip ideas. If you have any questions please let us know!
---
Join the camping conversation on Facebook ⤵️