Time to spring clean! March is here and spring is in the air. I have an inkling to purge all the things. Do you, too? If you don't know what to do with all your items that are still in great condition, we've scoured the county for you (and two more just outside Waukesha County) so you can put your used items to good use. 
14 Places to Donate in and around Waukesha County
1. Lake Country Caring – Hartland
Lake Country Caring provides new and gently-used items to people in need at no cost to them. Basic needs of clothing, hygiene products, infant necessities, household items, furniture & appliances are provided free of charge.
Donation times:
Monday-Saturday, 9-11:30 am
Please call ahead prior to dropping off larger items and refrain from dropping off items after hours.
Lake Country Caring
603 Progress Dr
Hartland, WI
Phone: (262) 367-6670
Website: https://www.lakecountrycaring.com
---
2. Hope Center – Waukesha
Reducing the risks of poverty by helping people in Waukesha County meet basic needs such as food, shelter and clothing through services, partnerships and community collaboration.
Donation times:
Monday – Friday
8:00 a.m. – 4:00 p.m.
(Please donate between hours above and not leave items outside, they will be disposed of)
Hope Center
502 N East Ave
Waukesha, WI 53186
Phone: (262) 549-8726
Website: https://hopecenterwi.org
3. The Women's Center (TWC) – Waukesha
As Waukesha County's only agency of its kind in a county that spans 580 square miles, they provide a range of life-saving and life-changing programs and services that heal and empower adults and children on their paths to build a future free from violence.
Due to storage limitations, they only accept NEW/UNOPENED items only. They request donations of used clothing, furniture, toys, or housewares be given to:
Goodwill (closest location is 1400 Nike Drive, Waukesha)
Lake Country Caring (603 Progress Drive, Hartland, call 262.367.6670 prior to dropping off furniture)
In turn, these agencies allow Women's Center clients to shop for their needs free of charge.
Please call TWC at 262.547.4600 with questions.
Used vehicle and cell phone donations accepted at the Women's Center.
The Women's Center
505 N. East Ave.
Waukesha, WI 53186
Phone: (262) 547-4600
Website: https://twcwaukesha.org
4. Chosen in Love – Waukesha
With generous donations from the community, foster and adoptive families "shop" for gently used infant and children's clothing and new furniture, toys, equipment and more!
Donation Times:
The office is open each Saturday and other flexible times throughout the week. All visits/donation drop-offs are by appointment.
Chosen in Love
217 Wisconsin Ave
Waukesha, WI 53186
Phone: (262) 724-6736
Website: https://www.choseninlove.org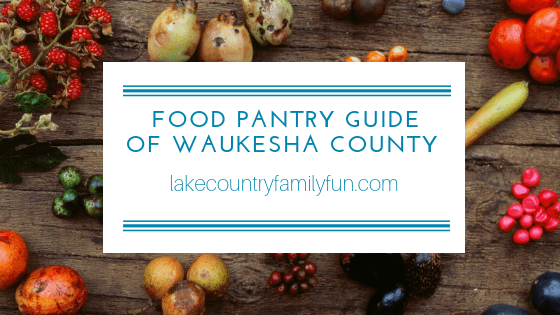 Find all the information for volunteering, donation, and receiving at 19 local food pantries.
5. Mukwonago Food Pantry (MFP Thrift Store)- Mukwonago
Donation Hours:
Saturdays 9 am -1:30 pm
Mukwonago Food Pantry/MFP Thrift Store
​325 Eagle Lake Ave.
Mukwonago, WI 53149
Phone: (262) 363-3452
Website: http://www.mukwonagofoodpantry.org/resource-center.html
6. Life's Connection – Waukesha and Mukwonago
Life's Connection team of peer mentors offer compassionate and unconditional support for families with programs and services designed to unite and empower anyone facing challenges relating to childbearing, relationships, life losses and crisis care. Through mentoring, educational classes, support groups, medical support, resources and referrals we are here to build a strong community that centers on the family.
Mention donation on behalf of Life's Connection at St. Vincent's (Waukesha location only) and Life's Connection is given a certain amount per lb of clothing donated back monetarily to purchase diapers. *Both locations take kids clothes up to size 6.
Website: https://www.lifesconnection.org/home.html
Mukwonago Location:
307 S. Rochester St
Mukwonago, WI, 53159
Phone: (262) 470-3119
Mukwonago Donation Times:
Monday 10:00 – 7:00 pm
Tuesday 9:00 – 3:00 pm
Wednesday 9:00 – 7:00 pm
Thursday 11:00 – 7:00 pm
Friday 12:00 – 5:00 pm
Waukesha Location:
494 W Main St.
Waukesha, WI,53186
Phone: (262) 290-5433
Waukesha Donation Times:
Monday – Tuesday -Thursday: 10:00 – 6:00 pm
Wednesday & Friday: 9:00 – 5:00 pm
Saturday: 10:00 – 2:00 pm
Sunday: Closed
7. The Pick-up Chicks – Mukwonago
The Pick-up Chicks come and remove anything left over after your rummage sale. No need to worry about going to the trash, the curb, or a charity; that's their job!
Phone: (262) 470-3925
Website: https://www.facebook.com/thepickupchicks3/
Email: thepickupchicks3@gmail.com
8. Goodwill
Donate clothing, domestics, furnishings, home décor, books, toys, games, and kitchen accessories. Also,car, truck, RV and boats.
Website: https://www.amazinggoodwill.com/
Locations:
New Berlin:
3540 S. Moorland Rd.
New Berlin, WI 53151
Phone: (262) 641-8868
Muskego:
Donations Only
S74 W17035 Janesville Road
Muskego, WI 53150
Phone: (262) 682-4200
Mukwonago:
101 Arrowhead Drive
Mukwonago, WI 
New! NOW OPEN!
Waukesha:
1400 Nike Drive
Waukesha, WI 53186
Phone: (262) 547-5023
Pewaukee:
2015 Meadow Lane
Pewaukee, WI 53072
Phone: (262) 574-0704
Brookfield:
18605 W. Bluemound Road
Brookfield, WI 53045
Phone (262) 901-0089
Menomonee Falls:
W178 N9315 Watertower Place
Menomonee Falls, WI 53051
Phone: (262) 253-0018
Oconomowoc:
1408 Summit Avenue
Oconomowoc, WI 53066
Phone: (262) 560-0249
9. St. Vincent de Paul
Donation Times:
Monday – Saturday:  9:00 am to 8:00 pm
Sunday: 11:00 am to 6:00 pm
Visit their website to schedule a pick up for larger furniture, appliances, 8 or more boxes of clothing, workout equipment and smaller miscellaneous items. http://svdpthrift.com/schedule-pickup/
Locations:
Waukesha:
818 W. Sunset Drive
Waukesha WI, 53189
Phone: (262)-547-3281
Oconomowoc:
W359 N5848 Brown St.
Oconomowoc, WI 53066
Phone: (262)-569-0761
Website: http://svdpthrift.com/
Pewaukee:
601 Ryan Street
Pewaukee, WI 
10. Hope Network – Menomonee Falls
Supporting single mothers and their children. Donations of new and gently used items serve new mothers through our crib program and those with older children at our Trading Post. There is never a cost for mothers to obtain these items. They are given free of charge.
Donation Times/Instructions:
Deliver donations to the office, on the second floor of Good Shepherd Catholic Church.
Entrance is located underneath a brown awning with the number "1300" printed on it. Take the elevator to the second floor.
Hope Network
Good Shepherd Catholic Church
N88 W17658 Christman Rd., Room 201, Menomonee Falls, WI 53051
Phone: (262) 251-7333
Website: https://www.hopenetworkinc.org/ways-to-help/donate
11. The Community Space – Whitewater
Just outside of Waukesha County is The Community Space. The Community Space provides food, clothing, furniture and more to people in a dignified, respectful and joyful manner. All are welcome. A Little Free Pantry is available 24/7.
The Community Space
834 E. Milwaukee Street
Whitewater, Wisconsin
Phone: (262) 379-0187
Website: https://www.facebook.com/WhitewaterCommunitySpace
12. Mary's Room – Watertown
Just outside Waukesha County is Mary's Room. Mary's Room is dedicated to fostering the well being of infants and young children through facilitating the donation, collection and distribution of furniture, clothing, diapers and other basic supplies to families while assisting them to achieve economic independence.
Accepting:
Baby clothes, sizes 0 through 4T; diapers, wipes and other baby items; including furniture, car seats, strollers, toys (AA batteries for the toys) and children books. 
Message directly for donation information.
Mary's Room
St. Paul's Episcopal Church
413 S 2nd Street
Watertown, WI 53094
Phone: (920) 261-1150
Website: https://saint413paul.wixsite.com/marysroom
Email: saint413paul@gmail.com
13. Looking to donate an old Prom Dress or Bridesmaid Dress?
Watertown High School takes in gently used prom dresses for students in need.
14. 3in1 Thrift
3in1 Thrift is an organization that supports the three LCMS high schools in the greater Milwaukee area: Milwaukee Lutheran High School in Milwaukee, Martin Luther High School in Greendale, and Lake Country Lutheran High School in Hartland.
The 3in1 Thrift Store mission is to serve individuals in the community by providing an excellent experience in volunteering, donating, shopping and interacting with others while financially supporting the continued success of Christian education at the three high schools.
Hours:
Tuesday-Saturday 9:00am-5:00pm
Sunday-Monday closed
Address: 
3117 S. 108th Street, West Allis, WI 53227
Phone: 
414-914-9225
BONUS OPTION: Forgotten Treasures
Forgotten Treasures Resale Shop will begin accepting donations by appointment and will be available for donations by appointment Tuesday through Thursday in the coming weeks. You can call Pam Thomas, manager of volunteer services to schedule a time. Learn more at https://www.shorehavenliving.org/forgotten-treasures/
Address:
1305 W. Wisconsin Ave., Oconomowoc
Phone:
262-244-6500
Where to Recycle Odd Items in Waukesha County
Target's Car Seat Trade-in Event is BACK for 2022!!
If you have an old or expired car seat sitting around your house, now is the time to trade it in at one of our local Target's in Waukesha County! When you trade your old car seat in, you will receive a 20% off coupon to be used toward NEW baby gear!!
Things to know:
Program runs April 18th through April 30th, 2022!
Must be a Target Circle member to participate
There will be drop off boxes with scan sheets for donators to use with their Target Circle from their mobile device.
You can trade in two car seats and get two coupons!
Coupons will have an expiration date, so be mindful!
The New Berlin Recycling Center
3711 S. Casper Drive (North of City Hall – look for the yellow gate and sign on the left)

Summer Hours
April 2, 2022 through December 1, 2022

Tuesday: 10:00 am to 7:00 pm

Thursday: 10:00 am to 7:00 pm

Saturday: 8:00 am to 4:00 pm
Winter Hours
December 1, 2021 through March 31, 2022

Saturdays ONLY: 8:00 a.m. to 4:00 p.m.
Village of Sussex Electronics Recycling Drop Off Event
Next Date TBD
Accepted items include: computers and related equipment / parts, cell phones, stereos, microwaves, copiers, video game players, fax machines, LED, LCD and CRT TV's. List of accepted items: https://www.villagesussex.org/…/Calendar/Event/156/19…
Note: A $25 fee applies to ALL TV's, including flat panels. CRT monitors (old tube style) are $10 each. All other electronics are free to recycle.
Fees are payable by cash or check ONLY. No debit cards or credit cards.
Call Legacy Recycling at (262) 930-4228 with any questions or visit them online at www.legacy-recycling.com.
City of Waukesha TV/Electronics/Appliance Drop off Events
April 2, 2022
July 16, 2022
October 15, 2022
9:00 am to Noon
Recycling Details
Oconomowoc Public Library
Visit the Library to recycle your ink cartridges, eyeglasses, cellphones, and batteries! (Laser toner cartridges not accepted.)

City of New Berlin Electronic Recycling
The City of New Berlin is proud to have teamed up with Refrigerant Depot, LLC to provide an electronic recycling alternative to their citizens. There is a cost that will need to be paid by following the link for the following items:
 TV's (LED or CRT) – $35
 Monitors – (LED or CRT) – $10
Waukesha County Recycling Locations Misc. Items
Batteries, CD's, DVD's VHS, Computers, Electronics, Ink Cartridges, String Lights, Televisions
https://www.waukeshacounty.gov/electronics
Household Hazardous Waste
Waukesha County operates 4 permanent household hazardous waste (HHW) drop-off sites for county residents and 4 special one-day collections in spring and fall in Brookfield, Delafield, Mukwonago and Oconomowoc. All sites are free to Waukesha County residents (bring ID). More details here. 
Plastic Shopping Bags
Walmart
Target
Piggly Wiggly
Good Harvest Market Pewaukee/Waukesha
Dried Out Markers
Various libraries and schools take these items in to be recycled. 
Ink Cartridges
Various libraries and office supply stores take these items in to be recycled.