This is a sponsored series.
In light of National Adoption Awareness month in November, I will be sharing our adoption story/stories over a series of posts each week, with permission from my husband.  I will start by explaining what I mean when I say "we are expecting…maybe". The second week I will post the story of our first adoption. The following week I will post about our second adoption. The final two weeks I will post adoption resources, provide helpful information/tips, and answer some questions raised via comments in the previous weeks! Stay tuned each week to gain a bit more insight into the adoption process and how our family came to be.
---
This series is sponsored by Grady, Hayes, & Neary, LLC Attorneys at Law in Waukesha, WI.
With over a century of combined experience serving clients in multiple areas of the law, attorneys at Grady, Hayes & Neary, LLC value the individual attention and personal service they provide to our clients. Whether you are seeking counsel to adopt a child or prosecute or defend a lawsuit, our attorneys are dedicated to listening to the needs of our clients and looking for creative ways to address their concerns. Grady, Hayes & Neary, LLC's attorneys have over six decades of combined experience in Wisconsin Children's Law, including all areas of adoption law – domestic, international, foster parent adoption and stepparent adoption – surrogacy and guardianship.
For more information, please visit our website or call us today at 262-347-4952.
---
Week One: We are expecting…maybe
We are expecting. No, I am not pregnant (never have been, never will be), but my husband and I are expecting our third child. We do not know when, from what state, or the race or gender, but we are expecting…and HOPEFUL.  This is our third adoption. (I will write about our first and second adoptions in the upcoming weeks.)  For this article, I will describe exactly where we are in the adoption process and explain more about why we are "expecting".
The Process
Third time around this adoption process feels like a breeze (sort of).  For a private agency domestic adoption, you must find (and pay) an agency to work with (we chose a National Agency out of Illinois), and then you pay to have a HOME STUDY completed in your home state. That home study verifies that you (and your spouse) are mentally, physically, emotionally and financially able to adopt or foster.  Each state's laws vary. I could write a whole post on the home study process alone, both good and bad, but I digress.
We finalized our home study in April of 2016 (home studies are good for 2 years, by the way).  However, we decided we were not quite ready to adopt. I had knee surgery in January 2016, and my husband was still suffering from double-vision due to a snowboarding accident on vacation. So yeah, not quite ready for baby #3…yet. On July 5th, 2016, we decided we were ready to ENTER THE POOL with our adoption agency. What that means is our agency will start showing our profile to potential birth mothers.  Some agencies have a time limit and some do not. For us, we had 18 months left on our contract. So come January 2018, if we have no baby, we are out the money. Tough, but it makes sense. Our agency does a lot of marketing on our behalf. They do boast a 98% success rate. So the clock is ticking for us.
The Wait
So here it is, November 2016.  No word yet.  All of August, September, and October we were FINE not hearing anything. But now, we are getting antsy.  When we do hear, it may be that a birth mother has chosen us, and she is 20 weeks pregnant, or she could be 39 weeks pregnant, or the baby could be born! We have no idea. Each adoption situation is UNIQUE. The birth mother could choose us, and then later change her mind. It varies by state how long she has to change her mind after the birth. In general people wait several years to be matched with a birth mom, but sometimes it happens a lot sooner, a lot longer or not at all.
When? Where? How?
The birth mother could be in Georgia, Texas, Arizona or any other state.  We don't know how to plan our year, because if we get a call, we may have to go NOW.  We do not have a plan yet for what we will do with our two boys (bring them? leave them with family?).  I am a BIG planner, so it is hard for me not to be in control. I pray that we have a baby born on December 24th. God says to pray for what we want. So I do. But I am also open to His will, whatever that may be (probably better than what I could imagine).
So…are we expecting? Yes and No.  No, I'm not pregnant.  Is our future birth mother already pregnant? She could be.  She could be 1 week pregnant and not even know it. Or 39 weeks and just deciding to look into adoption.  Or maybe she is not even pregnant yet. But we are still expecting. We expect to adopt again.  And in that process, we are getting our hearts, house, and family ready in the small ways we can being open to whatever amount of time it takes and the journey ahead.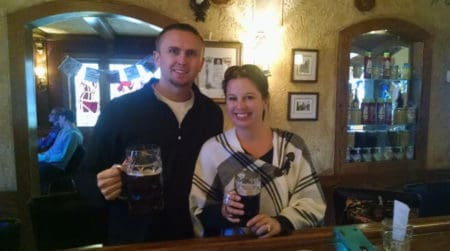 Do you want to come along on the journey with us?
If you want to stay updated on our journey, be sure to share and like this post on facebook, and I will add facebook comments as things arise – both the good and the bad news. I promise to be truthful and open. Also feel free to leave questions in the comments, and I will address them as possible in my later posts.
Come on this journey with us.  Keep us in your thoughts and prayers. Pray, this month especially, for those children who are in need of loving homes –that they get them –that they find their 'forever families'.
Next week I will write about the story of our first adoption.  You will not want to miss this story. It will make you believe in miracles again. I sure do – I look at my miracle every day.