It's been a month since our last visit to a Waukesha County Park.  Our family weekend schedule fills quickly in the spring and early summer, so we welcomed the opportunity to venture to Fox River Park.
The Waukesha County Parks system includes eleven parks sprinkled throughout the county with various activities and adventures for all ages that can be enjoyed throughout the seasons.  With field trips, cross country meets, ice skating adventures, park events, and geocaching searches, different members of our family have been to seven parks.
For the last few years, I've thought it would be a fun family activity to visit all of the county parks in one year together.  2015 came and went.  So did 2016.  Our kids are in middle and high school, and we realize that our time as a family under one roof will not last much longer.   So by golly, 2017 is going to be the year!
So we set out to visit the 11 Waukesha County Parks on this list: Click here to find a Waukesha County Park.
Fox River Park
Muskego Park was a new experience for our entire family, but Fox River Park in the Town of Waukesha was one that I had taken the kids to many moons ago.  So long ago, that no one else remembered coming here except me.  This park, located at W264 S4500 River Road, Waukesha, WI 53189, features 257 acres, paved trails (perfect for rollerbladers, scooters, and bicycles), a nature play area, a canoe launch, snow shoeing, fishing, and geocaching.
Park admission can be found in the Fees and Admission section of the Waukesha County Parks post here.  If an attendant is available, you will receive your day pass or annual sticker on site. If the entrance booth is unattended, place your cash or check payment in an envelope, drop it in the box, and place the envelope stub on your dashboard as proof of payment.  An annual sticker will be mailed to you.   If you plan to visit multiple county parks BEFORE your park sticker arrives in the mail, be sure to have your envelope stub and a copy of your check to show the gate attendant as proof of payment for an annual sticker or you will be charged for daily admission.
Hours are sunrise to 10:00 PM year-round.
What we packed
Family
Food
Sunscreen
Bug spray
Hats
Water
We visited the Oconomowoc Farmers Market in the morning to pick up farm fresh yummies for our picnic lunch.  Fox River Park features three picnic shelters that can be reserved.  Two shelters already had parties underway and the third was preparing for a wedding or a reception.
Since we weren't invited to any of the parties, we enjoyed our lunch at one of the numerous picnic tables throughout the park.  If you're looking for a picnic tables in the shade, you'll find some at Picnic Area 3 and Legacy Forest.  You can find one in the sun at the top of the Nature Play Area.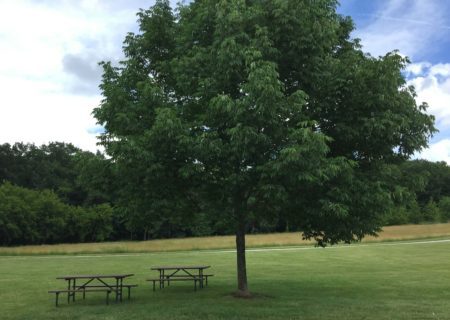 One paddle, two paddle
True to it's name, the Fox River Park includes part of the Fox River.  If you're looking for adventures on the water, then head to the canoe launch in the Legacy Forest area of the park.  You'll be able to explore the park spring through fall from the water and even fish.  Those under the age of 15 do not need a fishing license in the state of Wisconsin.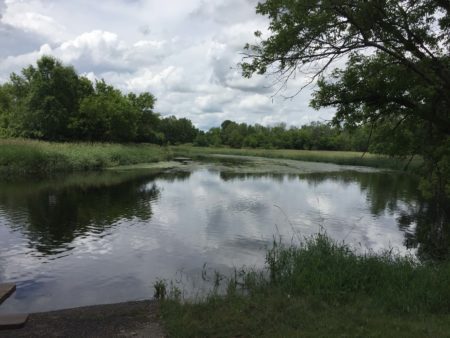 While we don't have a canoe, we set off on our hiking adventure from the Legacy Forest.  The park features 2.25 miles of paved trails, which surround picnic shelters and much of the park's perimeter.  We used this as our base for our walking adventure after our lunch.  If you go during the summer months, you'll want to be prepared with bug spray to keep the mosquitoes away from you and your family.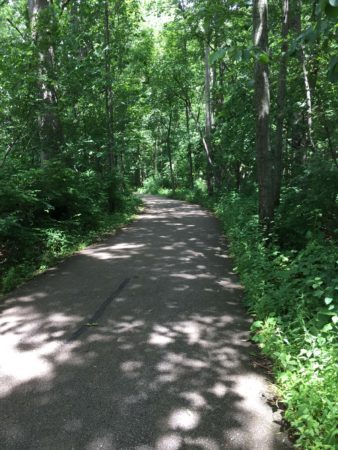 Treasure hunt
The reason we came here years ago was to geocache.  Geocaches (sounds like geocash) or "caches" (sounds like cashes) are hidden boxes left for others to discover through geocaching.com, where the coordinates can be dowloaded to a GPS or onto a smartphone using a free app.  Geocaches can be as large as a cooler or as small as a medicine bottle.   All geocaches hidden within Waukesha County Parks need to be placed with permission from the county.
Fox River Park features a few geocaches for you to discover.  Geocaching can be a fun way to explore new places and discover treasures.  Some of the caches include "take one, leave one" treasures like baseball cards, stickers or pencils.
Whee!
A unique feature of Fox River Park is the Nature Play Area found by Picnic Shelter 1.  It is also easily accessible from Picnic Shelter 2 and a short walk from Picnic Shelter 3.   The Nature Play Area has a boulder to conquer, spinny things, a spider web jungle gym, and two slides.  One is a curved plastic slide and the other is a double metal slide, which can get hot in warmer weather.  While the double metal slide is not the Giant Slide at the Wisconsin State Fair, each chute is wide enough for you to hold your little one on your lap in case either of you needs reassurance to go down the slide.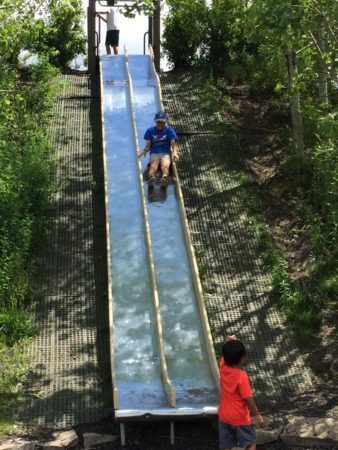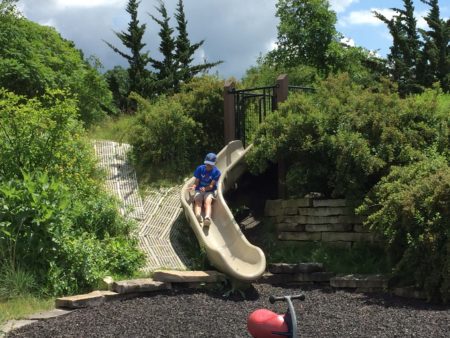 We completed the obligatory tick check before leaving the park and decided to enjoy some cool treats before heading home.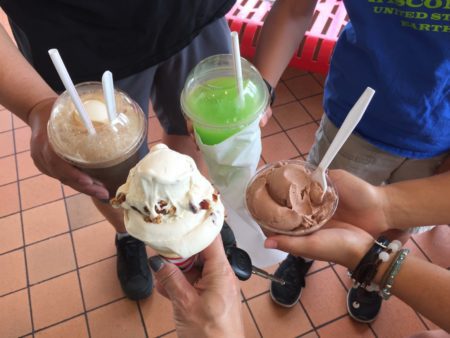 After today's exploration into the Legacy Forest and the Nature Play Area, I hope the kids remember this trip to the Fox River Park.  I hope my husband remembers today's visit, because it was our wedding anniversary.  Another Waukesha County Park, another great memory.
Two Waukesha County parks down, nine to go.
Please read about Jann's other adventures here.
—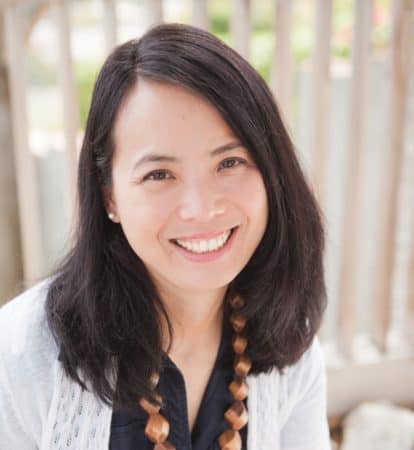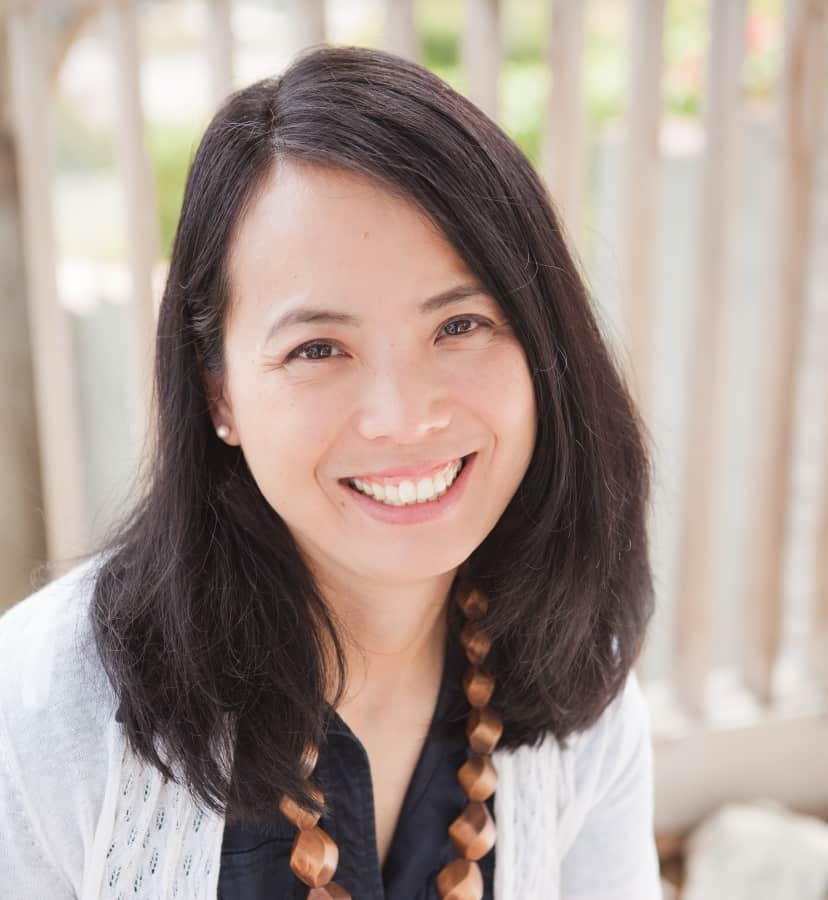 Jann Fujimoto is a wife, mom to two, and speech-language pathologist.  Her family has lived in Lake Country for 10 years,  the longest she has ever lived in any one place.  She enjoys traveling, reading, and gardening at the Fuji Farm, which in reality is a couple of raised garden beds in the backyard.