Calling all train lovers!! The Mitchell Park Domes have their "Attack of the Giant Monsters" – Winter Model Train Show starting on Monday, January 20, 2020!
The annual train show returns – explore a miniature railroad and floral display, under attack from your favorite movie monsters!
The train show is included with admission to the Domes and is open daily from January 18 to March 29.
You can see these trains from January 20 through March 29, 2020!
*Regular Domes Admission applies.  Free for Friends of the Domes members.
HOURS:
Mon, Tues, Wed & Fri, 9 a.m.–5 p.m.
Saturdays, Sundays, and holidays, 9 a.m.–4 p.m.
2020 ADMISSION:
– Adults (Age 18-59): $8-Standard / $7-Resident*
– Senior (Age 60+): $8-Standard / $5-Resident*
– Youth (Age 6-17): $6-Standard / $5-Resident*
– Student w/ ID: $6-Standard / $5-Resident*
– Persons with disabilities: $6-Standard / $5-Resident*
– Children (Age 5 and under): Free
*Photo ID required for Milwaukee County Resident Rates
RESIDENT FREE DAYS
Milwaukee County Residents with proof of residency receive free admission on Mondays, from 9 a.m.–noon, excluding the celebration of major holidays.
The Domes are wheelchair and stroller accessible. 
Check out this picture from the Great Train Robbery garden train event at The Domes: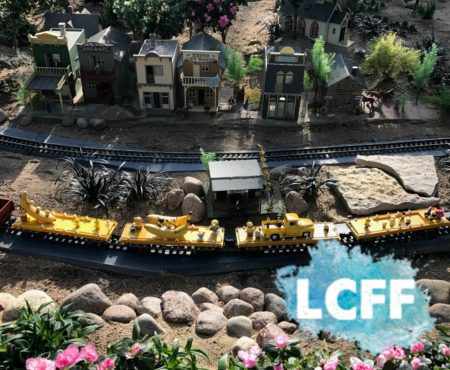 If you would like to become a friend of the Domes, please click here. As a Friend of the Domes, you will become part of the team, made up on individuals from every walk of life, reaping the reward giving back to community truly provides. You will be helping to support educational programs and projects of all kinds at the Domes and have the satisfaction of knowing you are a part of an organization that is working to ensure Milwaukee always has a world class horticultural conservatory.
---
For more January fun, click here.
For more winter fun, click here.
For more reasons to visit the Domes, click here.
For a Lake Country Kid's Guide to Trains, click here.