Sponsored by Friends of the Domes
Calling all train lovers!! The Mitchell Park Domes have their Railroad to Wonderland – Winter Model Train Show starting on January 20, 2018!
Follow four Garden-scale trains as you go from Alice's home and down the rabbit hole, on a whimsical adventure through Wonderland.  Guests will be able to read along as Alice finds herself on her journey.  There will be giant mushrooms, miniature trees, surreal landscapes, a tea party and plenty of other surprises along the way.  A perfect way to escape reality…and the cold this winter! If you have a train lover in your family, do not miss this special event at The Domes!
Lake Country Family Fun visited the Railroad to Wonderland train show on January 20 and loved reading the chapters from Alice in Wonderland as we walked around the Show Dome. See more here on our Instagram profile.
You can see these trains from January 20 through March 18, 2018!
*Regular Domes Admission applies.  Free for Friends of the Domes members.
HOURS:
Mon, Tues, Wed & Fri, 9 a.m.–5 p.m.
*Thurs, 9 a.m. – 9 p.m. – Special Late Night Hours!
Saturdays, Sundays, and holidays, 9 a.m.–4 p.m.
2018 ADMISSION:
– Adults (Age 18-59): $8-Standard / $7-Resident*
– Senior (Age 60+): $8-Standard / $5-Resident*
– Youth (Age 6-17): $6-Standard / $5-Resident*
– Student w/ ID: $6-Standard / $5-Resident*
– Persons with disabilities: $6-Standard / $5-Resident*
– Children (Age 5 and under): Free
*Photo ID required for Milwaukee County Resident Rates
RESIDENT FREE DAYS
Milwaukee County Residents with proof of residency receive free admission on Mondays, from 9 a.m.–noon, excluding the celebration of major holidays.
Check out this picture from last year's Great Train Robbery garden train event at The Domes: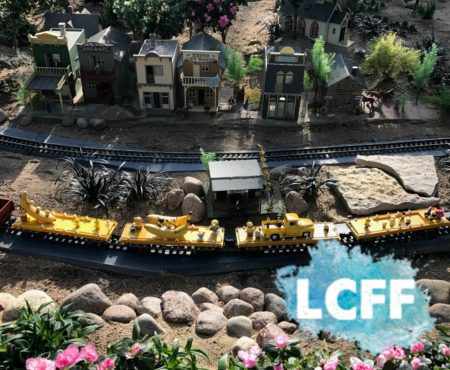 If you would like to become a friend of the Domes, please click here. As a Friend of the Domes, you will become part of the team, made up on individuals from every walk of life, reaping the reward giving back to community truly provides. You will be helping to support educational programs and projects of all kinds at the Domes and have the satisfaction of knowing you are a part of an organization that is working to ensure Milwaukee always has a world class horticultural conservatory.
---
For more January fun, click here.
For more winter fun, click here.
For more reasons to visit the Domes, click here.
For a Lake Country Kid's Guide to Trains, click here.