If you have been wondering what Pure Barre is about and want to try it out, come join the fun with Lake Country Family Fun for this FREE event! Mark your calendars for Thursday, May 3 at 6:30 pm to enjoy a ladies night out at the Pure Barre studio in Delafield. You know where it is…it's right across the street from Target 😉 Check out the details below!
*UPDATE!!
Due to high demand, we have opened up a 7:30 pm class!
*UPDATE!!
The 6:30 and 7:30 classes are full!

What is Pure Barre?
That's a good question. According to their website,
"The Pure Barre technique is low-impact, protecting your joints by avoiding any bouncing or jumping. Each strength section of the workout is followed by a stretching section in order to create long, lean muscles without bulk. The technique works to defy gravity by tapering everything in and lifting it up!"

Pure Barre uses a ballet barre, "to perform small isometric movements set to fantastic music".
This sounds like the type of results I want, am I right?! How about you?
Check out their welcome video here to get an insider view of what to expect at our class.
And be sure to follow them on social media:
Facebook
Instagram
What will we be doing?
We will be engaging in Pure Barre's 50 minute full body workout class. Our instructor, Lindsey, will have amazing music playing and teaching us the lingo and movements. Please arrive at 6:20 pm to fill out a waiver prior to class starting. *If you are in the 7:30 pm class, please arrive at 7:20 pm. Afterwards, we will be mingling for a bit and enjoying some refreshments. Mama Said Tees will have a table set up showing off their love of all things self-love and kindness! *Those in the 7:30 pm class can arrive early and mingle prior to their class.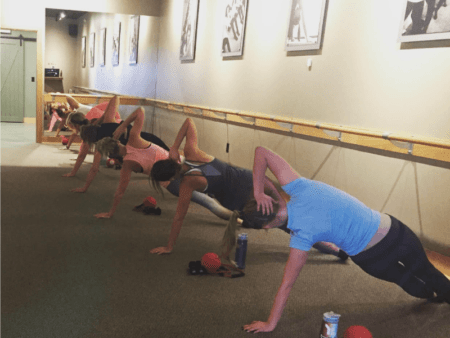 What should I wear?
Please come in workout attire, such as a tank top and yoga pants/leggings. Please ensure that your leggings/pants cover your knees. No athletic shorts or tennis skirts. Please also be sure that your tank or t-shirt covers your belly as there are no midriffs allowed. Also, please be sure to wear socks. Pure Barre does have a retail section in the front of the studio to purchase workout attire or grippy socks. We will be working out on carpeting.
Also, be sure to bring some water to stay hydrated. If you forget, they do also sell water bottles at the studio.
Where do I sign up?
Please fill out the form below. Registration is required to appropriately plan for the evening. Registration is limited to the first 2 sets of 23 ladies (46) that register. The email address entered here will be used to remind registered attendees of the event.
This Class Has Passed.
Disclaimer: Lake Country Family Fun is not responsible for any injuries that may occur at this event. Please consult your doctor prior to engaging in any exercise program.
See you there!!
https://www.instagram.com/p/BiXbezQg6SG/