Did you think that our adoption posts were final? Nope – not yet.  One thing was left to cap off this entire blog series that started back in November of 2016 with the post, "We are expecting…maybe".  That one final thing is, of course, the adoption FINALIZATION which we had on March 8, 2018!  In this "final" post today on the adoption blog I will fill you in on our finalization process (did we have to fly back to Florida?), how it is going being a family of five, what led to a delayed adoption finalization celebration dinner and will we adopt again!?!
Adoption Finalization "in" Court
This post feels like a "final chapter" to our adoption journey that we started blogging about in November of 2016. The thing that makes this feel final is that it is the last official step that we had to take.  In adoption, after the birth parent(s) terminate their rights (which for us happened in November of 2017) there is a post-placement supervision placement period. From the time of Termination of Parental Right, or TPR, until Adoption Finalization (which are both court events), the baby technically is in the legal custody of our adoption agency.  During this time Bernadette did not share our last name (yup – this made doctor appointment scheduling fun) and we had to have monthly "post-placement" visits done by our home study agency.  The main purpose of the post-placement "limbo" period is to ensure that the adoption is a good fit for the adoptive family and child and that the baby is in a good environment. The finalization court date also takes some time (and legal preparation) to set up.
We had 4 post-placement visits and then on March 8th, 2018 we had our "Finalization" court date – the date it all became official and final.  We were able to Skype with the judge in Florida to conduct the finalization hearing. That was pretty neat.  I am very glad that I double checked the timing on it because it was at 11am EASTERN time, not central – phew!  Glad I caught that.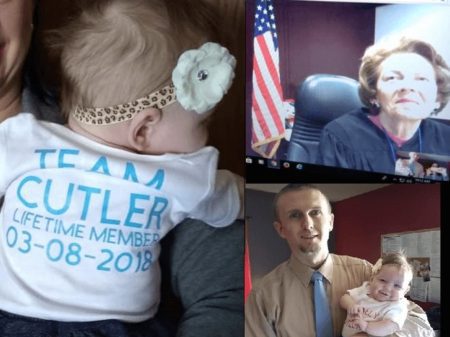 Under oath, we agreed to accept Bernadette into our family, to provide her a loving and stable environment, and we agreed that we understood she would become our heir.  We confirmed the spelling of her name so that they could create the new birth certificate (which we are still waiting for).  Legally it's official. She is a Cutler. Forever. Until she gets married. Unless she decides to keep her last name – ha!
Celebrating Bernadette's Finalization Day
We are a family that likes tradition. With each of the boys, we had family come to finalization court with us in Waukesha County. Then, we followed that up with a celebration meal at a local restaurant.  For Bernadette, it was different because it was conducted over Skype. Additionally, my grandmother passed just the day before the adoption finalization. I'll never be able to explain in words how much of a hole her passing leaves in my heart. I know she is in a better place, but March has been a hard month. So, the afternoon of finalization, we drove to Michigan to be with family for the funeral services.
A word on my grandmother, Sharlon. She has been one of THE biggest adoption supporters of our life. From the very first time I called her to tell her we were unable to conceive until the very day we brought our third child home, she was there by our side, praying, believing that God had a vision for our family that we could not comprehend.  She cried to me this winter over the phone saying, "I just want to meet Bernadette." She was never able to. But I was able to send photos, speak with her on her death bed and I know she is looking over us now and she WILL meet beautiful Bernadette one day. Grandma wrote this to me on December 8th, 2017 "I just saw the Facebook pictures of your beautiful family. It reminds me of the letter grandpa wrote to you years ago and he said, 'you will have a family'. Faith in God is strong. He is good!"
We did find a time to celebrate with dinner for Bernadette. When Al's family was in town for Easter, we met for dinner and celebrated! It was so nice to be surrounded with so much love and give thanks to God for the blessing she is in our lives.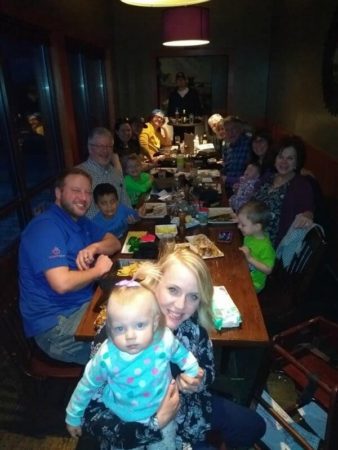 Our Family of Five
It's so crazy that Bernadette is now five months old. In the past year so much has changed, both good and bad.  Bernadette came into our lives, my grandmother passed and we moved.  Even with all the change, she is such a good baby. She sleeps well (I have never been "newborn mama" tired), her smile just knocks people off their feet, she is loved by her big brothers and we have a DAUGHTER!  Going from 2 kids to 3 has definitely been a WAY easier transition than from 1 to 2 for us.  Bernadette is beautiful, smiley and loves people. She is a gift. I still keep in touch with her birthparents with photo updates. They remind me how grateful they are for our family and I tell them the same about them.
Next Steps for our Family
Is our family really complete? Not shutting the door yet, completely. While I'd say with 95% certainty we will not adopt another newborn, I do think adopting an older child 10-15 years down the road may be in our future.  We will see!
Adoption Outreach
Adoption is now engrained into who we are. Our kids all know they are adopted and think it's pretty special. We are also now helping 5 other couples navigate the adoption process – how cool!  I really feel that I wish I had someone to help us when we were first adopting because we knew nothing and I'm honored to help others.  I'm praying for all these couples daily that their adoption process may be smooth and successful and they will have the forever families God intended them to have.