Please welcome guest writer, Amy Wagnitz, to Lake Country Family Fun. Have a dog? Don't know what to do? Amy will share over 20 things to do with your dog right here in Lake Country!
Routines are great. They provide consistency, and a dependable routine can keep us grounded when scrambling through a busy week. But sometimes, stepping away from the walk around the neighborhood with your dog can be exactly what's needed… An adventure!
But just as people are different from one another, dogs are different too. Varying body types and personalities promise that not every dog will appreciate the same adventure. Activities should be catered to your dog's needs and disposition, from the shy to outgoing and energetic to laid back. Obviously, dog parks are one of the first activities that come to mind when considering an outing with an energetic pup, but thankfully, Lake Country has a LOT of other options to offer as well! 
Swimming & Water Sports with your Dog
Water activities offer lots of water-loving canines hours of enjoyment! Luckily there are five great swimming designated areas for your goldfish-dog in Waukesha County. For a day-trip with the whole family, the Lake Michigan shores of Harrington State Beach Park promises to be a blast. And if your dog pines for swimtime when the weather gets cooler, there are indoor swimming options like Aqua Therapups in Brookfield and Think Pawsitive in Waukesha! 
Don't be afraid to give paddle sports a try too, cause let's be real, canoeing can be just as fun as swimming. Lakeshore Paddle Sport Rentals in Milwaukee and Rutabaga Paddlesports in Madison are pet-friendly and happy to help ensure you rent the appropriate watercraft and safety equipment for you and your pup. 
Hiking & Run/Walks with your Dog
Waukesha County has over 60 miles of paths to explore, ranging from the gently sloped Glacial Drumlin State Trail to more rugged Kettle Moraine trails. Dogs can explore all 60 miles as long as they abide by standard leash laws. Lapham Peak has a great trail system right in Delafield. BONUS: many dogs tolerate wearing backpacks, so if you like to hike often, don't be shy about fitting Fido with a canine pack to carry his own water, snacks, and light first aid gear! Orvis shares a few tips and tricks about canine backpacks to help you get started.   
And if your dog likes a good-old fashioned run with a twist, try spicing it up with skijoring, bikejoring, cross country running, and dog sledding. If you're a bit intimidated to try it on your own, connect with a club or go to an event to check out the activity of your choice! 
There are a number of Run/Walks which support good causes as well, like the Wisconsin Humane Society's Pet Walk, MADACC's Walk Run Wag, and – if you're up for a bit of a drive – the Run for the Fallen, which is an event to support the Fallen Firefighters Foundation (including canine rescue teams).
If you're the kind of person that can't out-walk your dog, no matter how many steps your Fitbit counts, you could always stop by any of numerous dog parks in our area. Here is a list of many dog parks near Lake Country but, if you're up for a bit of a drive, try out the brand new dog park at Menomonee Park, or rent a private exercise space at My Dog and Me Park in Madison.
Believe it or not, camping is a GREAT way to spend a day outside with both energetic dogs and those less inclined to activity. Camping can be a choose your own adventure! Leave your campsite to explore the area? SURE! Hanging out near the tent, reading books and playing with sticks? Equally awesome, don't you think? Either way you choose, nothing can beat sunshine and fresh air to break up the routine of the daily grind.
Pinewoods and Ottawa Lake campgrounds are the closest to the Lake Country area, and both are absolutely amazing places to visit. No one can resist the serenity of Pine Wood's swaying name-sake pines, not even dogs – who are allowed at campsites and along the trails and roads. There are even commode accommodations for people too, if you prefer not to rough it too much. 
Travel Wisconsin has a fantastic, searchable database on Wisconsin Campgrounds where you can ensure the space you are looking into welcomes furry friends.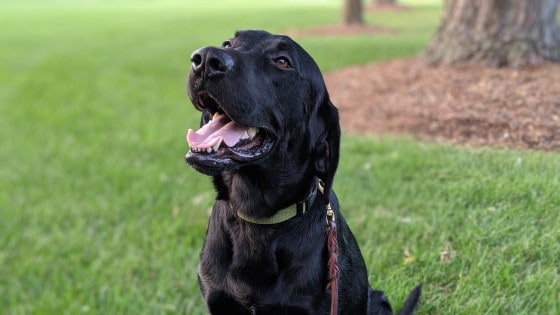 Just like humans, dogs LOVE to learn. They're constantly investigating and looking for new things to accomplish, and some dogs will find their own games to play if they aren't mentally challenged. Why not try a class for some one-on-one time? Best Paw Forward is conveniently located in Hartland and Pewaukee, offering a phenomenal variety of options from traditional puppy manners classes to sport classes and specialty classes for you and Fido to learn new things, socialize with other dogs, and stretch those minds and legs!
Perhaps your pup is a homebody. That's okay! There are still plenty of activities to engage four paws and a curious snout! Join the facebook group Canine Enrichment for endless at-home enrichment ideas. Don't forget – boredom-buster toys are great, but YOU are your dog's best friend, so why not try a game or two? Try 'hiding' a treat under a cup for a doggie friendly Cup-and-Ball magic trick. Or reverse limbo with a short stick or broom handle. Simple hide and seek is a fun way to stretch those search-and-find skills. Get creative and have fun! The only one around to giggle at your silly antics is the dog, and he won't laugh until you run into a wall!  
Food is life, right? I bet your doggo would agree. And if you're out enjoying a wonderful day with your co-captain and want to include them in your meal plans there are a number of restaurants with dog-friendly, outdoor seating in Lake Country. For food safety reasons, restaurants cannot allow dogs inside unless they are certified service animals, but many offer outdoor seating options. Bring Fido is a simple site I use as the first step when searching for dog-friendly spaces. Some of the best reviewed Fido-friendly restaurants in the area include:
If you are uncertain, simply call ahead to the restaurant. Many restaurant staff can share if there are outdoor spaces available for you to enjoy a pleasant meal with your dog.
In the evenings, beer gardens are always an amazing choice. Your kids can chase fireflies and play games while your dog relaxes with you. With many beer gardens offering music and family activities, every location is unique and sure to provide an incredible experience for you, the family and Spot! Just your luck – Lake Country Family Fun has already compiled a list of beer gardens for you! Is Buster giving you the puppy eyes because he wants your beer? Bring a snack from Leashless Lab. Their treats are made locally out of upcycled beer grains.
Wanting to make a day trek into Milwaukee? Check out On Milwaukee's list of MKE canine-friendly dining options. 
No matter what adventure you go on with your pup, don't forget to end the day with a doggie cone at the Kiltie Drive-in. 
Wisconsin is the state of festivals! There are fests for everything, and dogs are not excluded. There is:
Who doesn't like shopping for toys and the perfect accessories? For the shopaholic socialite, try visiting dog-friendly stores such as Pet-Co and Bentley's Pet Stuff! If your errands need you to go beyond pet stores, dogs (on a leash) are typically allowed in stores like Home Depot, Bass Pro Shops, Fleet Farm in Oconomowoc, and Blain's Farm and Fleet. The Corners of Brookfield shared a fantastic list of their pet-friendly retailers as well. A night out shopping and relaxing at a patio table with a canine companion sounds wonderful to us! Care.com has compiled a list of other companies which typically have a dog friendly corporate culture, but call first to confirm Spot is welcome. Many companies leave pet-policy decisions up to the store manager and can vary between locations.
Tips for Success Wherever You and Fido go!
No Leash, No Good

– As mentioned previously, but oh so important, please follow leash laws. Many public spaces require a dog to be walked on a six foot leash. This rule isn't meant to curb your enjoyment of an activity, but is intended to keep everyone safe and happy – from dogs to humans alike. While your dog might be a social butterfly, meeting new friends might make others nervous. It's best to keep your dog close and speak with the parents of new four-legged friends (and even two-legged) before letting them meet. Manners are everything. 
Be Boy Scout Prepared

–  Just like with children, it pays to be prepared! Concrete is hot on paws, and even the most incredibly good-natured dog can get cranky when overwhelmed, hot and tired. Water, snacks, and a little extra awareness can go a long way to keep your day enjoyable and engaging.
Be Your Dog's Best Friend

– At the end of the day, you need to have a serious heart to heart with your dog to determine what they (and you!) will enjoy. If your dog is shy, a farmers market might not be the most enjoyable experience. If your dog is used to a lot of exercise, sitting for a long period of time at a patio table might make them antsy. Always be your dog's advocate and never lose sight of the fact that most dogs want nothing more than to spend time with their favorite people, so get out there and have fun and don't forget a few extra treats!
We know you're bound to find a few things in Lake Country for you and your pup to enjoy. Have you tried something on this list or have a favorite activity we haven't mentioned? Let us know in the comments or on this FACEBOOK POST. We love hearing about where your adventures take you!
Tap here to share on Instagram!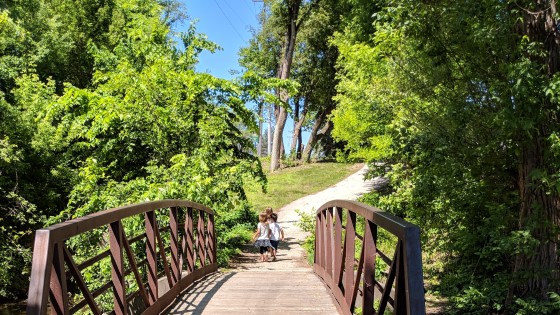 Sponsored by 3 realtor offices that are deeply rooted in Lake Country and Waukesha County: Team Trimble, Bark River Realty, and RE/Max Innovation.