Community supported agriculture (CSA) has made major strides in the last several decades. CSA customers have access to seasonal and locally grown food directly from a farmer. This system not only supports the local community, but also gives a clearer vision of where the produce comes from. After all, food doesn't magically appear on supermarket shelves.
CSAs provide a number of benefits for both farmers and consumers. Farmers can receive payment earlier in the season which they can reinvest into their crop while consumers receive the freshest food possible. This is important because food at the supermarket is often shipped from distant locations and thus picked before it is ripe to account for travel time. However, the ripest crops are the typically most nutrient dense which makes CSA agriculture a healthier alternative. Further, CSAs give consumers exposure to a number of different produce and cooking styles as well as access to the farms where their food is grown.
CSAs are sustainable, flexible, wholesome, and right around the corner! Check out the following 15 CSAs around Waukesha County.
Please thank our CSA Guide Sponsor: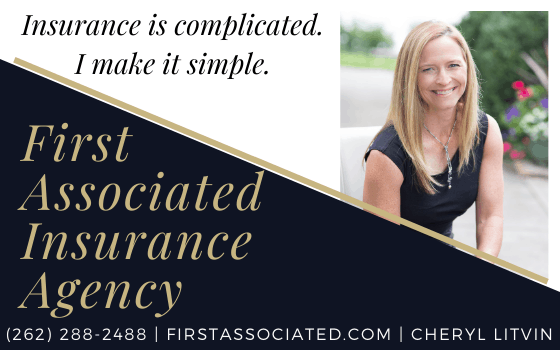 First Associated Insurance Agencies was established in 1969 by six business competitors that recognized they were stronger together than apart. Cheryl's great grandfather, grandfather and parents built the agency with hard work and determination that embodies their strong family values.   In 2008, Cheryl experienced a devastating tornado to their family home while her husband was deployed.  That awful insurance experience gave her a passion to move back to Wisconsin and become the 4th generation owner of the agency.  No person should ever have to experience a claim process like she did. 
Now, more than ever, individuals, families and businesses need to have the confidence and peace of mind that their insurance requirements are in line with their needs and goals. It is Cheryl's mission to provide her clients with risk management expertise, while finding the right coverage for each unique situation. 
Cheryl Litvin welcomes a conversation or an insurance review.   Click here to schedule an appointment directly with Cheryl.  To learn more about First Associated Insurance check out their website at firstassociated.com, Facebook, email Cheryl directly at cheryllitvin@firstassociated.com or call or text 262-288-2488.
12465 W Burleigh Road Brookfield WI 53005
15 CSAs In and Around Waukesha County
1. Full Harvest Farm LLC
Hartford, WI

This CSA features seasonal and all organic vegetables, herbs, and melons. They plant at least forty different vegetables in succession every season in order to keep your meals interesting. They feature familiar produce such as watermelon, sweet corn, carrots and tomatoes along with unique items like bok choy, kohlrabi and rutabagas. They also have choice boxes at pick up locations to allow for flexibility, and they write a weekly newsletter informing you about your food.
Website: Full Harvest Farm :: Homefullharvestfarm.com
2. LotFotL Community Farms
Elkhorn, WI
LotFotL has a number of CSA options in order to help you find a system that works. The farmers have a huge assortment of items including produce, meat, and honey from their bee sanctuary! Naturally, the options have everything from only meat to only produce boxes for flexibility. They ensure that all their food is grown sustainably and boast 100% satisfaction on their website.
Home Delivery is available!
Other Pickup Locations:
Tuesday – Urban Ecology Center parking area – 1500 E. Park Pl.
Tuesday – Garden District Parking Lot – 6th and Norwich
Saturday – Shorewood – Northwoods building
Saturday – Bay View – South Shore Farm Market
Thursday – Elkhorn – LotFotL Community Farm
Website: LOTFOTL Community Farm | We feed people!lotfotl.com
3. Marr's Valley View Farms
Mineral Point, WI
The Marrs are a brother-sister duo who are fourth generation family farmers! Established in 1874, the farm is nestled in the breathtaking Driftess Region of Southern Wisconsin. This Meat 

CSA

 features multiple share sizes featuring family farm raised beef, chicken, eggs and pork. Meat Bundles have been added to the 2021 offering.  
Website: https://www.localharvest.org/marrs-valley-view-farms-l-l-c–M5546
4. High Meadow Farm
Johnson Creek, WI
High Meadow Farm prides themselves on cultivating food through sustainable and environmentally responsible practices. Their CSAs feature a number of different sized shares separating produce and poultry seasonally. This farm is well reputed and quite popular in the area. If you are looking into this CSA, act soon before their 2020 shares run out!
Some 2020 shares are sold out. There is an option to join the waiting list. 
Website: High Meadow Farm
5. Valley View Organic Farm
Richland Center, WI
This farm was started on a land that was unused for over six years. The farmers improved the land and started their farm from scratch, without any herbicides or pesticides. This easily served as the perfect fresh start for an all organic and sustainable farm. Their CSAs include a number of sizes and varieties of meat products including chicken, lamb, and beef.
Website: Valley View Grassfed Farm
6. Tipi Produce
Evansville, WI
Tipi Produce is an organic certified CSA that is family-run. They grow a huge assortment of produce delivered with a weekly newsletter sharing recipes so you can enjoy eating your vegetables. The CSA delivery offers a number of different schedules: weekly, biweekly, or monthly. They also host special farm events for their CSA members such as strawberry or tomato picking.
2020 CSA sold out
Website: Tipi Produce – Organic CSA in Wisconsin
7. Irv and Shelly's Fresh Picks
Niles, IL
Irv and Shelly's is a year-round CSA that delivers in the Chicago and Milwaukee area. Their selection includes produce, meat, dairy, eggs, and baked goods. You can also order specific items any time online if you want to ease into the CSA experience. They even offer a flower share during the summer months.
Website: Irv & Shelly's Fresh Picks: Freshpicks
8. Gwenyn Hill Farm
Waukesha, WI
Gwenyn Hill's CSA share is picked up on the farm. This way, members get to choose between varieties while they pick out their vegetables. Members also have exclusive access to U-pick fields, where they can harvest strawberries, peas, beans, cherry tomatoes, tomatillos, mini sweet peppers, hot peppers, and flowers. Members receive a weekly newsletter with recipes, videos, and other information to help them utilize their share.
Website: Gwenyn Hill Farm
9. Wellspring Education Center and Organic Farm
West Bend, WI
Wellspring is a hostel, educational retreat center, and an organic certified CSA. Many of their crops are farmed by seasonal interns and local youth who learn about organic farming. Their CSA features an array of fresh produce from June to November, and the farm also hosts fun annual events such as the Spring Seedling Sale, Mud and Suds Party, and a farm-to-table dinner.
Website: WELLSPRING INC – Home
10. Pinehold Gardens
Oak Creek, WI
Pinehold Gardens uses a number of sustainable practices in order to better their land and their crops. Their CSA schedule offers weekly shares, market shares, and Workplace CSAs. Their deliveries have a range of seasonal produce with a newsletter outlining recipes and storage tips. The farmers are actively working to increase the biodiversity on their farm to make their land a home for not only the farm animals but also local species in the area.
Website: Pinehold Gardens – Home
11. QuintaMKE
East Troy, WI
QuitaMKE is a nonprofit, package-free and organic certified CSA that prides itself on flavor. Their CSA services run June through October and feature a number of delicious vegetables such as "tomatoes that taste like candy". They have outlines for all of their seasonal produce on their website, and they can also be found at the Tosa Farmers Market and Riverwest Gardeners Market.
Website: Quinta Milwaukee – QuintaMKE
12. Old Plank Farm
Plymouth, WI
The Old Plank Farm is in its eleventh year supplying organic produce as a CSA. Their produce is delivered weekly from June to October and also offers the addition of pasteurized eggs from their chickens. All animals at the farm are grass fed in order to ensure high quality ingredients in every delivery.
Website: Old Plank Farm
13. Morning Star Family Farm
Hartford, WI
Morning Star Family Farm is a small family farm in Hartford, Wisconsin. They deliver their homegrown items to Milwaukee, Brookfield, Hartland, Thiensville, and Madison.2020 
Website: Morning Star Family Farm
14. 5ive Seasons Farm
Hello, Lake country! 5ive seasons farm, your locally owned, year round CSA program is here. They deliver fresh produce, eggs, meat and local craft food options directly to your door each week. They are beyond excited to announce that they have expanded their delivery area to include all of lake country and Waukesha county.
There's no long commitment, no huge upfront fee and it's all automated until you stay stop. Need to cancel for a week, or two or 10…not a problem. You have the control to turn your subscription on and off on your schedule, no phone calls to make or emails to send. Simply log into your account and put your account on hold, when you're ready to restart, just reactivate.
They have been serving the Wauwatosa, Elm Grove, Milwaukee, West Allis and Brookfield market for 4 years and their hundreds of subscribers will tell you, 5ive Seasons Farm delivers the best and it couldn't be easier. Visit the website to learn more, check out the FAQ's and learn why their certified small family farms are trusted by thousands of happy eaters! Thanks for supporting our farm!
Website: 5ive Seasons Farm
15. Three Brothers Farm
Oconomowoc, WI
Three Brothers Farm is run by Michael and Courtney Gutschenritter. They raise chickens on pasture for eggs and meat, graze Shetland Sheep for meat and wool, and grow lots of flowers, on Michael's grandparents farm in Oconomowoc, Wisconsin. They move the birds to fresh pasture daily. The birds are accompanied by Freja and Brunhilde, their lovable livestock guardian dogs who protect them 24/7.
Website: Three Brothers Farm
BONUS CSA:
Life Cycle Market Garden
Pewaukee, WI
An organic, no-dig market garden dedicated to providing you the best tasting, most nutritious and responsibly grown local food possible. For the Earth and You.
Home Delivery is available!
They also offer pickup from one of their local drop-off locations.
Website: Life Cycle Market Garden
Please fill out this form to update your CSA information or add your CSA to the list: