My Name is Emily Schultz, I am the agency owner at Magic Mom Travel LLC and a local mom to a Walt Disney World loving little girl! Disney destinations with kids can be so much fun and make memories to last a lifetime. I love watching my daughter get so excited to see her favorite characters and dance to the music of the shows! While this can be such a great time for children and parents, there are a few tips Magic Mom Travel LLC has to make sure the trip goes smoothly.
10 Disney Travel Tips with Kids
1- Look up height limits in advance. This way you know ahead of time what attractions your child may/may not be big enough for and will help prevent disappointment over discovering this upon arrival. You can plan activities for them to do in that case if you need to take advantage of rider swapping.
2- Pack for all types of weather. When it rains, a stroller cover and ponchos help SO much! The buses on the ride back in the evening can get a little chilly, so a light sweatshirt will come in handy as well. Water style shoes help as well, some rides get wet, but soggy shoes are not fun in the rain, so crocs were our go-to! For the heat, sunscreen, stroller fans, and cooling towels are a must as well.
3- Look up videos to watch of attractions ahead of time. We personally found POV (Point of view) rides on YouTube and played them on the TV our daughter, so she could familiarize herself with the songs, and what part of the rides might be a little dark. For example, Frozen Ever After in Epcot has the ice monster "Marshmallow" at the end of the ride, and it can be scary for some kids. She was expecting it and was well prepared! It also helped her get excited!
4- Take advantage of the baby care centers if you have babies. They have formula, changing
stations, and quiet feeding rooms available. This is especially nice for shy babies who need a break from the action. The air conditioning is nice too! They are free, and available in each park.
5- Bring snacks! Disney allows them to be brought into the parks, and it is nice to just have them available instead of waiting in line. It saves quite a bit of money as well! If you are packing light, you can get them delivered directly to the resort via Garden Grocer, Instacart, Walmart, Amazon, ect.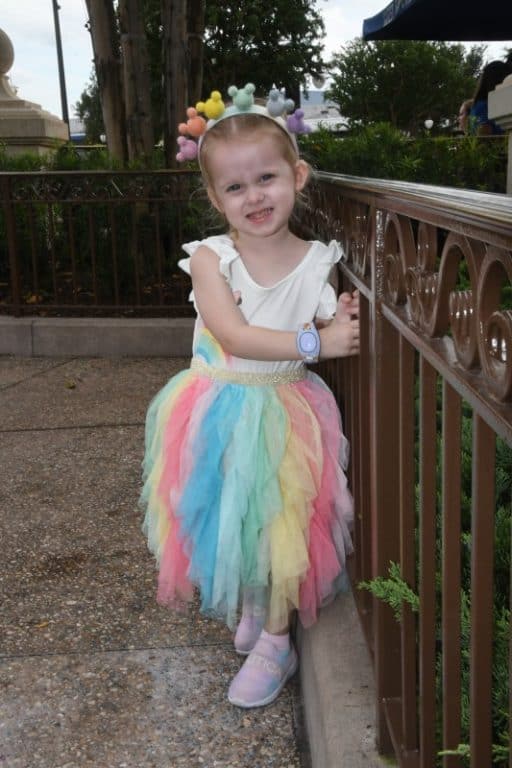 6- Ask your kids to explore! It is fun for them to do things the parks offer, like the Drums in Animal Kingdom, the miniature train village in Epcot, the dinosaur dig site in Animal Kingdom, and The Splash n' Soak Station in Magic Kingdom are great self-led play where parents can rest while the kids burn off some energy.
7- Pack a refillable water bottle. This will save a lot of money on bottled water. We personally use the Brita ones! You can also purchase refillable popcorn buckets in the parks, which is nice is your kids like that for snacks!
8- For cheaper souvenirs, utilize the pressed penny machines. The thrill of finding new pennies is fun for kids to search for and collect! There is also pin trading with the cast members which makes for a fun experience, and less to pack for the voyage back home. You can also purchase a preselected dollar amount on Disney gift cards in advance to help give your kids a budget for goodies they may like to take home.
9- Plan a rest day or a day at the pool. The Disney resorts are so fun, and taking a break from the walking and crowds will help recharge both you and the kids.
10- Remember to take it easy and enjoy your surroundings. There is a lot of hustle and bustle to see and do everything on vacation, but sometimes the best memories are made just taking pictures,
searching for hidden mickeys in line, and relaxing! For little ones constantly moving can be
overwhelming, so remembering to take a step back can help make their trip more enjoyable!
Our travel agency offers various suggestions and tips with how to fill your free time on your off days, as well as toddler-approved attractions. We would love to help make sure your trip goes smoothly, and will help with all dining reservations and the moving parts that go into planning such a big trip! Our services are complementary with each trip booked, and at Magic Mom Travel LLC, we are happy to provide all our personal experiences and favorite places to eat and see. We are looking forward to connecting with the various families in Lake Country, and can't wait to make your trip magical!