Lake Country Family Fun is a big fan of The Corners of Brookfield. I mean, we've spent quite a bit of time there ever since our sneak peek before they opened in April 2017. And it's even MORE fun to visit now with additional restaurants and stores open. We love shopping in the new stores and trying out the new eateries. It's hard to pick a favorite!
Things are constantly changing at the Corners with new stores, events and more!
What's New: Silverspot Cinema
Silverspot Cinema opens today – July 12, 2019!
Per the press release, April 22, 2019:
"After more than a year of construction, the much-anticipated Silverspot Cinema today announced that it will debut its first Wisconsin location at The Corners, Town of Brookfield. …

The sophisticated boutique theater features nine auditoriums across two stories, in-theater dining and a bar and lounge on the main level. The 41,000 sq. ft. theater is located on the east side of the town center. …

"We are thrilled to be joining The Corners and can't wait to welcome new team members and the community to our newest theater," said Gonzalo Ulivi, managing partner of Silverspot Cinema. "We pride ourselves on catering to the true film, food and fun lover, and we look forward to bringing our exceptional entertainment, in-theater dining and relaxed luxury experience to the Town of Brookfield and greater Milwaukee area."

Among the unique offerings of Silverspot Cinema is its cultural programming. The company offers a range of cinematic viewing selections, which – in addition to the best Hollywood productions – include independent films; live showings of operas, concerts and theater; genre-centric film series; special in-house cultural events; and more.

With a premium dine-in-theater service, guests can expect a sensory gourmet experience featuring an elevated American fare menu developed in partnership with New York-based Craveable Hospitality Group. In addition, Silverspot Cinema will debut its new S Bar cocktail lounge concept at the Town of Brookfield location, offering indoor seating for more than 70 guests that expands onto an outdoor patio for additional seating in warm weather.

"We are excited to present a refined and modern American menu, with offerings for all diners alike. From lighter fare such as shrimp lettuce wraps, tuna tartare and fresh salads, to more robust options consisting of flatbreads, hearty sandwiches and filet mignon, all are available and delivered right to your seat," said Stephen Goglia, president and CEO of Craveable Hospitality Group. "Our partnership with this leading movie theater operator now serves as the synergy between viewing and dining for a full sensory experience. CHG is proud to be lending its culinary expertise, to be part of the cinematic revolution, and to support Silverspot's nationwide growth."

Auditoriums will feature custom-designed plush seats that fully recline with three levels of adjustable heating, a table for in-theater dining and a call button for in-theater service. Silverspot offers state-of-the-art technology in all auditoriums, including Barco Laser Projection and Dolby Surround Sound Systems.  The theater will also offer direct elevator access to its lobby from The Corners' expansive covered parking, providing protection from inclement weather."
What's Coming: Cubanitas
A new restaurant is coming to the Corners of Brookfield! Cubanitas will open at the town center in spring 2020.
Per the press release, June 3, 209:
This will be the third location for Cubanitas. Marta Bianchini first brought Cuban cuisine to downtown Milwaukee in 2003 and opened the second restaurant in Oak Creek in 2017. The new location at The Corners will offer Cuban favorites like empanadas, lechon asado and mojitos, all served with simple flavors and fresh ingredients.

"We're thrilled to welcome Cubanitas to The Corners' diverse restaurant lineup," said Robert Gould, vice president of IM Properties. "The restaurant offers an experience and menu that is unlike anything else in Brookfield, and we're proud that Cubanitas chose The Corners for its newest location."

The 3,000 sq. ft. restaurant will be located on the southwest corner of Union St. and Lord. St., and will offer indoor/outdoor seating for 100 guests.

"We can't wait to bring Cubanitas to the Town of Brookfield community," said Marc Bianchini, co-owner of Cubanitas. "The Corners has a vibrancy and energy that complements the atmosphere of Cubanitas nicely, and this location is the perfect fit for us."

Construction for the new location is slated to begin in fall 2019.
What's Coming: Wahlburgers Is Coming to the Corners of Brookfield
Did you hear the news?! Another restaurant is coming to the Corners of Brookfield, and not just any restaurant, but Wahlburers – the 4th location and the first in Wisconsin! The restaurant hopes to open in summer 2019.
Per the press release on January 28th, 2019,
The 6,000-square-foot Wahlburgers will be located on the northeast side of the center and will offer a unique dining experience featuring signature burgers, made-from-scratch recipes, home-style sides, fish, chicken and vegetarian options, and a full bar including specialty drinks such as adult frappes and floats.

"Hy-Vee is excited to open its fourth Wahlburgers location, and to bring a new dining experience to Wisconsin," said Randy Edeker, chairman of the board, CEO and president of Hy-Vee. "Families will enjoy great food in a fun atmosphere, served with the excellent customer service and hospitality that Hy-Vee and Wahlburgers are known for."

Chef Paul Wahlberg created the franchise along with two of his brothers, actors Mark and Donnie, to please all tastes through both lighter and heartier menu offerings, served up in casual, music-filled atmosphere.

"Families will have a great time, and hopefully share a lot of laughs and love when they enjoy my family's delicious recipes at our new Brookfield Wahlburgers location," Chef Paul said. "Along with Hy-Vee, our family is committed to offering a unique culinary experience that goes beyond the basic burger, with customer service that will make you 'feel' like family."
What's Coming: Legendary Comedy Venue Improv Opens First Wisconsin Location
The Corners of Brookfield is going to be your entertainment headquarters!
Per the press release on January 9, 2019,
The 13,049-square-foot premium entertainment venue will include three live performance stages with full food/bar service and a lineup of some of the best comedy talent in the country.

The Corners is the first Wisconsin location for Improv, which was founded in New York City in 1963 and now
has 23 locations nationwide, including Los Angeles, Chicago, Houston, Pittsburgh and Washington, D.C. Over
the decades, the talent who have graced Improv stages include Richard Pryor, Billy Crystal, Lily Tomlin, Freddie
Prinze, Andy Kaufman, Eddie Murphy, Jerry Seinfeld, Tim Allen, Jay Leno, Chris Rock, Dane Cook, Ellen
DeGeneres, Jamie Foxx, Adam Sandler, Jeff Dunham and Dave Chappelle. Improv will be located in the
northeast section of The Corners, facing Bluemound Road.

Construction will begin on the Improv in the summer of 2019, with an opening scheduled for early 2020.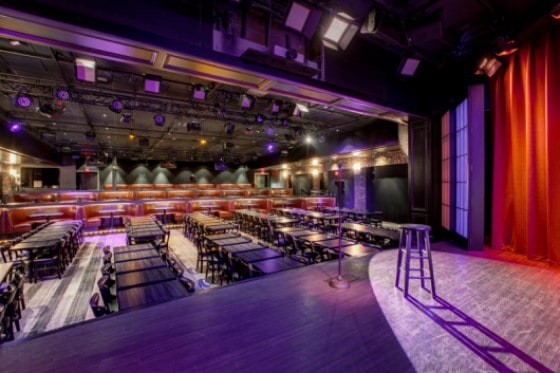 What's New: Sendik's as an Experiential Destination
Sendik's at the Corners of Brookfield is getting more than a face lift – it's receiving a $5 million investment to offer a full integration into the main shopping level at The Corners, adding a mezzanine level lounge, and dining and bar offerings. WOW!
Per the press release on December 13, 2018,
Construction will begin in January, and the store will remain open during construction, offering the full range of Sendik's services and selection throughout the renovations. Upon completion by summer 2019, customers will be able to enjoy all of the benefits of the existing Sendik's store, including quality products and covered parking, plus new services, expanded food choices and greater convenience.

The town center's grocery store will increase in size from 35,000 square feet to 40,000 square feet and will offer customers a shopping experience that is perfectly suited for the area. Additions to the store include:
• Inclusion of 7,000-sq. ft. on the main Union Street level adjoining L.L.Bean that will house a convenient floral shop and home goods department, expanded grab-and-go selections and more.
• A mezzanine level served by escalators featuring a gathering space with sofas, tables, gas fire and piano that overlook Sendik's newly designed store.
• A bar offering a range of beer, wine and gourmet coffee.
• A grill station where customers can have fresh meats and fish cooked to order while they browse the salad bar, with a choice of eating at home or at the in-store bar or lounge.
• Direct pedestrian access between Union Street and Bluemound Road via a new pedestrian indoor walkway that provides access to Sendik's and The Corners.

"Providing an unmatched customer experience has been at the forefront of our mission since 1926," said Ted Balistreri, co-owner at Sendik's. "We want to capitalize on the recent success we have had with our store at The Corners of Brookfield and enhance the customer experience by adding amenities this community has been looking for. The growing popularity of the town center, coupled with the willingness of IM Properties to continue to elevate the center's offerings, makes The Corners of Brookfield the perfect fit for this type of unique grocery store."

"Sendik's is a unique asset and essential part of the tenant mix we are developing, and we are delighted to partner with them on this exciting addition to the Town. Sendik's brand aligns perfectly with the eclectic mix of high quality, often independently owned and managed retail, restaurant and entertainment offerings we are assembling," said Robert Gould, head of US Operations for IM Properties. "The common area improvements we announced in September gave us the opportunity to fully integrate Sendik's beautiful store into the main shopping level and make it an experiential destination for our loyal customers by both foot and car, as well as the more than 200 families who call the Corners home. This store will push the boundary of grocery offerings, food service, convenience, experience and quality in the greater Milwaukee region."
What's Coming: Lake Country Social
Say what? A new American restaurant named after the area we love so much?! We're going to have to wait, because it's not planned to open until next summer. But when it opens, it's planned to have a three level restaurant, bar, garden rooftop and lounge. Wow!
Per the press release,
"Lake Country Social will be inspired by Wisconsin's rich old-world heritage, which is steeped in native and European tradition, combined with its new-world modern sensibility guided by health, wholesomeness, empowerment, and style."

The menu will consist of refined yet comforting supper club classics – fried walleye and perch, burgers, prime steaks, chops and fresh seafood – along with thoughtfully composed and plated house specialties. "While the assortment is classic Wisconsin, each dish will be refined through technique and sourcing," says Head of Culinary Development for RNO, Chef Tim Dahl.

The restaurant, located on Bluemound Road, next to Café Hollander, is designed by OPN Architects with additional branding and interior design by Distillery Marketing, based in Madison, Wis. The cosmopolitan and contemporary design is clean, sleek and classic with extensive use of natural woods, white metal panels and glass with white mullions, inspired by a Richard Meier aesthetic.

The tri-level space features an open-air garden rooftop with a large bar, lounge area with fire pits and dining for 100+ guests. "The rooftop will be in perpetual celebration mode," says Maddy Van Elzen, RNO's Director of Hospitality. "We plan on throwing Brookfield's largest fish fry each Friday on our rooftop in the summer. The space will be great for weekend brunches and available for rent as a private party space."

The main dining room at Lake Country Social features an open kitchen in a casual airy setting that evokes the feel of lakeside dining. Its bar is a special feature with 45-seats and large floor to ceiling windows that open fully to the patio.

The lower level of Lake Country changes from an open and airy environment to a more intimate, lounge-like, lux supper club atmosphere. Here, Lake Country Social offers more formal dining, a dedicated private party space with state-of-the-art audio and video capabilities, and a separate wine, charcuterie and cheese bar named Elsie that features a 22-ft high copper, wood and glass back bar. This bar will also house one of the region's largest collection of American bourbons and gins.

All in all, Lake Country Social serves as a gathering place for connecting with the surrounding community in a warm and hospitable manner that only Wisconsin can provide. "Lake Country for me speaks to a state of mind. We will seek to capture and channel quintessential Wisconsin feelings of comfort, escape, discovery, relaxation and connection to our neighbors and each other," says RNO CEO Patrick Sweeney. "We will humbly pay homage to and celebrate the incredible beauty, heritage, bounty and opportunity that this area of the state brings."
Just Opened: Goddess and the Baker
Lake Country Family Fun got a sneak peek at Goddess and the Baker on Friday, October 12! And they are now officially open to the public as of October 16!
Per the press release,
Goddess and the Baker currently has three locations in downtown Chicago, IL. They focus on craft coffee, sandwiches, salads, and fresh baked goods on-the-go. Look for seasonal flavors, artisan coffee service and a plethora of "ready when you are" dining options for breakfast, lunch and dinner.

The Goddess and the Baker locations offer chic, cafe-style settings comfortably equipped for large groups or single diners. The menu boasts gourmet breakfast sandwiches, pastries, and fresh fruit in the morning, and lunch and dinner offerings like fresh salads, soups, and made-to-order sandwiches all day long.
Find upcoming events at The Corners HERE!
—
Our Fun at The Corners of Brookfield!