Lake Country Family Fun was invited to tour southeastern WI Girl Scout Camp – Camp Alice Chester in East Troy, WI. This camp has such a rich history and is celebrating their 94th summer!
Many of the campers that attend this camp are from right here in Southeastern WI, although some venture up from northern IL. The camp sees about 100-120 campers a week. The active camp dates are mid-June through mid-August.
Friday, August 9 – a beautiful sunny, Wisconsin day. Temperatures were mid to upper 70s. The perfect day to enjoy summer camp. 
Many of the girls that attend camp, attend year after year. Some go on to go through the Counselor in Training (CIT) program. I had the opportunity to interview one of the CITs. 
This camper was spending her 8th year at Camp Alice Chester, as a 15 year old. Her favorite parts of camp are making friends and being here in general, plus doing things that you cannot do or experience elsewhere. 
Once a counselor, some move on to become Camp staff. Not only that, but girls have the opportunities to earn certificates such as lifeguarding, first aid, CPR, and more! The camp certifies about 10 life guards a year as staff.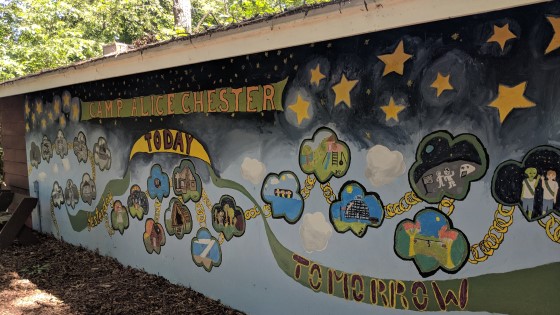 Non stop learning through adventure and fun
Girls can sign up to attend a week at camp, but that doesn't mean that they will spend all week on the gorgeous property. Depending on the theme week, there could be a multitude of field trips available. From day trips to the Racine Zoo to Rock Climbing at Devil's Lake to camping at Dark Sky Park in Door County, girls learn through hands on adventure. 
The camp also places an emphasis on STEM learning. If your child loves to take things apart and make new creations or craft. They have limitless ideas!
The fun is not over yet this summer, come check out the Camp with your WHOLE FAMILY!  Yes, your whole family, dad and brothers, too, can come check out Camp Alice Chester and others yet this fall. Camping options are available on a first come, first served basis. Sites must be booked by August 30. Family Camping details can be found here. 
Make this a must-do on your child's summer bucket list!