THE DAY I KNEW
March 13, 2020 is a day I will never forget. It was the day that I walked into school to pick up my 4k student. I had this eery premonition that I would not be back in this building again for the school year. And it turned out my gut was right. In-person school was cancelled for the last part of the 2019-2020 school year in Wisconsin. Virtual Schooling quick became a thing we all learned and adapted to the "new normal" and local businesses, including Preschools, became creative with their offerings.
INTO A FUN SUMMER
Then summer came and our family, like many of yours, was excited to be spending lots of time outside. However, that eery feeling about fall schooling started creeping in around July. My daughter was supposed to start preschool and she was SO excited, like extremely excited. She wanted to be like her big brothers. Would school happen? If it did would it last very long? These were the questions we all were wondering.

IN PERSON FALL SCHOOL WAS A GO
Then came show time – school would be in person at my daughters school (and my sons' too)! Many schools offered virtual options for parents who wanted to choose that, and I totally support options for all levels of comfort. For our family with two working parents (one working at the school), we knew in-person was for us and we were all excited (especially the kids).
Then the mask mandate came out. At first, we were nervous how kids 5 and up were going to do with it. But we stuck with the in-person decision. It turned out the kids can handle masks like champs (better than most adults!) Am I right?!
SHOW TIME, BUT HOW LONG WOULD IT LAST
Flash Forward to August and school actually started in-person five days a week! My little girl was officially a preschooler (in fact attending two different preschools)! She was super, duper excited. Every time we drove into the parking lot she said, "THANK YOU MOMMY!" I'm like, 'No, thank you'! HA! Fridays were her "sad" days because she didn't have school.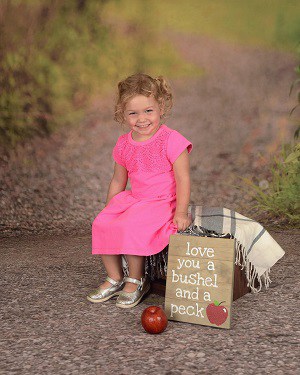 SOME STRUGGLES ALONG THE WAY
My kids have been healthier than ever this first quarter of school. Not even a sniffle to mention – phew! Their classes have also been very healthy. My daughter did have to quarantine for two weeks when someone in their class was tested positive. What that meant for our family was a little bit of shuffling for two weeks. The other members of our immediate family didn't have to quarantine unless our daughter started having symptoms. Thankfully she did not have symptoms.
The masks were NOT a struggle for the kids to wear (my daughter is under 5 so that didn't apply to her). The struggle with the masks comes in with me trying to remember to wash them, hang them, remember to bring them, etc!
We've had to reimagine some beloved events at their schools that do not work safely this year, but everyone is being really flexible, creative and understanding.
VERY HAPPY WITH SCHOOL PROTOCOLS
Personally, we are very happy with the steps our schools have been taking. All of the Preschools in our Preschool Guide and Private School Guide offer in person schooling, and they each have worked hard to make it happen safely. Some even offer virtual or hybrid options. That being said, I understand there are people who prefer virtual for many reasons. We each need to make the hard decisions for our family and respect the decisions of others without shaming or judging.
One school our children go to has had only a few classes quarantined and a few students, and thankfully no one quarantined has gotten COVID-19. Mask-wearing and social distancing are enforced. Temperature checks are a part of the school day. Parents aren't allowed in the building (for now) and other measures are being taken as well.
KEYS TO A HEALTY PERSPECTIVE ON THE SCHOOL YEAR
Even as I write this, I hope I am not jinxing myself. One thing that helps me keep perspective is knowing that at any given moment one of my kids may have to quarantine or the whole family may have to. I am very thankful each day this isn't the case, but mentally prepare myself for it (as many of you reading this have faced this reality).
Another key to a healthy perspective is thankfulness-mindset over a shaming-mindset. I am more thankful for principals, teachers, support staff and others this year than I ever have been. Their job went from hard to nearly impossible. They hear so many complaints that it is disheartening. That's why I'm going above and beyond to be thankful and when I see an issue, put myself in their shoes and approach conversations with love and thankfulness.
Here's to hoping 2021 will be better, but flourishing in the moment as that is all we are promised!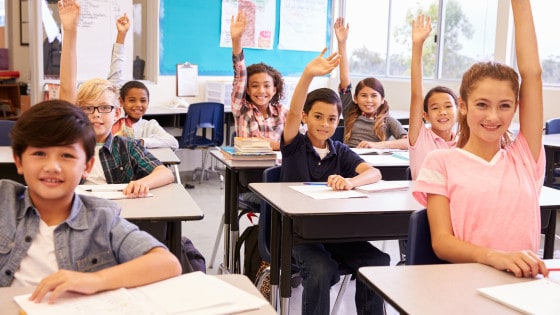 Look into some of the area's best private schools in this guide.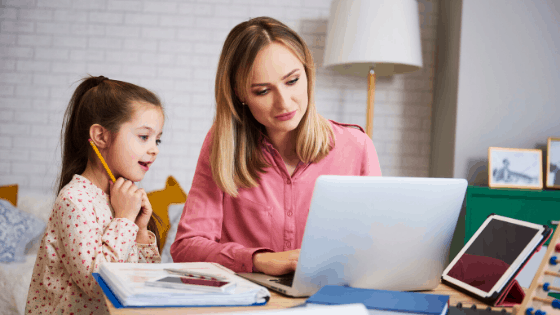 We have a guide with resources for school year enrichment, supervision and day camps sponsored by the Bridges Library System with their HelpNow program!