Please welcome Lake Country Family Fun's guest blogger, Christy Schmidt, back today as she shares her first day of motherhood experience. What a beautiful reflection on the process of becoming a mom. Happy Mother's Day to all of the moms out there wherever you are in your journey!
The First Day of Motherhood
By Christy Schmidt
I always wanted to be a mother. I had other career aspirations too, sure, but I always knew I wanted family to be my central role. We tried for almost a year to get pregnant, which compared to many is a very reasonable time to wait, but we had expected it to happen right away and were discouraged when it didn't. So when I finally got that positive test, I cried with joy, elated to not only meet my child but to be linking arms with women everywhere who had taken on this mantle.
For nine months (give or take), as parents-to-be, we wait. We anticipate, we learn, we prepare, we imagine, we dream. We try to find that healthy balance between learning as much as we can about what to expect while still recognizing the very real fact that no two experiences are identical, either for birth or beyond.
I had trained as a doula before I had my first child, so I knew a lot of the "right answers" about how to give birth, but reality is a whole different animal. Everything went well with the birth, and I'm grateful for the knowledge that I had and how it helped me work with the process, but the actuality of the experience surprised me. It was hard, intense and all-encompassing, and after fourteen hours of labor I was ready to be done. But I wasn't quite ready for what was next.
With the releasing of my son into the world, all I could think was, Thank God it's over! There was no room in my brain for anything else, but in the midst of that relief and exhaustion, a wet, squirming, crying stranger was placed on my lap.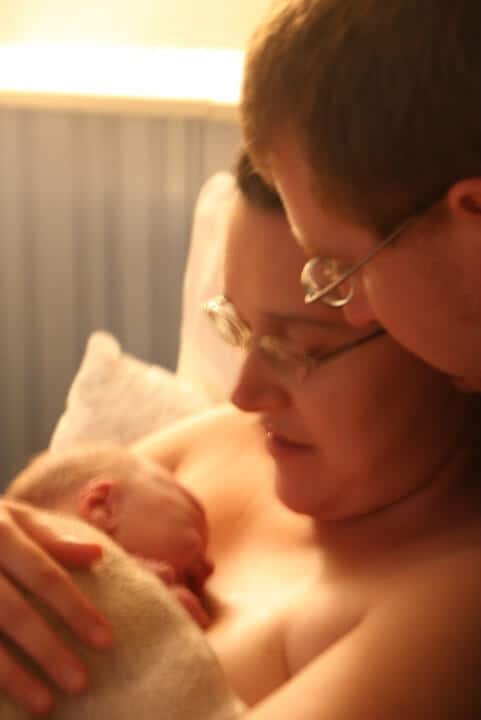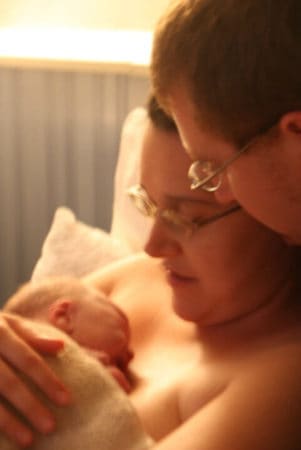 This was it.  This was the moment I'd waited for all my life, the moment when I went beyond hopeful mother or expectant mother to mother. It was a mystery: I'd spent the past nine months falling in love with this tiny person who was now in my lap, and yet I knew nothing about him. I'd only in that moment even discovered his sex, and with that came the declaration of his name – Benjamin – but I didn't feel the swell of instant love and connection I had expected. I simply felt confused about how unfamiliar he was. I knew cognitively that he was my son, and I was grateful he had arrived, but the reality still felt so far off. I didn't know what being a mother was supposed to feel like.
It was morning when Benjamin was born, and by mid-afternoon we were ready to bring him home. I spent the rest of the day on the couch while family came to meet their newest member, and with each guest leaving again it felt surreal that he was left behind with my husband and me. This was our baby, I had to tell myself; he lived with us. I was glad to have him. I nursed him. I held him. I dressed and changed him. I had no idea who he was.
We prepare ourselves for the reality of parenthood by registering for or buying the stuff we're told we need and by learning about not only birth but the new phase of life beyond. These steps are important for good preparedness, but most parents-to-be know that there's nothing that can fully equip us for the life change ahead. This isn't a bad thing; we can only learn the rest by experience, and even if we've spent significant time caring for infants, a child for whom we are primarily responsible is going to be a completely different adventure. There will always be a depth of love and fear and weight to parenthood that can't be fully prepared for in advance.
But it's good. There's something uniting about joining the ranks of the clueless. Benjamin was determined to spend much of his first night awake, as many new babies do, and with my husband sleeping and the rest of the family gone to their own homes, it was just me and my son. We rocked and talked, and I sang him the lullaby I'd sung to him while he was still in my womb. When I would try to lay him in his bassinet, he would cry. I was the only universe he had ever known, so I held him and let him stay in that universe.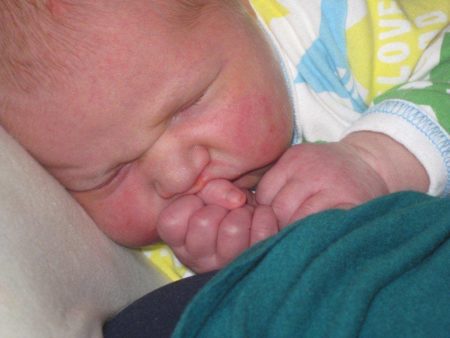 And somehow over the course of that first night, I began to feel it. Motherhood. His face began to look familiar to me, and I started learning the sound of his voice, the squeaks and grunts and the way he sounded like the Count from "Sesame Street" when he cried – "Ah ah ah!" By morning the reality of motherhood had gone from head to heart. I didn't just know I was a mother – I felt like one.
The transition into motherhood is as varied and unique as the women and children themselves. Some women feel it immediately. The moment their babies arrive, they feel every inch of their new identities, and the swell of love and familiarity is complete and full at their first meeting. (I had this experience the moment my daughter was born, nineteen months after her brother, though I've always felt that for me it had more to do with the fact that I already felt like a mother and had that one less mental hurdle to get over.)
But some women need much more time than I did. The bonding may happen immediately, or it may take days, weeks, months. Sometimes even years. Some women are startled by their lack of enthusiasm for the role of mother, and they feel shame and judgment even if they never find the courage to say the words out loud to another soul. We're supposed to feel that unimaginable joy deep in our bones, and if we don't, whether that's for hours or much, much longer, we can't help but think it's a reflection on our worthiness to have the role at all.
The journey is, for each woman, what it needs to be. Some settle into it like they were born for it, and we applaud them. Some struggle to find joy in it, to see beyond what they left behind, and yet they carry on, and we applaud them. There is no singular experience in motherhood that makes a woman worthy of the calling. It's the choice to love, to give, to be a force for bringing greater kindness into a world that's in such short supply.
But in the early days, when all we may see is our lack of experience and perspective, it can be easy to lose sight of the simplicity of our role. Sometimes all we can do is survive from moment to moment, but even in that we learn that each of us alone was meant to be the mother our children need. So in the midst of the cluelessness and lostness we may feel, we love. Sometimes first it comes as a choice before a feeling, but the choice is no less potent. We allow ourselves to be the universes our babies think we are. We simply love. And every one of us is capable of that.
About the writer, Christy Schmidt:
Christy Schmidt teaches childbirth and infant care education classes under the name Welcome Love Maternity Services LLC. Formerly trained and certified as a birth doula with DONA (Doulas of North America) and a childbirth educator with The Bradley Method (American Academy of Husband-Coached Childbirth), she now teaches independently at Authentic Birth Center · Wellness Collective in Wauwatosa. For more information on class offerings, visit her website.
Note: The views and opinions shared here are of the guest blogger. The views and opinions do not necessarily represent the views and opinions of Lake Country Family Fun.