This is a sponsored series.
Welcome to our Families of Lake Country Family Fun series! We will be featuring families from the greater Waukesha County area who are fans of Lake Country Family Fun. We hope you enjoy getting to know your neighbors and other families in your community!
---
This series is sponsored by Uptown Art in Sussex.
Uptown Art in Sussex offers a social art experience. They combine the arts of painting as well as the art of music to create a unique experience for the amateur or skillful artist. Their studios provide hands-on art instruction, paint supplies, canvases, aprons, and everything you need to have a great time and create your masterpiece. They also offer classes for kids starting at age 5 and are a great place to book your child's next birthday party. Check out their website for more details to plan your next creative social experience!
---
Our tenth family is the Downing family from Ashippun.

A little bit about the Downing Family:
The Downing Family, John and Becky, and their 9 month old son Cooper, live in Ashippun with their three large inside dogs. They have lived here for six years. Becky is originally from Milwaukee, while John is from Merton. They met through mutual friends and hit it off. John owns his own company, Land Tech Surveying, out of Hartland, and enjoys hunting. Becky works part time, two 12 hour shifts/week, at Aurora Summit Medical Center on the medical surgery floor.
John and Becky do a lot of hiking and love anything outdoors, especially kayaking and fishing. Their favorite place is Beaver Lake, and they also enjoy hiking around Pike Lake. Another fun location of theirs is Harnishfeger Park, near Ashippun. Because of John's love of hunting, they also take trips to Ferryville, WI to his hunting cabin. When not outdoors, the Downings can be found at the Pabst Farms YMCA. They recently joined, and Cooper is already becoming a waterbug at swimming lessons.
The Downings enjoy their date nights. Sushi is their favorite things to eat. They either head downtown Milwaukee or to Asiana in Pewaukee. When hosting out of town guests, they like to take them to the Crafty Cow or Mantra Indian Bistro in downtown Oconomowoc. Both places are excellent places to get takeout from as well! On a girls night out, you can find Becky enjoying a delicious martini at Splash.
What they love about Lake Country Family Fun:
Becky has been following Lake Country Family Fun for three months.  She relayed that she tells all her friends about the website, and she also follows Lake Country Family Fun on Facebook. She has signed up for the newsletter and enjoys the weekend guides. She plans to attend the Canadian Pacific Holiday Train event this week and would like it to be a family tradition of theirs.
A fun fact about the Downing Family:
A fun fact about the Downing family is that John comes from three generations of large animal veterinarians (his father, grandfather, and great grandfather).  John's dad – Robert Downing and grandfather – Glenn Downing worked on animals at the zoo! There was a recent article in the Milwaukee Journal Sentinel (Sept 22, 2016) about John's grandpa working with a Rhino at the Milwaukee County Zoo in 1975.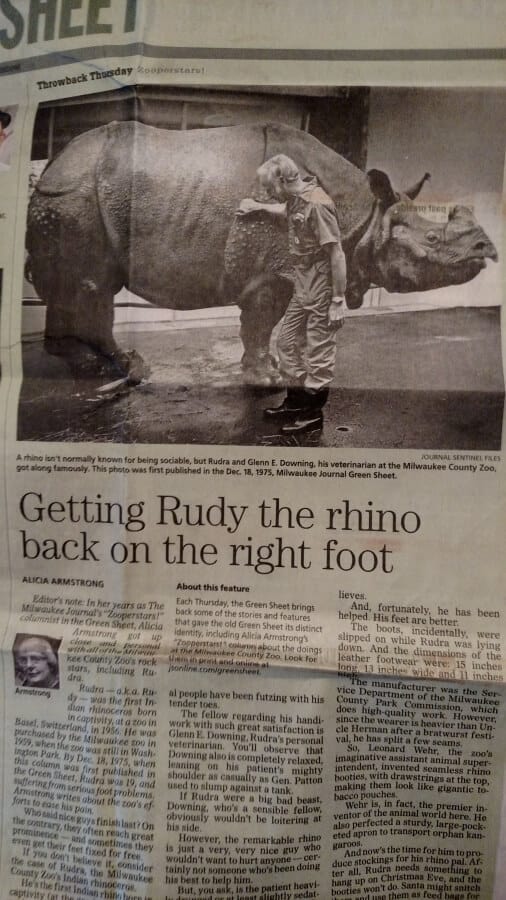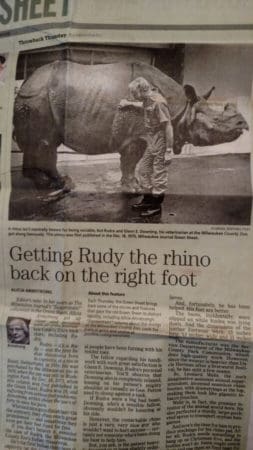 Favorite Movie to watch together as a Family:
John is a fan of the actor, Jason Statham. So, any Jason Statham action movie is their favorite movie to watch together. When Cooper gets a little older, he may switch up the rotation a bit 😉
Are you a fan of Lake Country Family Fun that would like to have your family featured in our series Families of Lake Country? Please send us an email at lakecountryfamilyfun (at) gmail (dot) com!