This is a sponsored series.
Welcome to a new series! We will be featuring families from southeastern Wisconsin who are fans of Lake Country Family Fun. We hope you enjoy getting to know your neighbors and other families in your community!
---
This series is sponsored by Uptown Art in Sussex.
Uptown Art in Sussex offers a social art experience. They combine the arts of painting as well as the art of music to create a unique experience for the amateur or skillful artist. Their studios provide hands-on art instruction, paint supplies, canvases, aprons, and everything you need to have a great time and create your masterpiece. They also offer classes for kids starting at age 5 and are a great place to book your child's next birthday party. Check out their website for more details to plan your next creative social experience!
---
Our second family is the Hardt family from Oconomowoc.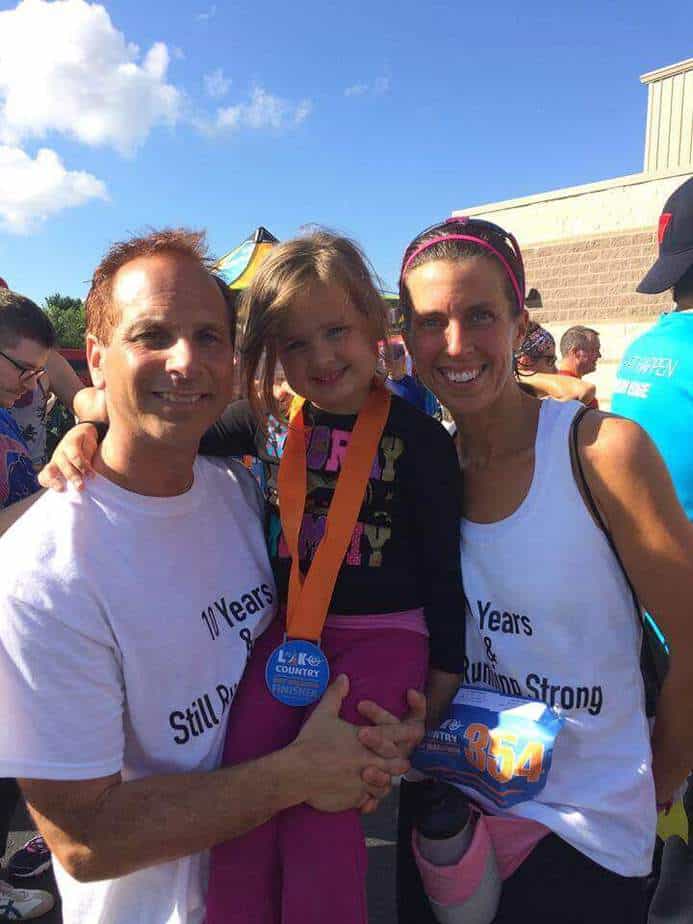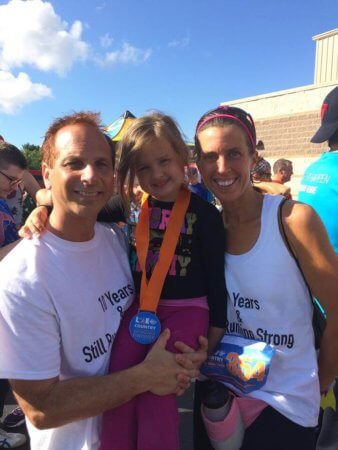 A little bit about the Hardt Family:
The Hardt family, Aaron and Jamie, and their daughter Lorelei (4), have been living in the Lake Country area for many years. Jamie is from southeastern WI and has lived in Milwaukee, Hartland, and Janesville. Aaron and Jamie lived in Hartland before purchasing their home in Oconomowoc and have lived here ever since, which will be 10 years this upcoming spring 2017.  They both work in the Waukesha County area and just celebrated their 10 year wedding anniversary this past September! Jamie is very active and works as a fitness instructor at the Pabst Farms YMCA, BE Fitness in Delafield, and is an Advocare independent distributor. She teaches cycling, body pump, Hiit, and boot camp fitness classes. To say they are an active family is an understatement!
What they love about Lake Country Family Fun:
Jamie reports being a fan of Lake Country Family Fun since she met Lake Country Family Fun creator,  Melissa Peterson, at a breastfeeding group at the hospital about 4 years ago. For the past three years, she has been following the site "hard core" looking for things to do with her husband and daughter. She especially loves the events calendar, the Halloween trick or treat guide, the photos with Santa guide, and the Easter egg hunt guide. In fact, they looked over the guide last year to plan out attending four Easter egg hunts in one day. "It was a great time!" Jamie relayed. As a family, they especially love their traditions of trick or treating, visiting Santa, and attending Easter egg hunts together. "We just enjoy being together as a family." stated Jamie. 
A fun fact about the Hardt Family:
Jamie reported that a fun fact about their family is that Aaron is 11 years older than her, and she let him name their daughter, Lorelei. Lorelei is named after a Styx song, "Lorelei", that Aaron and Jamie bonded and fell in love over. One of their first dates was a Styx concert at Summerfest in Milwaukee. They are also a very active and health-focused family. They spend a great deal of time at the Pabst Farms YMCA, swimming and taking classes. Another fun fact is that, although they have strong ties to WI, they have family living throughout the world,  including Paris, Finland, and Japan.
Favorite Movie to watch together as a Family:
Lorelei is very much into Disney princesses. So, their favorite movies to watch together as a family revolve around what Lorelei is currently into. Right now, it is Disney's Frozen, but they also enjoy Tangled, Mary Poppins, Labyrinth (1986), and Willy Wonka and the Chocolate Factory (1971).
Are you a fan of Lake Country Family Fun that would like to have your family featured in our series Families of Lake Country? Please send us an email at lakecountryfamilyfun (at) gmail (dot) com!