There are many amazing things to write about at Lake Country Family Fun, but this one is such an amazing piece to be involved with writing.  We will be highlighting amazing kids in the Lake Country area! The Amazing Kids Series features kids with a wide variety of reasons for being amazing. Maybe they own a business, maybe they've fundraised for a charity, maybe they showed kindness, etc.  There are many amazing kids and we need to see more of the positive stories going around!  
You will be able to read the "Feature Kid" in the top section below. Then, follow and read all the stories in the archives anytime!  We will post to social each time we change the feature kid. 
Please note that all stories were provided with full disclosure and approval of the parents. 
GO KIDS!!! You are AMAZING! 
Meet Noah, owner of Goats Floats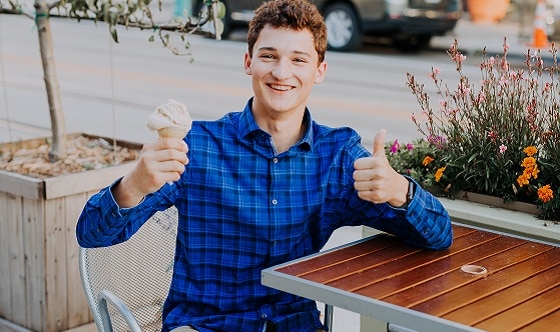 Q: What is your name and age?
A: Noah Godsell, 17
Q: What is your business?
A: Goats Floats is an ice cream float business that sells unique float flavors at local farmers markets, sporting events, private parties and more. 
Q: What is unique about your business?
A: All of the money that Goats Floats makes goes to an orphanage, called Living Hope International which provides a place to live and go to school for homeless kids in Mexico. Over the past seven years, we have raised close to $15,000 for Living Hope!
Q: How did this business/idea come about?
A: I wanted to start a business after I went to Junior Achievement's Biz Town in fifth grade. I decided to try to come up with something to sell at the park next to our house and decided on ice cream floats. The next step was to name the business. We started listing things that rhymed with floats and though goat was the best. (But no, they are not made with goats milk!) 
I asked a few friends to help out and we opened for business. It was very thrilling to see that a group of kids could manage to run a business. More and more friends started showing up to help and be part of the business. By the end of that first summer, there were 14 Goats Floats kids pitching in. 
Q: Who/what motivates you? 
A: I'm pretty self motivated, but the satisfaction of helping others kept drawing me back to sell more floats.
Q: Where do you hope it will go?
A: Now that I'm older and needing to work in summer to make money to save for college, I haven't had as much time for Goats Floats. I'm hoping to find some younger kids that I could pass the torch on to. If we could find motivated kids with a supportive parent, I would be happy to mentor them and help them continue to raise money for Living Hope by selling floats. 
Q. What are your post-high school plans?
A: I'm planning to go to college to study video production. I'm in the application and decision making process now and it's been nice to have entrepreneurship experience to include on my applications!
Q: What advice do you have for kids your age or younger than you? 
A: If you have any idea, just go for it because when you are younger, that's when you have the best chance to experiment and try new things. Take advantage of that time. Be yourself and don't let everyone else around you affect how you act. 
Q: Is there anything else you would like to mention about your business or yourself?
A: I never realized how big Goats Floats would become or how it would impact the opportunities I have had. 
If you are intersted in being the kid(s) to take over Goats Floats reach out to Lake Country Family Fun and we'll put you in touch with Noah!
Do you know an AMAZING kid?
If you know of an amazing kid in the community that you would love to see featured in this series, please contact us today.