There are many amazing things to write about at Lake Country Family Fun, but this one is such an amazing piece to be involved with writing.  We will be highlighting amazing kids in the Lake Country area! The Amazing Kids Series features kids with a wide variety of reasons for being amazing. Maybe they own a business, maybe they've fundraised for a charity, maybe they showed kindness, etc.  There are many amazing kids and we need to see more of the positive stories going around!  
You will be able to read the "Feature Kid" in the top section below. Then, follow and read all the stories in the archives anytime!  We will post to social each time we change the feature kid. 
Please note that all stories were provided with full disclosure and approval of the parents. 
GO KIDS!!! You are AMAZING! 
Meet bernu, Business owner of Roastmore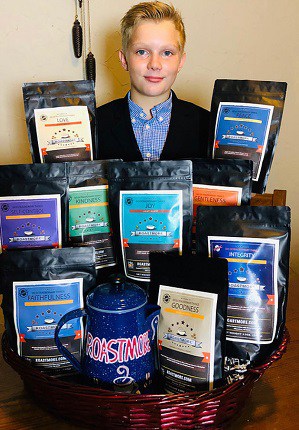 Q: What is your name and age?
A: Hello, my name is Bernu Vermeulen and I am 12 years old.
Q: What is your business?
A: I sell coffee. The competitive advantage is that I support three charities. I deliver the coffee straight to your door.  There are 10 different roasts at this time: 3 light (Love, Joy, Peace), 3 medium (Patience, Kindness, Goodness) and 3 dark (Faithfulness, Gentleness, Self-Control) and a decaf (Integrity).
Q: What is unique about your business?
A: I am pretty sure that it's the only coffee business that's run by a child and one of a few coffee businesses that deliver the coffee straight to your door. The three Charities we support are the Semper Fi Fund for Marines. The second charity we support is drug-free kids and the last charity we support is the Wildlife In Need organization.
Q: How did this business/idea come about?
A: I've always liked the idea of making money and being an entrepreneur. I remember when I was four years old I had a lemonade stand and made $20. Then when I was nine, I sold brownies and got around $50. When I turned ten I started a lawn care service over the summer and made $500. I wanted a passive income and something real that would actually last and make a difference. You see if you want to be a successful business person it is great to start a young. I am also hoping to inspire someone else to start their own business. Sometimes people are scared to fail and they never step out to go after their dreams. Failure is actually a great teacher that can help you become better. I want
kids to know that you don't have to wait till you are 25 or 40 years old to start doing what you believe in. You can make a difference even when you are young.
Q: Who/what motivates you? 
A: The needs of other people who are dying because they're thirsty or hungry motivate me. I hate the thought of people having to walk 7 hours a day just to get some water to their family and they can't go to school because all they do is carry water. It saddens me that kids get involved with drugs and that their lives are destroyed when they have wonderful gifts to make the world a better place. I want to start sparking someone so that they can go out and start their own business to accumulate wealth and distribute it among the people who really need it. I am blessed so greatly so I want to give it back.
Q: What advice do you have for kids your age or younger than you? 
A: The earlier you start the better. Don't wait until you're 45 years old in your parent's basement. Listen to your parents because they know best. Read the Bible. If you don't want to become an entrepreneur that's okay, but find the thing you can do to impact the world in a great way. It only costs $8,000 to build a well in Africa, that well might help a hundred people live for 60 more years. Start early. Start running before the race has begun and you will get far ahead.
Q: Is there anything else you would like to mention about your business or yourself?
A: I believe in Jesus and I think God has helped me get in this position and provided me with this unique brain giving me so many opportunities, I just want to give it back. I believe each person was created for a purpose.
To purchase the coffee and support Bernu's mission go to https://www.roastmore.com/ for delivery in the greater Delafield area or visit the Daybreak Mobil in Delafield. Get yours today and here's why you should:
Convenience – we deliver the coffee to your doorstep in the greater Delafield area
Compassion – we donate part of our profit to 3 charities. 
Community – we want to encourage face-to-face community over a cup of coffee. Real time. Also, when you buy RoastMore you also support the community and a local business owner.
Do you know an AMAZING kid?
If you know of an amazing kid in the community that you would love to see featured in this series, please contact us today.