Find all the details to arrange your curbside pickup here!
The Oconomowoc Library is OPEN!!
OTHER THINGS TO NOTE:
SPECIAL HOUR
9-10 am is reserved for those in vulnerable populations. Thank you for your understanding.

HOURS
* Monday-Thursday 9 am-6 pm
* Friday 9 am-5 pm
* Saturday 9 am-1 pm

SAFETY MEASURES
*Masks are encouraged.
*Observe social distancing.
*Building occupancy maybe limited if necessary.
*Hand sanitizer is available to staff and patrons.
*Staff and patrons are encouraged to wash their hands thoroughly and frequently.
*Library staff regularly clean frequently touched and high traffic areas according to CDC recommendations. The Library contracts with a company that cleans the Library each weeknight using products recommended by the CDC.
*Some equipment has been temporarily moved or removed to help keep the Library as safe and clean as possible.

LIBRARY MATERIALS QUARANTINING
Upon return, every item is quarantined for 96 hours, as recommended by lab testing. Returned items will appear as still checked out on a patron's account until the items are out of quarantine. Fines will not be charged on quarantined items returned on time.

Library Programs
All events and programs are remote or online. Please visit oconomowoclibrary.libcal.com/calendar/library_programs.

The DMV will no longer offer service hours at the Library. Please call (608) 264-7447 or visit the DMV website (https://wisconsindot.gov/Pages/online-srvcs/external/dmv.aspx)  with questions.
---
—-
---
In 2017, my family and I explored all eleven of the Waukesha County Parks in one year. As a lover of public libraries and books in general, I thought it would be fun to visit all sixteen Waukesha County Public Libraries during the summer of 2019. The Waukesha County libraries are part of the the Bridges Library County system, which allows patrons to borrow and return books from any of the 24 libraries within Waukesha and Jefferson counties.
OCONOMOWOC PUBLIC LIBRARY
200 W South Street
Oconomowoc, WI 53066
(262) 569-2193
The first stop of my tour de libraries is the Oconomowoc Public Library. This library is close to the lakes in downtown Oconomowoc and close to some local coffee shops. It's easy to sign up for a library card here, which allows you access to all libraries within the Bridges Library County system. If you visit on a Saturday morning during the summer, then you can walk over to the Oconomowoc Farmers Market. This is my home library, and the library I frequent the most. The library griffins Poseidon and Athena flank the entrance to welcome you to the library.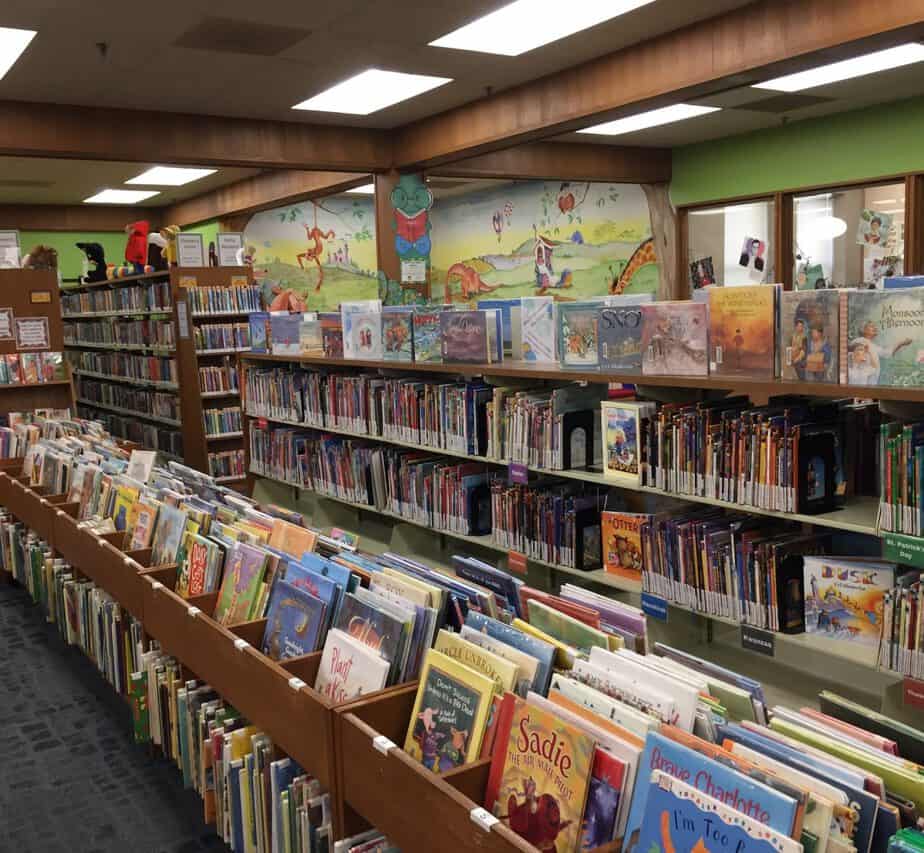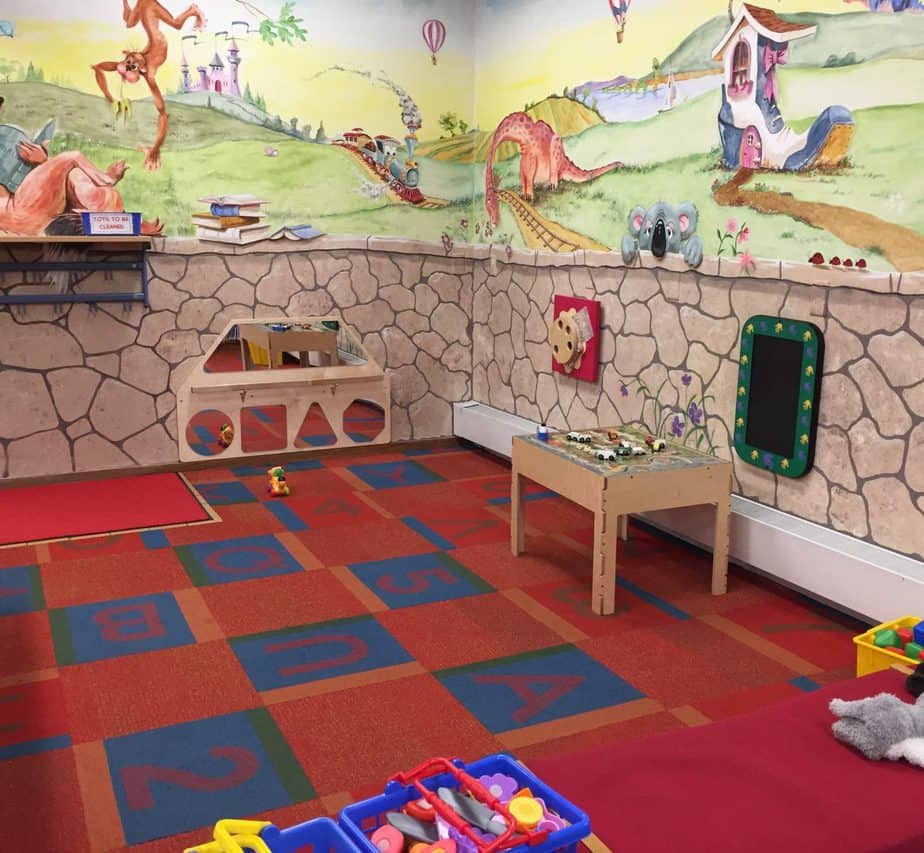 The children's section of the library greets you on the left as you enter. It has a quiet play area for younger children, a tech station with tablets, and a table with checkers. The young adult adult section is on the right of the entrance. Your tweens and teens have their own spot to hang out with friends, read graphic novels, and check out new releases.
The outside book return is a walk-up, so you will have to get out of your car to return books if the library is closed or you just need a quick book return.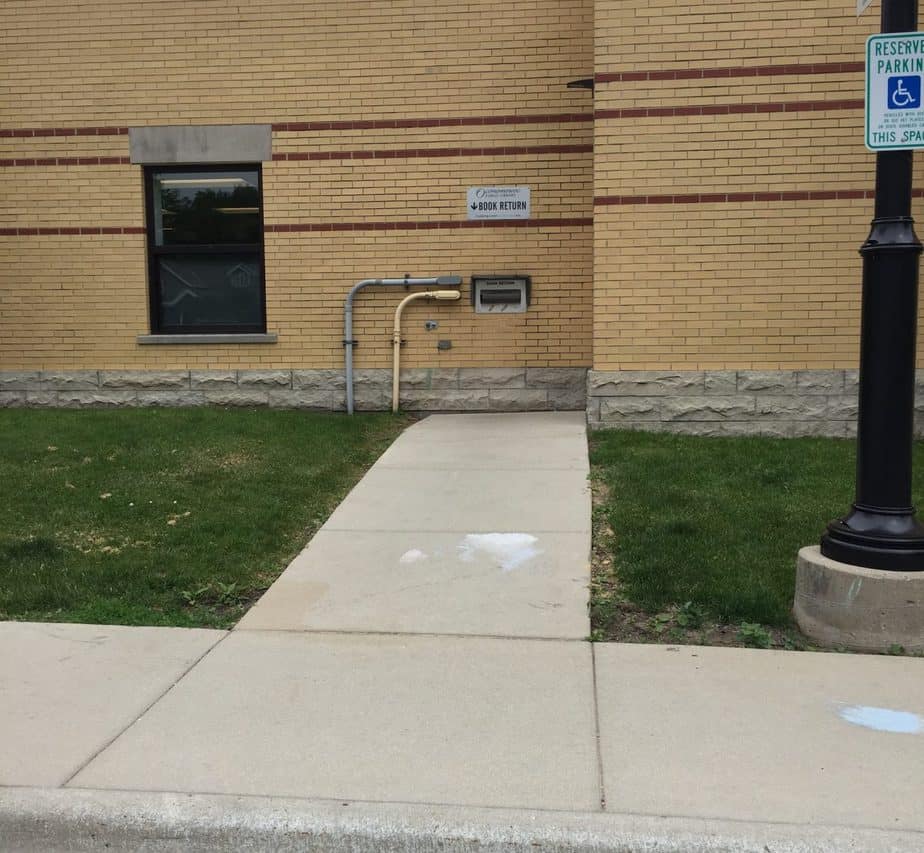 Look who I found!
As an entrepreneur, I've found myself in need of a quiet place to work when I am away from my home or office. Public libraries often have study rooms, and you'll find four at the Oconomowoc Public Library. If you need a room, just find one that is not occupied and you are good to go! Each room features two chairs.
While here, I found Lake Country Family Fun's very own Erin Guenterberg working hard to bring parenting resource for local fun to you!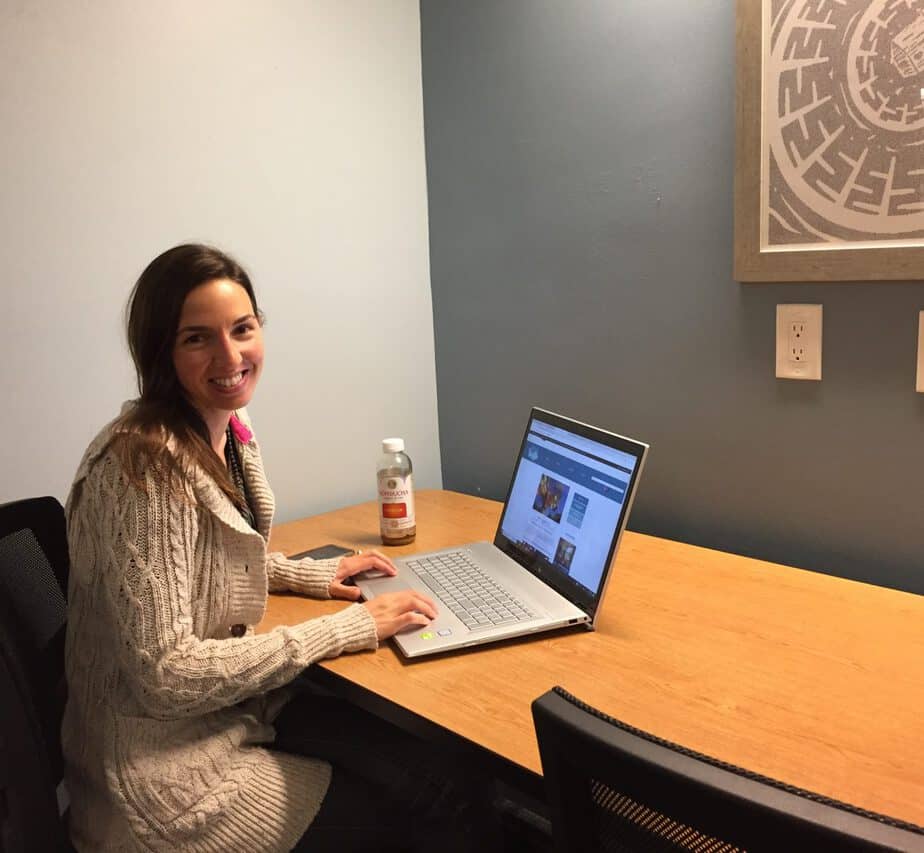 Vroom vroom
Besides children's story hours, summer reading programs, and teen events, you'll also find the Wisconsin Department of Motor Vehicles at the Oconomowoc Public Library on the first and third Thursdays of the month from 8:15 a.m. to 4:15 p.m. Please note that library staff is not able to answer any DMV questions.
One down, fifteen libraries to go…