Baseball season is here!! Opening day was Thursday, April 1, 2021 against the Minnesota Twins! We're excited to watch some spring training games. Normally our whole family would be excited for tailgating, warm air, and the sausage races. However, after no fans allowed in 2020, we're just excited that they are letting fans into the stadium this year. We have so many fond memories from years past.
For the season opener in 2021, the stadium will be allowed to run at 25% capacity for fans in the stands. If you have tickets to attend, be aware that masks are required as well as social distancing. Read all the new 2021 rules HERE. Plus, more changes this year as the stadium is no longer called "Miller Park". It is now American Family Field and the new sign is up. Have you seen it? Part of me will always call it Miller Park, and there are some older family members of mine that still call it "County Stadium". Old habits die hard, I guess!
Initially, tailgating was not to be allowed, but things are changing. Starting April 12, 2021, fans will be allowed to tailgate again, just in time for the Cubs games. Please note that only ticketed persons can tailgate. You will need to be by your vehicle. Tailgating will end 30 minutes after the game starts. Find the full list of rules here: https://www.mlb.com/brewers/ballpark/tailgating
Starting mid-May 2021, capacity is moving up to 50% or 21,000 fans!
Did you hear – there is going to be a RE-OPENING DAY on June 25!! The game is at 3:10. Tickets are already on sale. Snag them before they are gone!
"Re-opening Day is a recognition both of American Family Field at 100% capacity for the first time since September 2019 and the reopening of the City of Milwaukee.

~ Brewers President
I remember going when Miller Park was just built back when I was in grade school. We took a field trip to Milwaukee and followed up with an afternoon Brewer game. What a fun day! Going to baseball games was a big part of my childhood, even traveling to Wrigley Field a couple times, but nothing beats tailgating in Milwaukee. We sure hope they bring back tailgating in 2022.
A Brewers game has been a day well spent in our family. We have taken our kids to more games than I can count, and they always want to go back. They get so excited on the ride in from Lake Country and squeal when they can see the roof. We like to guess whether the roof will be open or closed for the game, depending on the weather. And when we arrive, the atmosphere and energy is intoxicating. There is nothing like tailgating on a sunny afternoon, grilling out behind your vehicle, and hoping for a W! If you haven't taken your kids yet, hopefully as things improve, you will be given the opportunity to enjoy these activities again.
Regardless, we'll still be there cheering on the Brewers!
We are proud to announce the new stadium name for the @brewers starting in 2021 as American Family Field. We look forward to continuing our commitment to the Milwaukee community and beyond! https://t.co/FQLHem0npC pic.twitter.com/UO3kopHEAc

— American Family Insurance (@amfam) January 22, 2020
Sunday Funday In Past YEars (prior to 2020):
We like to take the kids to Brewers games on Sunday afternoons. The games are at 1:10 pm, which is perfect, because it doesn't interfere with bedtime like a Saturday night or weeknight game. And we're done with naps. (It's exhilarating to not have to plan social events around nap time! Parents of little ones – your day will come!) We can also arrive a couple hours early to tailgate beforehand. We always park in the preferred section. It's less expensive to park in the general parking lots, but that can be quite a hike for little legs.
Also, if you show up early – you can get autographs from Brewers players by third base. Check out this local Oconomowoc girl who hopped the rails with two other kids to dance with Jeremy Jeffress before the game. How awesome! We usually tailgate almost up to the start of the game, so have yet to experience this in real life.
After the game, all kids ages 14 and under can come down to the field and run the bases at Miller Park, presented by Aurora Health Care. The postgame Kids Run the Bases line begins along the first-base line on the Field Level. Tip – the line gets very long. Don't wait until the end of the game to get in line.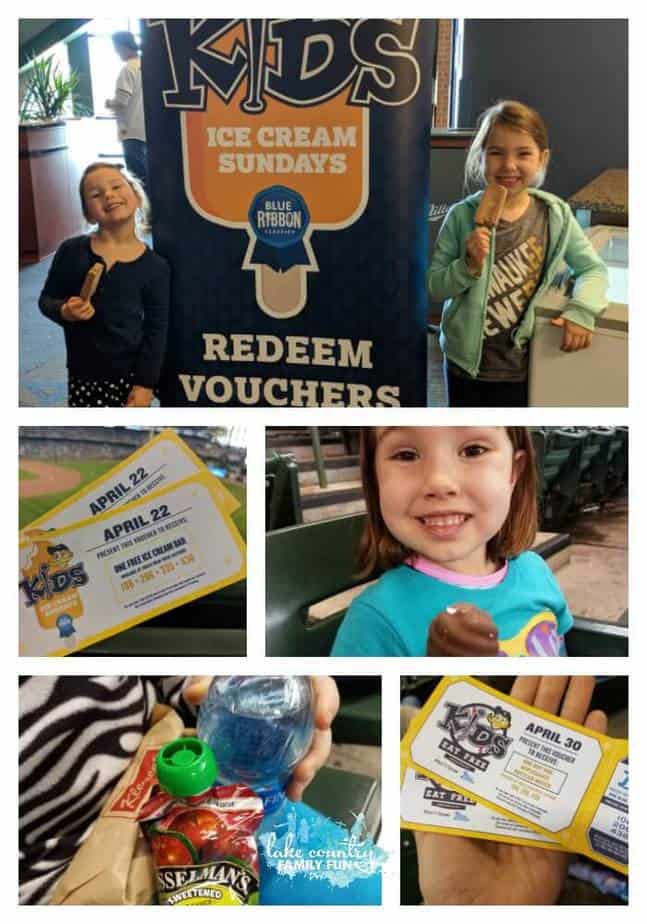 More Brewers Kid Fun
Kids Crew, presented by U.S. Bank
All Brewers fans ages 14 and under are eligible to join the Kids Crew. For just $25, membership includes six game tickets, all sorts of awesome Brewers swag, access to exclusive events, special perks and more! For more information, please visit brewers.com/KidsCrew or call (414) 902-4000.
Aurora Health Care Kids Zone
The Aurora Health Care® Kids Zone is a special kids' interactive playground, located on the Terrace Level behind home plate. It remains open through the 8th inning. The Kids Zone is designed for children under 42 inches of height. Other applicable rules are displayed in the Kids Zone.
U.S. Cellular® Power Playground
Located on the Field Level near the right-field corner, the U.S. Cellular® Power Playground includes a batting cage, pitching cage, replica Bernie Brewer slide and clubhouse, a Race to First Base, as well as many photo opportunities. The U.S. Cellular® Power Playground is open from the time the American Family Field gates open until the end of the game.
Kids & Senior Citizens Discount Days
Kids 14 and under and seniors 60+ save 50% on tickets for all weekday afternoon home games at Miller Park. Excludes Opening Day, Cubs Games, the Miller Lite Beerpen, All-Inclusive Areas, Platinum, and Uecker Seats.  For more information, visit brewers.com/KidsAndSeniors. (None at this time.)
A lot of giveaways happen throughout the season. Check them out here by date.
Find other promotions throughout the season HERE.
Lastly, if it is your child's first game, they can get a certificate commemorating the day!

Extra Tips
You can carry in!
"Guests may bring personal-size food items into Miller Park using appropriate containers and all fruit must be sliced. Aerosol cans (sunscreen, hairspray, etc.) are prohibited. All bags, purses, fanny packs or soft-sided coolers must be 9″ x 5″ x 2″ or smaller and are subject to inspection. Hard-sided coolers are not allowed in the ballpark. Only food purchased within Miller Park will be allowed into Suite areas."
Please note that they also do not allow flashlights. Which is not a big deal for us, but a number of people in front of us in line had their flashlights confiscated. #nowyouknow
We love to sit on the first level if possible. It's close to the kid activities and has great views of the game. However, in April 2019, we bought tickets on the club level and the kiddos thought that was pretty amazing, too! We had row 1 tickets so no one was in front of us, offering great views. We've sat in the bleachers before, but not with kids. With kids, having an actual seat helps to contain them a bit to their own seat or standing in front of their seat. And when they start to get wiggly, we get up and explore.
If you are nursing, the new Miller Park Nursing Suite is located on the Field Level inside First Aid (next to Guest Relations). Mothers may also nurse their children in the Mamava Suite, presented by Aurora Health Care, located on the Terrace Level near Guest Relations.
Find their schedule here.
Plus, always be safe! Our friends at Children's Hospital of WI have some safety tips to share before you head out to your next game.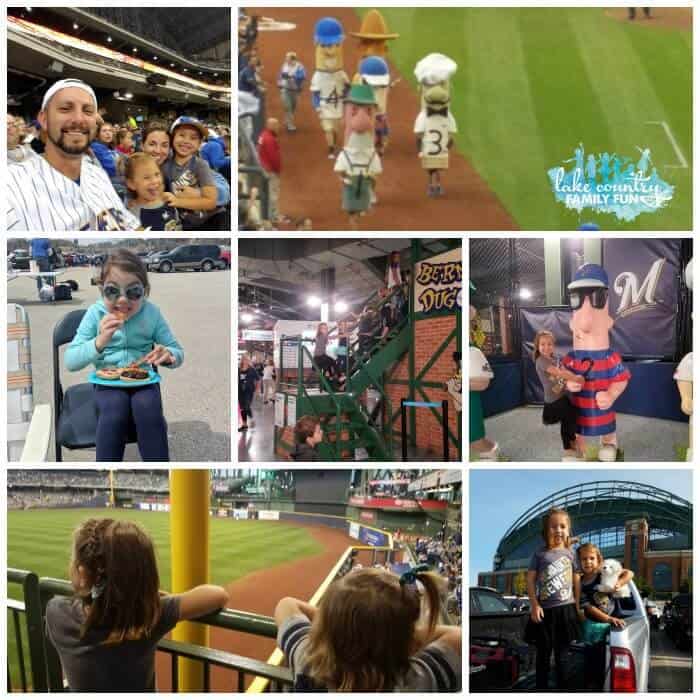 Go Brewers!