I have to share a hidden gem of an event venue! Have you heard of The Sharon Lynne Wilson Center in Brookfield? It's tucked conveniently between I-94 and Capitol Drive, while much closer to Capitol Drive. Sitting upon the beautiful Mitchell Park, find various artwork displayed outside the grounds to explore.
Rent The Sharon Lynne Wilson Center
Not only does The Sharon Lynne Wilson Center host their own events but you can rent their spaces! There are many different spaces to choose from. These stunning spaces are available indoors or out.
The beautiful Kuttemperoor Grand Hall boasts a two story limestone carved fireplace and 3,750 square feet of event space. I recently held a fundraiser in this space and it did not disappoint! The beautiful Christmas decorations and trees provided great ambient lighting along with the natural glow of the gas fireplace. We had 200 guests in this space with seating. There was plenty of space for everyone to move around. This space has a capacity of 400 guests with mixed seating and standing, a bar and even a small catering kitchen. Our guests loved the warm inviting atmosphere. The house manager for the evening even played some classical Christmas music over the speakers in the Grand Hall as our guests arrived. It really added to the festive ambiance!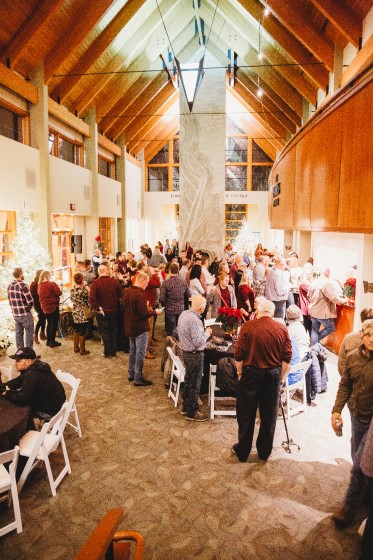 Kelly Schwantes and her staff at The Sharon Lynne Wilson Center are so responsive which I really appreciate! We had a short amount of time to plan our fundraiser. Kelly's prompt answers allowed me to keep details and plans moving. She even helped reach out to our caterer to set up a walk through. Kelly and her team will work with you and your budget to help create an unforgettable event!
We were greatly taken care of on the night of the event. All of the staff at the Sharon Lynne Wilson Center were very kind and friendly. They always asked before anything was moved and offered their expert opinions during set up. I greatly appreciated all of their help! I am always big on the physical flow and feel of a space for an event. I couldn't be happier with how our space looked, flowed and functioned!
BOTTOM LINE:
The Sharon Lynne Wilson Center can accommodate a wide variety of events and work with your budget. They take the stress out of event planning in a beautiful setting and venue.
Contact Kelly and her team with your vision and they will bring it to life! Tell them Lake Country Family Fun sent you!
Contact:
Sharon Lynne Wilson Center for the Arts
3270 Mitchell Park Drive
Brookfield WI 53045
p. 262-373-5028
e. kschwantes@wilson-center.com
Website