Ever want to find that hidden gem of fun in the area? Especially in these times, people are searching for unique places, outside, with plenty of space for social distancing.  We have found lots of hidden gems over our time here in the Lake Country area. If you've lived in the area as long as we have, you might not consider them hidden anymore, but they are still gems! Be sure to let us know about your favorite places in the comments or through the contact form! 
Best Hidden Gems around Lake Country
1 – Ottawa Lake – a small lake with BIG fun  
This is a hidden treasure inside of the Kettle Moraine State Forest Unit-Southern Unit.  It is a 17 acre spring fed lake that has a sandy shore with ample grass and picnic tables.  I love taking the kids here in the summer and packing a picnic dinner and playing until they are tired out!   
Things to know:
Lifeguards are not provided.
Pets, soaps, food, and beverages are prohibited in marked swim areas.
There is a dog swim area!
Picnic tables, grills, and toilet facilities are available near the beaches.
Yes, it has a beach!
The state parks' carry in, carry out policy applies at these areas. 
There is a daily admission per car OR if you plan to go often, it's more economical to purchase a State Park pass.
2 – Paul Bobrowitz SPECTACULAR SCULPTURE – Monches Farm, LLC
This is a great adventure looking for that outdoor, unique space to walk around and take some fun pictures. I took my kiddos, and we wandered around the farm in awe of the creativity for about 45 minutes. There were minimal people there and everyone was respectful of other people's space, staying much more than 6 feet away. You'll find lots of frog and bird creations in these unique pieces of metal art. 
Things to know:
Open daily dawn to dusk
This is free to see, but donations are welcome.
There is also art for purchase if you fall in love with a piece!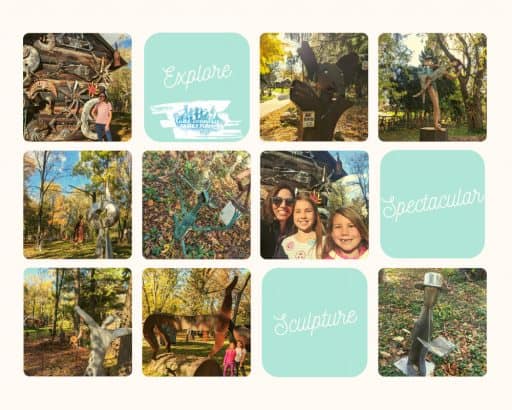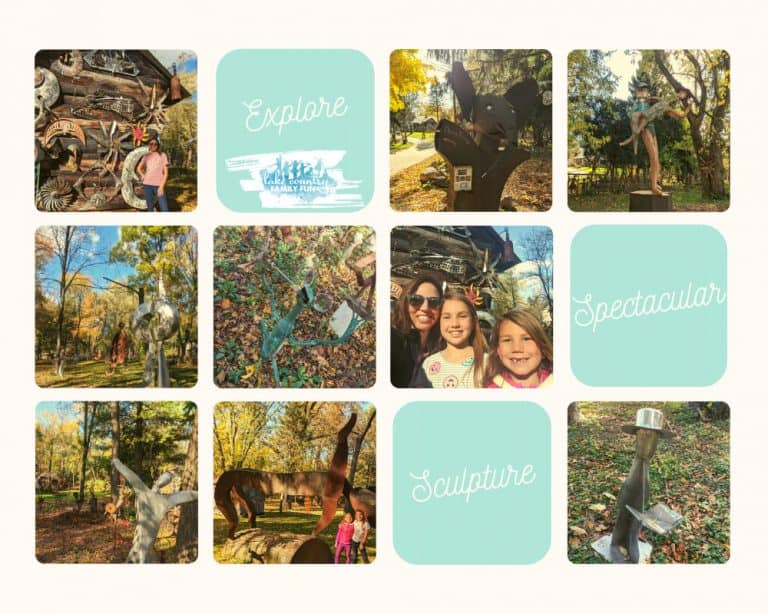 3 – Concord Zoo 
This zoo is craftfully hidden behind the Concord General Store located off  I-94 and Highway F, just west of Oconomowoc in Jefferson County.  The zoo mainly consists of farm animals native to WI, and the kids love the experience of getting out and walking about. We had countless playdates at the Concord Zoo when my children were younger. 
Things to know:
Due to covid, there is a visitor capacity of 20 people.
Hours are 9:00 am to 5:00 pm
While admission is free, it is encouraged to purchase food from inside the store to feed the animals during your visit.
If you plan to feed the animals, DO NOT bring in outside food from home/grocery store. The animal caretakers use the funds from the purchase of food (from in the general store) to care for the animals as well as to monitor how much food they are being fed. 
Catch a movie at the outdoor theatre! In summer 2020, drive-in movie theaters popped up all over in parking lots, but the Highway 18 Outdoor Theatre is a true throwback to the classic outdoor theatre. Fun fact, this was a first date for my hubby and I back we started dating!
Things to know:
Located off Highway 18 just to the west of Jefferson, WI.
No carryins – this supports the drive-in theatre to remain open as a revenue source.
Under "normal" years, the drive in is open from about April through October.  
Retzer Nature Center is set in a beautiful landscape in the heart of Waukesha County. Not only do they have beautiful walking trails, but you'll find a mini-zoo inside their educational building with WI native reptiles and animals and a planetarium. My kids love going to the planetarium shows and they are fairly budget friendly. 
Things to know:
Admission to the Retzer Nature Center and walking trails is free.
Planetarium shows require a ticket per person to view.
Lots of fun classes are offered through the Retzer Nature Center for small children (toddlers) through adults!
I've walked around Fowler Lake more times than I can count. And I would highly recommend for a family walk. It's about a 2 mile walk to get around the lake, so doable with little ones either in a stroller or if their legs are up for the hikes themselves. My kiddos love to bring their scooters and scoot around the lake, while I walk with them. Plus, with the updated board walk, the walk is prettier and easier to manage for strollers or scooters. 
Pro tip – grab a coffee or tea from Roots or Ginger Ovens before you start to stay hydrated and support local.
Things to know:
The dam between Fowler Lake and La Belle along the bridge is always a must stop for us to watch the foam/bubbles and take in the beauty. On the Lac La Belle side, it's a great place to fish!
I like to plan in a stop to Fowler Park for playground play, but the new playground by St. Paul's Church and School is a fun stop, too!
If you need to use the restroom, definitely stop into Fowler Park.
Depending where you park to start, the route goes from downtown (the board walk), following Wisconsin Ave west, then north onto Main St., then right onto Lisbon Rd., then right again onto Greenland Ave, then right onto Oakwood Ave. (Fowler Park), then right again on Pleasant St.
Boom. You are back where you started!
If you love TRAINS – cross the street (looking both ways of course!) and head to the back patio of Whelan's for a fun little train for your little ones to play in!
This is an amazing playground for all abilities. It was built from the idea that all children should be able to play together no matter their physical abilities.  It is a universally accessible playground with special sensory stations and fully seating swings. Even the new bathrooms are fully accessible. It is locate in Roosevelt Park in Oconomowoc.
Things to know:
The playground is currently closed due to construction and the playground recently received a face lift aka new paint!
There will be new sidewalks and picnic pads for an amazing park experience in summer 2021.
The playground is located on the Lake Country Bike Trail, so if you are on the bike trail, it makes a great stop!
If you have any ideas for making Imagination Station a more accessible, awesome playground, please reach out to the Friends of Imagination Station, linked above. 
Glacier Rock Farms is such a gem at $5 a carload. Located just north of Waukesha County in Dodge County, this is such a fun petting zoo. They also offer quite the haunt for adults in October!   
Things to know:
They have over 50 species of farm animals!
They offer spring, summer and fall fun – and last year winter events, too!
Ride a pony, milk a cow, and catch a chicken – and more!
9 – Cushing Park 
Located near downtown Delafield, this awesome fort inspired park will delight the kids for sure.  My kids love it! Not only is it a playground, but there is a lot of green space to spread out for picnics or running around. You can also park and then take the path to downtown by the Fish Hatchery.
Things to know:
The park is right along the Bark River. So, if you have little ones, keep an eye on them at all times. Once inside the playground, there is a fence lining the perimeter, but keep watch that they do not wander out to the river.
If your kids are more elementary aged like mine, pack an extra set of clothes/swimsuit in the summer and jump right in the river! We love splashing around.
There are actually two paths that lead East out of the park, running on either side of the Bark River. Both end up at the Fish Hatchery, and continue through to Highway C/Genesee Street. 
10 – Lapham Peak
Located in Delafield, south of I-94, this is a great state park to burn the energy through miles of trails.  Not only are there miles of trails, but there is the observation deck, where you can see "forever"!
Things to know:
There is an admission fee to enter the park.
Portions of this trail are NOT stroller friendly. If you have a little one, it'd be best to carry them via a carrier.