Sussex Antique Power Association Engine Show
August 27 @ 8:00 am

-

3:00 pm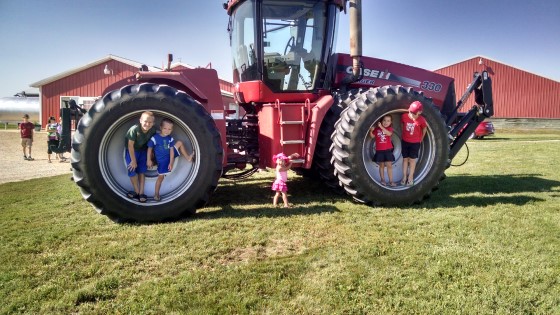 Sussex, Wisconsin – Imagine a County Fair, Church Social and a Family Reunion all merged into one event at the Sussex Antique Power Association Engine Show!
The premier event "The Threshing Bee and Engine Show" is always held the weekend before Labor Day weekend at W244N6125 Weaver Dr, Sussex, WI 53089 (Sussex Village Park).
Sussex Antique Power has been providing a look into the past in the preservation of farming and agriculture equipment along with other antique power equipment, both on display and operating. They put on live demonstrations of threshing and sawing using processes and equipment like they did in the ol' days. They have been located in the Sussex Village Park since 1962 and offer several different family friendly experiences: a daily parade, food served on the grounds by other area non-profits, a daily flea market in full swing, a straw pile dive for kiddies and free wagon rides around the grounds. They do accommodate large groups and handicap. They have recently added 'Farmer Dan's Kids' Zone' and a live band Saturday afternoon. In recent years, they've worked closely with the Sussex Area Service club (SAS) to share the park with their annual car show.
---
This and more awaits you at the 65th annual threshing reunion of the Sussex Antique Power Association, the area's oldest and largest threshing reunion! The show will be held August 26th and 27th, 2023 in Sussex, Wisconsin at the Village Park. A celebration of Wisconsin's farming heritage will showcase hundreds of vintage tractors, engines, threshing machines, and farm machinery. Also there will be antique trucks, cars, and motorcycles. Owners and collectors from throughout the Midwest participate in this annual show. All equipment will be operating under live power all weekend. From a collection of people interested in preserving the old threshing days, 60 charter members held the first reunion at the Netteshein Farm at Pewaukee in 1959. From this family afternoon of "Playing on the farm" our club now produces and presents this nationally recognized show each year, the weekend before Labor Day. This annual show is the major fund raiser for our club.
COLLECTORS SHOW ANTIQUES
They have the perfect location to display our enthusiasm for antique tractors, engines, and "Wisconsin's old fashioned values and way of life."
Each of these antiques has been lovingly resurrected and restored. Each has its own history. Not only will visitors see, but they will hear how they were restored and used on the farm in years gone by.
Both days of the show feature a parade of equipment on the show grounds in our Natural Amphitheater at the center of the show grounds. The parade allows the collectors a chance to show off their restored treasures. Our parade master has a brief description of each piece, giving the history and usage of the tractor, implements, trucks, cars, or motorcycles and will explain its importance to its development for daily use. Afterwards, visitors can view up close each piece, meet and talk to the owners of these machines that will be on display at our 20 plus acre show grounds.
SOMETHING FOR EVERYONE
The show blends things together of interest for every generation. During the two day event, there will be activities and demonstrations such as, a slow tractor race, model airplane flying demonstrations, operating steam engine museum, live sawmill operation, threshing crews which anyone can join into help, and old craft demonstrations such as a shingle mill, rope making, and woodworking. Also vendors selling their wares and swap meet for those hard to find parts.
FOOD & REFRESHMENTS
There are hot sandwiches, lemonade, and soda on the grounds served by the local community groups. Also there are antique popcorn wagons selling popcorn and ice cream is served by our ladies auxiliary each day, or bring your own picnic lunch and enjoy the large grounds.
FUN FOR THE KIDS
Special events are held throughout each day for the children. The toy tractor pedal pull is open to boys and girls 4-10 years old. The straw pile dive, a scramble of a scavenger hunt for toys and candy hidden in a large straw pile for children up to 12 years old. Free wagon rides for children of all ages, both young and old, and other special activities and games are planned.
GENERAL
The visitor gates open at 7:00 AM, show events start at 9:00 AM and grounds close at 5:00 PM. The grand machinery parade is at 1:00 PM each day, so bring every one and your camera for a fun filled day. Admission is $6.00 for adults and children under age 11 are admitted free. There will be plenty of free parking.
The Annual Big Engine Show
The SAS Club is proud to present the Annual Big Engine Show in conjunction with the Sussex Antique Power Association Tractor Show the Weekend of August 26th and 27th.
Free Admission This Year to the whole Event!!!
Include spectators & show cars!!!!
Free T-Shirt to the First 50 Car Entries!!!!!!
Start out with the Pancake Breakfast at 6:30 am
They will have Lunch Items available at 9:00 am
Live music by Liam Ford from 10:00 am to 1:00 pm – DJ During the Show
Beer, Soda, Food!!!
Judged Show – Trophies will be given for: Best of Show, Top Ten, and a Survivor – Door Prizes all day
Find more FREE SUMMER FUN and our Bucket List: 77 THINGS TO DO THIS SUMMER!
Find ALL THINGS SUMMER.
RSVP on Facebook HERE.
---
Related Events