Halloween Legends and Lore
October 6 @ 5:30 pm

-

9:30 pm

$14 – $20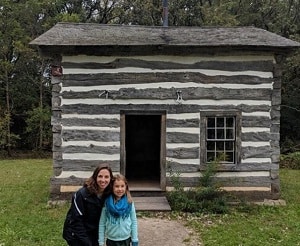 Halloween Legends and Lore returns to Old World Wisconsin for two weekends! We are huge fans of Old World Wisconsin and love visiting in different seasons for totally different experiences. The summer experience is vastly different from the fall Halloween Legends and Lore experience. That is what makes a visit to Old World Wisconsin so amazing for the family – always a new and different experience and there's something for everyone to learn and be in awe of on site. 
October 6-7
October 13-14
October 20-21

5:30 pm to 9:30 pm
Halloween Legends and Lore Details
A series of six spooky evenings held in the Crossroads Village at Old World Wisconsin.
Witness a historic Halloween event unlike anything you've seen before—from ghostly whispers in the night to folkloric traditions held by candlelight, you'll experience live storytelling, Halloween-themed games, hot food, warm drinks, local music and more.
Wisconsin Tales from the Cryptids

From the infamous bull-horned Hodag to the Beast of Bray Road & the Goat Men of Kettle Moraine, hear stories about the ghouls lurking in the shadows of our less-traveled regions.

Scary Folks Come to Life

Wisconsin immigrants brought countless tales and superstitions with them. From the Slavic folktale of Baba Yaga to the story of the Austrian Nachtkrapp, experience the legends that kept your ancestors awake at night.

Victorian Seance

Communicate with the spirit world. Attend if you dare, as guests have reported strange sounds, sights and sensations during the event held in this historic, candlelit home…

19th Century Funeral

Curious about how Victorians honored their dead? Watch a faithful reenactment and see what concerns the living once had about their dearly departed… remember to ring the bell!

The Emporium of Oddities

The Crossroads Village General Store transforms each year into the ghoulish Emporium of Oddities, complete with strange baubles, spooky specimens & more.

Halloween Games

Take part in family-friendly Halloween games while earning candy from performers and participants.

Live Music

Ready to do the Monster Mash? Listen to live music featuring a host of local performers while dressed in your favorite Halloween attire.

Food and Special Halloween Brews

The Crossroads Village Town Hall features a range of food & drink options. Enjoy a special seasonal beer made for Legends & Lore, along with other local brews.
Know before you go:
Tickets are date specific, please ensure your entire party is purchasing the same date. No tickets are needed for children under the age of 5.
Gates open at 5:30 p.m. Final entry is at 8 p.m. This event takes place in the Crossroads Village. The rest of the site is closed. Trams will not be running during the event, but a golf cart will be available to provide guests with access to the site. Paths are brick, earth, and gravel, with uneven spots. Closed shoes are encouraged. No outside food or beverages are allowed. This event will be held rain or shine but may be canceled or postponed due to severe weather. Restrooms are available.
Sponsored by Waterstone Bank and the Old World Foundation, Halloween Legends & Lore will take place on six Friday and Saturday evenings: October 6-7, 13-14, and 20-21 from 5:30 p.m. to 9:30 p.m., and advance tickets are required. Last entry is at 8:00 p.m. each day and tickets cost $20 for adults, teens and seniors. Tickets are $14 for children ages 5-12, and children under the age of five are admitted free. Wisconsin Historical Society members receive a 10% discount for this event.
Guests of all ages are invited to wear a costume (without a mask) and comfortable walking shoes as the tram will not be running during Halloween Legends & Lore. Sweet treats, hot food and a special edition beer from Duesterbeck's Brewing Company, created especially for this event, will be available for purchase. Guests can also visit the gift shop and enjoy live music from The Tooles on Oct. 6, 7 and 13 and from The Sweet Sheiks on Oct. 14 and 21.
Click here for photos and video.
Purchase your tickets to Halloween Legends and Lore HERE.
$20 for adults (15 and up)
$14 for children 5-14
About Old World Wisconsin:
Old World Wisconsin documents the settlement of 19th- and early 20th-century Wisconsin. It comprises an 1870s crossroads village and 10 ethnic farmsteads located on 576 acres of wooded hills in the Southern Unit of Kettle Moraine State Forest.
Related Posts:
Find ALL THINGS FALL IN LAKE COUNTRY.
5 THINGS YOU DIDN'T KNOW ABOUT OLD WORLD WISCONSIN
Related Events