Hartland Lights
December 1 @ 6:00 pm

-

9:00 pm

Free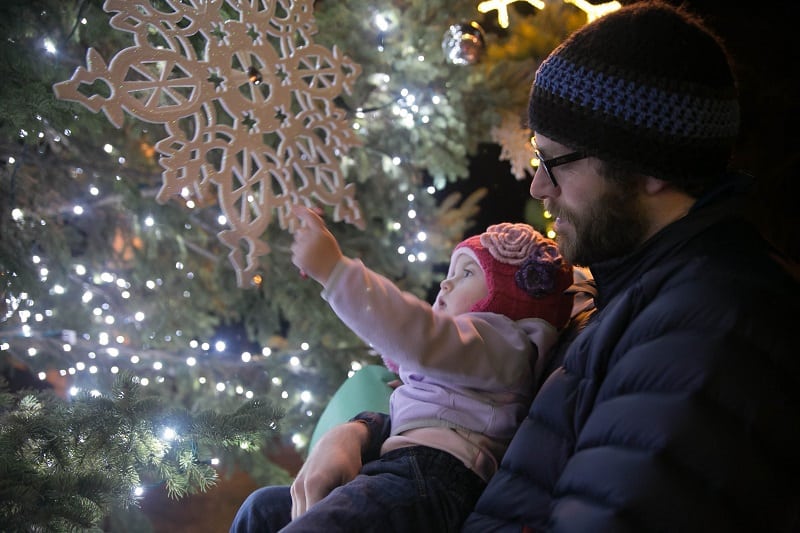 Hartland Lights 2023
Mark your calendar for the 2023 Hartland Lights event: December 1st from 6:00 pm to 9:00 pm. HARTLAND LIGHTS is HARTLAND'S OFFICIAL TREE LIGHTING IN THE VILLAGE CENTER!
Hartland's Official Tree Lighting in the Village Square! (corners of Capitol, North and Cottonwood)
Tree Lighting 6:30pm 
Caroling at the Christmas Tree 6:00pm to 6:30pm
Holiday Festivities continue until 9pm at participating downtown businesses
*Meet Santa and get a free downloadable picture
*NEW! Meet Elsa, Anna, and Olaf!
*NEW! Free Horse Drawn carriage rides with food pantry donation
*Free refreshments
*Activities and crafts
*Decorated shuttle bus

Snap Fitness will have ADORABLE Puppies again this year to pet, pose with in the Holiday Photo Booth, and Adopt for Christmas this year!! They are also offering FREE Face Painting.

They are collecting new toys for the holidays and will give a free month membership for a donation!
Free parking in all municipal lots.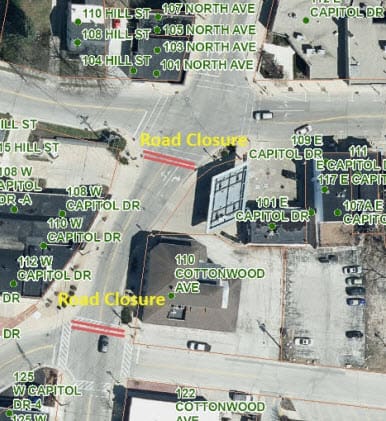 Hartland Lights 2023 Participating Locations + Activities:
*1. Lake Country Playhouse, 221 E. Capitol Dr – A Christmas Carol, musical November 25- December 10, lakecountryplayhousewi.org
*2. Theia Vision Care, 213 E. Capitol Dr. – Free raffle, $50.00 gift certificate and DIY candy cane reindeer ornament kit.
*3 Global Tactile Performance Cybernetics LLC, 155 E Capitol Dr, Suite 9F – Blind Navigation/Game System Demos, 10% off Fine Art Sale, Free Homemade Macarons
** *4. Birch & Banyan Coffee, 150 E. Capitol Dr. – Free downloadable photo with Santa by Miranda Weston, 6:30-9pm. Seasonal beverages and bakery. Light up the Night Hartland Luminaries for sale and all proceeds go to Lake Country Caring
*5. Hartland Hometown Pharmacy 139 E Capitol Dr.- Make Christmas Cards for the elderly to be delivered to nursing homes and retirement homes. 15% discount and refreshments
*6. Generations Dental, DDS, 139 E. Capitol Dr. – Handing out magic reindeer food
7. Designer Consignor, 131 E. Capitol Dr. – Discounts, sweets and $8.00 Holiday hair tinsel by Magic Cottage
8. Zesti, 130 E. Capitol Dr. – Dining specials
*9. Allstate Insurance, 129 E. Capitol Dr. – Cookies and a chance to win a TV from entries collected during the event
10. Palmer's Steakhouse, 122 E. Capitol Dr. – Dining specials
*11. Ravenrock Healing Arts, 112 E. Capitol Dr. – Free Jingle Bell bird feeder craft, $10.00 off gift card purchase
12. Tabi's Lake Country, 111 E. Capitol Dr. – Drink specials, live Christmas music, chance to win a wine tasting or wine storage unit
*13. Dousman Transport Company, 101 E. Capitol Dr. – Handing out Candy Canes and balloons
*14 A. Paladin Partners, LLC, 138 North Avenue – Decorate and enjoy your own Christmas Cookie
*14 B. Northern Enlightenment, 138 North Ave – Create a holiday themed Decorative paper gratitude chain and Candle Gazing (Trataka) Meditation for teens and adults at 7:15, 7:45 and 8:15pm
*14 C. Blooming Iris Coaching, 138 North Ave – Spin The Wheel for a chance to win a Free Life Coaching Session (60 min). Kids will receive a DIY Christmas craft
*14 D. Quantum Wellness US, 138 North Ave – Rock painting for all ages
*14 E. Amara Therapy 138 North Ave – Christmas cookies and a drawing for a free 30 minute treatment of Myofascial Release Therapy
*14 F. Wisconsin Somatic Movement, 138 North Ave- Create a gratitude chain with experiences and memories that you cherish
15. Senor Tomas Mexican Restaurant, 150 North Ave. – Dining specials
** *16. Klink's Karpets, 107 North Ave. – Life sized Gingerbread House and free popcorn, food pantry donation site
** * 17. The Ice Queen and Friends, by the Tree – Elsa, Anna, Kristoff and Olaf (starts AFTER the tree lighting at 6:30pm)
*18. Village Graphics, 108 W. Capitol Dr. – Holiday window display
*19. Board & Brush Creative Studio, 110 W. Capitol Dr. –WALK IN ornament workshop. Christmas Cookies, Hot Cocoa, Mulled Wine & Apple Cider. Ornament @Home Kits will be Buy 1 Set, Get 1
*20. New Heights Physical Therapy, 112 W. Capitol Dr. – Fire, hot beverage, giveaway for services
*21. Lake Country Fine Arts School and Gallery, 112 W. Capitol Dr. – Purchase and Glaze handmade ceramic ornament. Henna Tattoos, Holiday treats and adult festive beverages
22. Phoenix Bar and Restaurant, 129 Cottonwood Ave. – Dining specials
23. Beer Snobs, 122 Cottonwood Ave. – Dining specials
** *24. Library parking lot – FREE Horse drawn Carriage rides with food pantry donation
** *25. Hartland Recreation Department, 210 Cottonwood Ave. – Pin the nose on the snowman, Coloring page contest, winter/spring rec flyer
*26. Hartland Family Chiropractic, 211 Cottonwood Ave. – Christmas Carnival – games and prizes for children and adults
27. Endter's Sports Grill, 300 Cottonwood Ave. – Dining specials
28. The Gristmill Public House, 375 Cottonwood Ave. – Live music by Brooklynn from 8-11, Drink specials in an adult atmosphere
*29. Snap Fitness 24/7, 352 Cottonwood Ave C.- Photos with puppies that are available for Christmas Adoption gifts and face painting
** *30. Little DippeRz, 230 Pawling Ave – Cone Tokens: 3 for $10 Single Scoop Elf Cones $6 Hot Cocoa Floats $6 Ice Cream Mocktails: Grasshopper, Pink Squirrel, Brandy Alexander $8 FREE Scoop with food pantry donation
*donates kid-friendly activity
**denotes food pantry drop off site
Tis the season for giving! They will be collecting food for the Hartland Food Pantry at the event!
For more information go to www.downtownhartland.com or find "Hartland Lights" on Facebook.
Related Events