We've been meaning to share a little bit more about our Lake Country Family Fun TEAM other than what's on our "About Us" page. It's taken a while and there is so much going on with each of our lives, but we came up with a way to share a little bit more about each of the four of us. Soooo… below we each share a photo along with 3 Life Hacks, 3 Facts and our 3 Favorite Tracks.
We hope you enjoy the insight.  Feel free to post ANY questions to any of us as well, we'd be happy to answer them! At the end of the day our goal is to not just appear relatable and real, but actually let our genuine authenticity shine through what we do 🙂
All our hearts,
Erin, Martha, Madi & Stephanie
---
Erin – "Ever-On-The-Go Momma"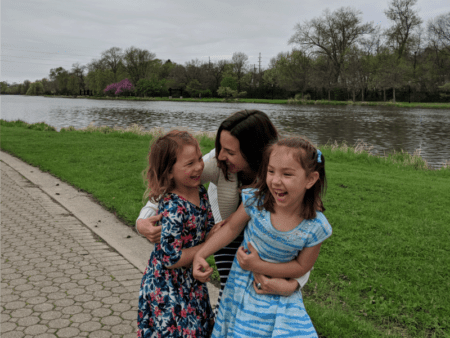 Life Hacks
Have your kids pack their own snacks. We are out and about all the time, usually over a morning or afternoon snack time. To save time when I'm getting ready, I have my kiddos (4 and 7) pack their own snacks. All our snack foods and containers are at their level for easy access. This builds confidence and responsibility in my kiddos, while taking one task off my mom-plate.
My kids love to play gymnastics and try new tricks at home. We have a deal that as long as the living room is free from any of their toys, they can practice cartwheels, somersaults, handstands and more! And I get a clutter free living room 🙂
A Few Facts
The summer before my senior year of high school, I tried out for an all-American dance/cheer team and made it. I went on to perform in the pre-game and half-time show of the Orange Bowl in Miami with Jermaine Dupri, Lil Bow Wow, and Christina Milian. I then went to UW-Green Bay with the intent of trying out to be a Green Bay Packer cheerleader (St. Norbert's and UWGB alternate Packer home games), but never ended up trying out.
I'm a "born-again foodie". When I was a child, I was the pickiest eater. My family can tell horror stories. Over the course of meeting my husband, and especially my journey to becoming a mom, I started trying and eating all the foods ie. vegetables, and now eat a wider variety of foods than my hubby! Because of this, I'm super passionate about my kids not being picky eaters and promote healthy eating patterns on a daily basis.
My Favorite Tracks
"Fight Song" by Rachel Platten – I love a good underdog song, plus my oldest loves this song, so we still blast it out, have a dance party, and routinely listen to the Rachel Platten station.
Most any '80 one-hit wonder or 90's rap/hip-hop – what can I say, I'm nostalgic 😉
---
Martha – The " Humor loving mama hoping to make a difference through positivity and optimism"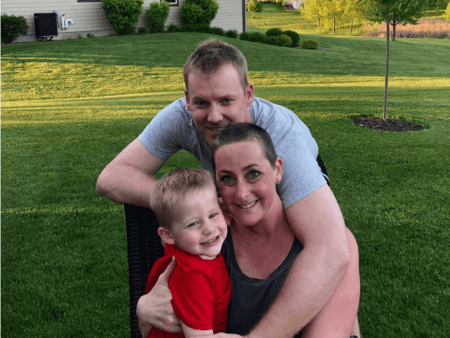 Life Hacks
Make yourself a priority. One of the things that I do each week is practice yoga and meditation. It is my time to focus on just myself, my well being, and my mental health. It makes ALL the difference for me. Find something that does that for you.
Always line cookie sheets with aluminum foil when you use them to bake or roast or whatever! Clean up is a breeze!
Living room floor picnics. We love to treat ourselves to something yummy (pizza or grilled cheese) and enjoy a movie on the floor every once in a while. It's so fun to just get back to basics and enjoy each others company.
A Few Facts
Many of you know, many of you may not – I am currently going through chemotherapy treatment for breast cancer, and will have surgery in the fall. It has rocked my world, but has also shown me the immense amount of goodness in this world, which can sometimes be a very scary place.
Now for the fun (and embarrassing). As a child/teen I played the trombone and was actually really good at it. I was determined to take a "boy instrument" and prove to everyone that girls can do whatever they want – and better than the boys too. I was a member of every band possible: pep, jazz, pit orchestra, regular concert bands and lastly and most importantly, marching band. My senior year I was the drum major and can still rock the "walk" just as well.
I was a a competitive swimmer from about age 3 until high school. When I met my husband and found out he was ALSO a competitive swimmer, we knew it was a match made in heaven (well, that wasn't the only reason I liked him, but it was pretty cool.) Our son is already showing signs of love for water, and we think he'll be a fish just like us!
My Favorite Tracks
Wildflowers by Tom Petty – this was our first dance and it's one of my very favorite songs.
Up on the Roof by James Taylor or really every single song he's every recorded or been a part of. My dad and I danced to Up on the Roof at my wedding. <3
Anything by Rick Astley – no explanation necessary
All broadway, especially the Hamilton soundtrack lately. Also, Harry Potter is my most listened to Pandora station. I love anything instrumental when I need motivation
---
Madi – The "Minimalist Mama with a Big Heart"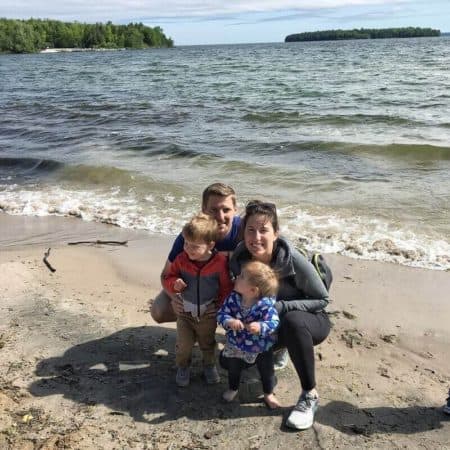 Life Hacks
Have a Uniform: Skip fast fashion for timeless, practical pieces, that reflect YOU. All you need are a few key wardrobe staples which you feel comfortable in, can layer, and mix & match. Focus on what helps you feel comfortable and confident and get rid of the rest. Nowadays, I don't have much time to hem-and-haw over what I wear. Whatever I throw on has to be durable and work with whatever the day has in store. I only have about 30 pieces to my wardrobe which I rotate (you'll notice lots of repeats if you study my pics closely enough). Research "capsule wardrobe" on Pinterest or Instagram for some inspiration.

Friday

Night Pizza & Movie Night: This is a tradition we've had for awhile now and has become something we really look forward to as a family. It's an easy but still a fun end to the week. You can switch up the pizzas based on your preference & diet whether it's all from scratch or your favorite frozen pizza. We each take turns picking a movie so we all get exposed to a variety of different tastes and everyone has a turn.
Maximize on Motivation: There are those times when you are really motivated to tackle a task (cleaning, writing blogs, responding to emails, yard work, etc.) but there are other things on your "to-do list" that also need your attention. What works for me is to accomplish what I am most motivated to do first, even if it may not make the most practical sense. I find that if I do that, I am significantly more productive than when I am forcing myself to do something, not really feeling it, and would rather be tackling what is at the forefront of my mind. Plus, once that initial task is completed, I have more mental space to become motivated for what is next or at least have the inertia from accomplishing the first task. Ride that wave of motivation when it strikes.
A Few Facts
Prior to my LCFF or stay-at-home-mom life, I worked as a social worker in child protective services. I was and still am passionate about advocating for vulnerable children.

I would describe myself as an outgoing introvert. I enjoy meeting new people & socializing but definitely require solo time to re-energize. Since becoming a mom of two toddlers, I have learned to make it a priority to etch that time in for myself in order to be the best I can be.

I became involved with LCFF after Hartland Kids Day 2017. I started as contributing some writing here and there and have since become heavily involved in managing LCFF's Instagram. Becoming involved with LCFF was not something I had planned but is a joy to be a part of. I get to write, be involved with the community, and work with some some seriously inspiring ladies!
My Favorite Tracks
When I get a chance to play my own music (very limited nowadays!), it's usually Beyonce or The Hamilton Soundtrack

Kids music preferences right now are anything Trolls or Disney
Best Family Pandora Stations: Sesame Street or Movie Soundtracks Radio
Best Family Apple Music Radio Stations: Disney Radio or "Cool Family Radio"
---
Stephanie – "The Perfectionist Dealing with Life's Imperfect Challenges"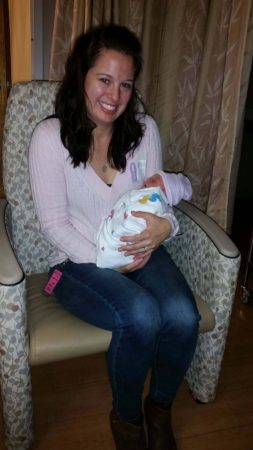 Life Hacks
Whiten your teeth with activated charcoal. You can buy it on amazon. Put it in a ramekin dish next to your toothbrush. Dip your toothbrush in it once a day and brush for a minute.  Works like a charm and is natural.  I get compliments all the time on my white teeth.
Make Home-made chicken soup weekly with an easy recipe. Buy a natural rotisserie chicken (I get mine from Sentry). Cut the meat off of it. Take the scraps and put in a pan and fill with water. Boil then simmer an hour or two.  Strain the bones and use the liquid as broth.  Add carrots, celery, onion and spices and cook 30 minutes or until veggies are done. Then add chicken and cook more. Viola! Add rice or noodles if desired.  Easy, healthy, home-made – check!
To be a better listener, always ask one question deeper than you were planning to ask! So many times we hear something someone says and we only can think about how we relate to it with something in our life. Instead, try asking one question before chiming in with a relatable life story.  It goes far!
A Few Facts
I did NOT want to share this, but Erin is making me (ha!).  I was Miss New Berlin 2008. I did pageants for only 1 year and it was when I was a senior in college. I made a lot of great friends, learned a lot and won some scholarship money.  My platform was "Healthy Children" and hence I always like to be involved with the Tri-ing for Children's Charity Triathlon in Ottawa each July when I am able and I try to expose my children to healthy eating and choices.
I can sing the Polish National Anthem.  I don't know what a word of it means, but I know it!  I have recently been getting into ancestry data since my Grandmother passed in March.  It is addicting and I've traced my side back to 1560 in Germany and my husbands side back to 1550 in England.
My kiddos are all adopted.  If you didn't know that already you can read more here. Infertility is one of the "imperfect challenges" I've grown from.  My husband's disability from Lyme is the other major one.
My Favorite Tracks
"Everyday" by Dave Matthews Band – This song is a total pick me up.  I love DMB and don't listen to it much anymore but when I do it brings me back to being young and carefree and it always puts me in a good mood.
"Overcomer" by Mandisa – This is a Christian song from an artist I love and feel is "really real". I listen to Christian music most of the time especially since it's family friendly and I do love it.  The boys love listening to their VBS music CDs.  Happy families sing, I think!
"Ignition" by R.Kelly – Ok this may not tie in too well with my 2nd track, but I am versatile.  I love the R&B from the 90's early 00's.  It reminds me of college/high school and the beats are so good they just make you want to dance.  Whenever I put on "Ignition" radio on Pandora, my friends get so excited and think I rock (which I do..haha)!
---
We hope you've learned a bit more about us and who we are.  We hope we come across as relatable and real as that is our goal! Feel free to email us or contact us anytime!  We love the community we live in and the amazing people and support in it!
Be sure to follow our Instagram in the next month as we share even more about each one of us!