THE WEEKEND GUIDE FOR LAKE COUNTRY
AND THE GREATER WAUKESHA COUNTY AREA HAS ARRIVED
FILLED WITH FESTIVE THINGS TO DO!!
PLEASE THANK OUR WEEKEND GUIDE SPONSOR: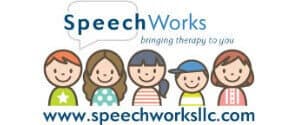 SpeechWorks offers speech and language evaluations and therapy to families in the Lake Country area.  We can help you determine if your child's speech-language milestones are developing as they should, if your child would benefit from speech services even if they didn't qualify for school services, and if you should be concerned about the way your child is or isn't saying a particular sound.Speech-language screenings and community presentations are also available to daycare and pre-school centers looking to provide additional resources for families.
Jann Fujimoto, MS CCC-SLP, is a certified speech-language pathologist and the owner of SpeechWorks LLC.
Happy January!!
Do you love a new beginning? Do you do New Year's resolutions? Last year, I made a resolution to go to bed on time/early…and I did not succeed at keeping it. I'll try again, but it's hard to break a night owl schedule. 😉 
Or is January 1 no different than the first of any other month? (except colder)
Regardless of how you greet the new year, 2019 is here, and we at Lake Country Family Fun are very excited about it! Some of things that make us the most excited are the new Lake Country Currents Coffee Shop Series, starting THIS Saturday!! and Ice Castles opening!! Plus, there are quite a few fun festivals in January and my birthday 🙂
Lake Country Family Fun's Promotions and Announcements
Our first Lake Country Currents: Coffee Shop Series event is Saturday, January 5. As part of our mission statement, Lake Country Family Fun is super excited about this new networking opportunity for online creatives in the Waukesha County area. And we've sold out! Details HERE.
Are you still on Christmas Break? My oldest doesn't start school again until Monday. Grab these 30+ ideas to cure the boredome. Details here. 
Burn Boot Camp Oconomowoc is OPEN! Stephanie toured the new facility. See her sneak peek HERE.
The Sussex Civic Center Ice Rink is OPEN! See hours HERE.
Winter Farmer Markets have started! Check out OCONOMOWOC, MILWAUKEE (THE DOMES), MUKWONAGO, and SUSSEX.
For those looking for a healthy start to the year, we have some tips and tricks for you:
Looking for a local preschool? We have the lowdown on 20+ reader recommended schools in the Waukesha County area. Skim the Preschool Guide here.
Throwing a birthday party? Check out our BIRTHDAY PARTY GUIDE with over 20 unique venues!
ICYMI: ICE CASTLES IS COMING TO LAKE GENEVA and Lake Country Family Fun has the scoop!
Congratulations to the two winners of our Ice Castles Giveaway, plus the grand prize winner who won a COMPLIMENTARY one-night stay at THE RIDGE HOTEL, $100 dining credit to Crafted Americana, and transportation to/from Ice Castles!  WOW!  Many thanks to Ice Castles and The Ridge Hotel for the giveaway items.
Now we just need the temperature to cool down below freezing. The expected date to open is weather dependent. 
Join the conversation and share with your friends and family on Facebook HERE.
For a full listing of events for the day, check out our CALENDAR. To find out more details, click the link (the title will take you directly to the event).
Enjoy the January weekend!
All the best, 
Erin and the Lake Country Family Fun Team
Sponsored by Chiropractic Company - Oconomowoc; Drs. Bradley and Vanessa Fritz