This is a sponsored post.
Welcome to week 4 of our fall family dinner series brought to you by Brewers Organics!
Are you loving the fall weather? I love the fall harvest – sweet potatoes are a favorite!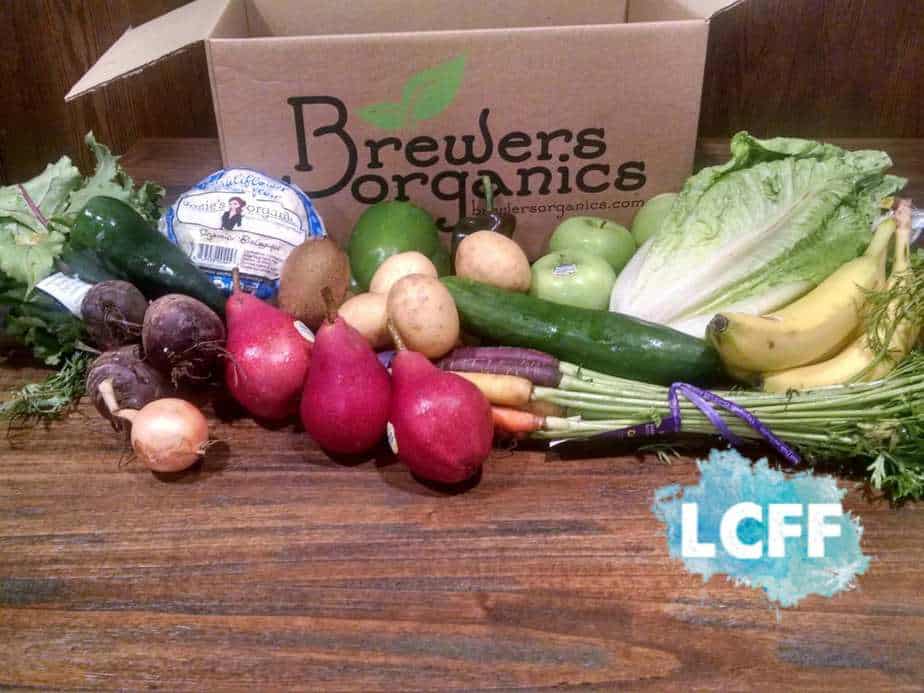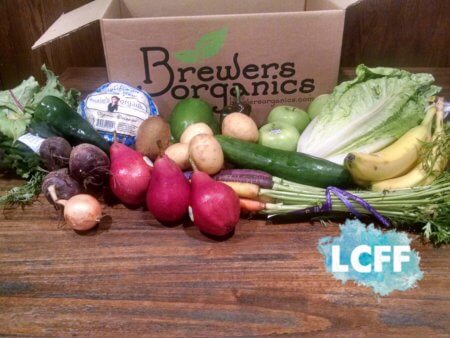 What is Brewers Organics? Brewers Organics is an organic produce delivery service company based out of Milwaukee, WI. They not only deliver organic produce right to your front door, but they also have a shop full of Wisconsin products – milk, eggs, meat, and cheese. When you go into their shop, you will find flour, fettucine, coffee, and tea, among many other products, even chocolate! All orders are completely customizable, and there are no commitments.
Also, Brewers Organics not only delivers to the Milwaukee and Lake Country area, but they also deliver to the Madison and Fox Valley (Appleton, WI) area. So, if you have friends or family living near Madison or Appleton, pass this along to them!
Many thanks to Chelsea Gloeckner with Victae.com, who does all the recipe planning with Brewers Organics and focuses on simple, healthy meals. Chelsea prepared the following recipe for our Lake Country Family Fun readers to enjoy with their families.
Please use code LCFF16 to receive $15 off your first produce order!
Sweet Potato and Kale Risotto
As Chelsea was creating this recipe, she relayed, "This risotto may be some of the best I've ever eaten-simple ingredients, simple preparation, yet the final dish is elegant and scrumptious! Not to mention perfect for Fall :)" While risotto does require consistent stirring, this labor of love is 100% worth it. Your family will appreciate every bite (and the kiddos will never know they loved vegetables so much!)
This serves a family of 4-6 generously.
Ingredients:
2 tablespoons olive oil
1 small onion or 3 shallots, diced
1 sweet potato, diced
1 ½ cups Arborio rice (must be Arborio to make creamy risotto!)
⅟ 3 cup white wine (Pinot Grigio would be nice)
8 cups vegetable stock
½ bunch kale, leaves torn into bite-size pieces (about 3 cups)
⅟ 3 cup Parmesan cheese, freshly grated
¼ teaspoon freshly grated nutmeg
Directions:
Heat vegetable stock in saucepan and keep on a low simmer.
Meanwhile, heat olive oil over medium heat in a Dutch oven.
Sauté onion and sweet potato for 5minutes, stirring occasionally.
Add rice to Dutch oven and stir to coat each grain with oil, for about 1 minute.
Turn heat to medium low. Add white wine and ½ cup (or 1 ladle) of simmering vegetable stock.
Stir until all moisture is absorbed, about 3 minutes.
Continue this process of ladling and stirring until all stock has been used (about 35 minutes).
Finally, add kale, parmesan cheese, and nutmeg and stir until evenly distributed.
Serve hot and season to taste with salt (taste first, because some stocks are saltier than others!).
Enjoy!
Are you hungry yet? Enter the code LCFF16 at sign up to receive $15 off your first produce order.
Find previous recipes here: lemon garlic chicken, pork chops, and stuffed bell peppers.