One of the things I love most in life is food. I'm always experimenting in the kitchen to find new recipes that can turn into staples in our rotation, and they have to be easy and (mostly) healthy. I've been making tons of warm soups and "stick to the ribs" dinners all winter long, but as we welcome March, I'm focusing on lightening things up in the food department with fresh, delicious foods with spices, citrus and herbs.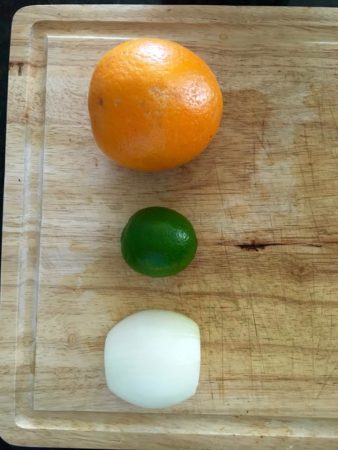 This is one that I make so often, and it never fails in the flavor department + you can eat it via many vessels: tortilla shells, salad greens, rice or even chips. Sign me up for a versatile dinner! Do you want to know what the best part is? This friends, is a crock-pot meal. Just a little bit of prep and a lot of mouthwatering smells all day long.
Ingredients:
3 pound pork loin
Juice of 2 large oranges
Juice of 2 limes
1 tablespoon garlic
1/2 onion chopped
1 tablespoon Chili powder
1 tablespoon Cumin
1 tablespoon Oregano
Salt and Pepper to taste (I added about 1 teaspoon each)
Start by juicing your oranges and limes, add the chopped onion and garlic and measure in the chili powder, cumin, oregano, salt and pepper. Give the mixture a whisk and you're good to go.
I usually try to marinate the pork in this mixture overnight, but it is definitely not necessary. Pour everything into the slow cooker and cook on low for approximately 7 hours or until the pork shreds easily with a fork – flipping occasionally and "basting" the pork with the juices. Once you can shred it, do so and allow it to stay in the remaining liquid for approximately an hour or so. This is when it really soaks in the delicious flavors. I serve this in the taco form, but like I mentioned earlier – it could be devoured in many ways. Also – something to note, I don't add any spicy spices so Dane can enjoy this pork with us, but if you want to kick it up, I recommend red pepper flakes. They would compliment the flavors really well.
Delicious toppings to consider: diced tomatoes, cilantro, avocado, corn, black beans, sour cream (even pineapple would be good).
If you want to get fancy, a seriously easy topping I make often is ½ cup sour cream, ½ avocado, handful of cilantro chopped and salt/pepper. Zip this up in the blender and it's a perfect little bite.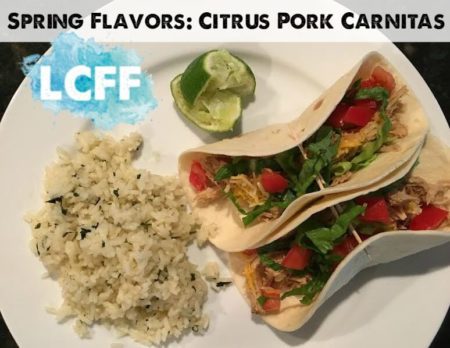 I love to make this dish most when I have my herb garden in the summer because I think fresh herbs make everything taste better. This year I'm planning on expanding that idea and going for an actual vegetable garden, which I will be documenting right here on LCFF. I'm a first timer – so any tips are welcomed as we come up with our plan.
Is everyone else ready to say goodbye to the heavy meals and transition to lighter dinners? What are your favorite recipes for spring?