Welcome to our series on relationships, because that is what life is all about 🙂 Throughout the next five weeks, we will be taking you with us on a series on relationships across our lives. We hope you enjoy reading. Please let us know if you can relate and how you nurture the relationships in your life.
---
Chapter 2: Love and Marriage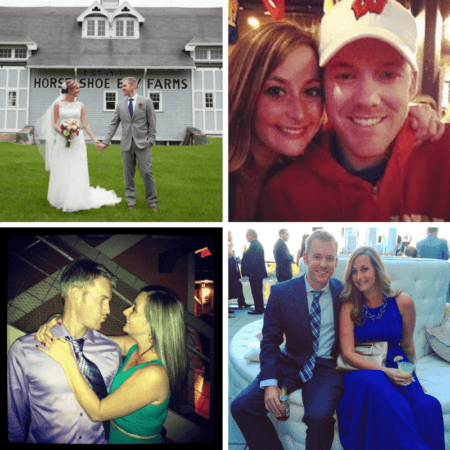 A Little Background, Before We Begin…
My husband and I met almost 6 years ago in the most unlikely of places. In a bar. Yes, we were both cheering on the Packers and it just so happened that we were in the same bar in Chicago on the same day. He lived in Chicago – I was living in Madison and was just visiting for my birthday weekend. We both braved the cold January day and got there very early in the morning with our separate groups of friends. When we met I had no idea that it would ever turn out to be anything, because "long distance doesn't work" so I've experienced in the past and also told by many. We exchanged numbers and actually did keep in touch – turned out he had a lot of friends in Madison and was in the city very often. We basically tried with all of our efforts to not make it work. We were both super busy with our work and social lives and kept telling ourselves "long distance doesn't work", but we couldn't will it away – we both gave in after about 6 months of Are we? Aren't we? Well turns out…we were, and we haven't looked back.
Jump ahead through 2+ years of long distance "making it work", introductions to families, moving in together, getting engaged, adopting a kitty, struggling to sell a condo in the saturated Chicago marketplace, planning a wedding, marriage, building a home and now a family. It's been insane to say the least and there have been plenty of ups and downs. Every year that passes seems to go more quickly and now that Dane is here it's like someone pressed the fast forward button. I've only been married for a little over two years so though I am not an expert on marriage, I feel like we have a lot of very good examples in our life to look to for guidance. I have a laundry list of things we try to stick to help keep our relationship healthy and fun, but I picked a few to share with you.
Breakfast and a movie
You've all done the dinner and a movie thing, I'm sure. But we all know sleep is precious now that we have kiddos and especially during pregnancy. When I was expecting – we decided to start going out for a big breakfast followed by a matinee movie. That way, by the time we got out of the movie, the day was only half over – we had plenty of time to do other things and who doesn't love delicious breakfast food? Our personal faves include waffles + fresh fruit or corn-beef hash for me and anything filled with meat for Casey (omelets or scrambles). There are so many great breakfast places in Lake Country, this is a must date idea! You could easily take the kiddos on this date too, making it a super fun family activity! We're both huge fans of Dan Brown – so when we heard there was a new movie coming out this year we started planning our next date right away. Inferno is in theatres now and we can't wait to see it!
Listen. Really, honestly listen.
This is especially true when it comes to bringing a new life into the world. Listen to the pain points and the happy ones and truly share in each other's feelings.
Make dinner at home.
A lot of Friday nights after long weeks at work, we used to grab dinner out in the area – lately though, we've been trying out new, fun recipes together in the kitchen. It's so relaxing to get home, throw on comfy clothes, pour some wine and enjoy each other's company while trying out something new. We both love to cook, and spend a lot of time in the kitchen, so this is one of our favorite activities! If you follow my blog – I post tons of great recipes that we're trying out together. A favorite is Citrus Pork Carnitas which slow-cook all day and make amazing tacos.
Nurture each other's passions.
I can't tell you how supportive Casey has been of my blogging and I appreciate it so much. It's been the most therapeutic outlet for me and I feel like I've finally found a way to bring the creativity I needed back into my life.
Go for walks.
With the perfect weather we've been having, one of our very favorite things to do is load up the stroller and just go. We have such a beautiful community, with tons of gorgeous trails, streets and destinations that it makes this a fun easy activity for the whole family. Dane almost always falls asleep in the stroller, so it gives Casey and I lots of time to talk about life, goals, and our plans for the future. A lot of our best ideas and conversations seem to happen when we're walking.
Speak their love language.
I've done a lot of reading on this subject lately – and one key takeaway is that everyone is different. Different things (actions and words) mean more or less to each person, so it's important to learn what your partner's love language is. For me, it's words – I like to talk things out, I like to hear 'I love you', I like to discuss plans. Think about what makes your partner most happy and try to use that language when communicating, and see what happens.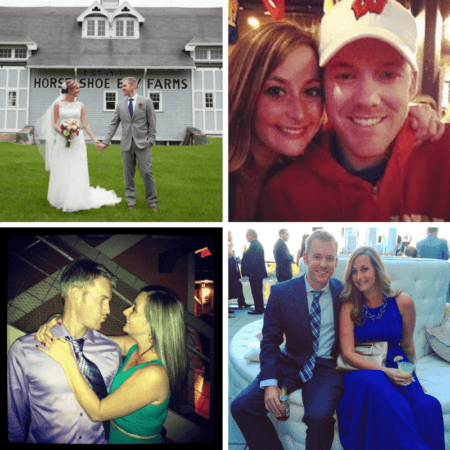 When Things Go Off Course – Make a Plan
Life has a funny way of throwing things off course. Curve balls can come from every angle and we've realized that now, more than ever before, we need to lean on each other and work as a team. In order to keep our relationship successful we both need to function on our own and be our best selves. One of the most important parts of a relationship is lifting your partner up and helping them work towards always being their best. The trick is to figure out what that means – it's different for everyone. For me, honest conversations help immensely. That means being honest with myself AND my partner. Another very important part is taking time to make plans and set goals. What will help? How do we shift our priorities to make it happen? And it's not just that – it's evaluating if your solutions are helping and making tweaks if they're not.
Small Changes, Big Impacts
Here's a very simple but meaningful personal example: I am a better person in a ton of different ways when I am consistently exercising. It helps EVERY part of my life- my body image, skin, energy level and overall mood. Due to a busy schedule and a lot of excuses, I haven't been awesome at making exercise a priority in my life lately, and it's really bringing me down. So Casey and I had an honest conversation about what we need to do to make the shifts necessary to get that habit going again. It means waking up earlier and dedicating the time in the morning for me – and it also means Casey helps motivate and keep me accountable, because he knows what it does for my spirit. Seems easy, right? Maybe in a life with no children and no daylight saving time – moms do you feel me? Honestly though, it's all about compromise and if you work with your partner towards these ideas and goals, it makes it easier to lift everyone up and everyone benefits from the positivity.
Tell Us…
What are your favorite tips for nurturing your relationship with your spouse/partner/significant other? There is no science to it, because everyone is different but I think two of the fundamental requirements are honesty and respect.
Have a wonderful night, and thanks for reading!
-Martha
Instagram: @marthaherdy