Lake Country Family Fun interviewed 8-year-old Lake Country resident, Kendyll Kloskowski, of Muskego, regarding an award she received from Miss Volunteer Service International. Miss Volunteer Service International is a registered 501©(3) nonprofit which works to inspire civic engagement and volunteerism in young women. This interview is a great read for both families and kids and we hope it inspires our readers (of all ages) to get out and make a difference in their community.
Hi Kendyll.  We heard that one of our own in Waukesha County/Lake Country area (aka YOU) received a big recognition recently!  Can you tell us what you were awarded?
I was awarded the Miss Volunteer Services International First National Princess.
Why is this award unique to the Miss Volunteer organization?
There has never been a National Princess before.
What grade are you in Kendyll? What do you like to do outside of school?
I am in 2nd grade at Tess Corners Elementary in Muskego.  I like to play with Legos and my friends when not at school. 
Why is the Fight for Air Climb an event that you personally support so dearly?
I have severe asthma.  I support the Fight for Air Climb because the American Lung Association does research and increases awareness about lung disease.  It is a good cause and it can help a lot of people.
What would you tell other children your age in Lake Country about volunteering and following their goals? Is it doable for children under 10?
You should help others and volunteering is a good way to do that.  There are a lot of organizations that will let you help even when you are under 10.  You are never too young to help others.
How does your family support you?
My mom and dad started doing the Fight for Air Climb when I was very young.  They encourage me to be active and take pride in my volunteer work and efforts in raising money for the climb.  Now my brother (age 10) and sister (age7) will be climbing with me as well.  They are all very supportive and help me raise awareness and money as well.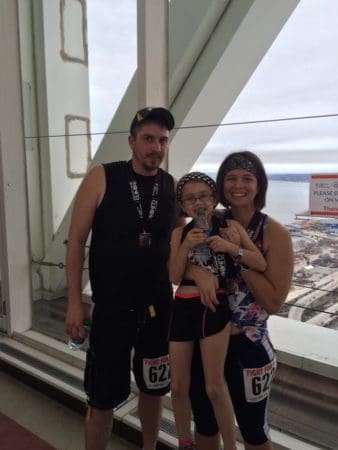 We'd like to add the Fight for Air event to our Lake Country Family Fun calendar.  Can you tell us when the event is, how to register and how we can be on "your team"? 
The climb is on March 18th at the US Bank Building and you can register online here or at the event.
If viewers want to donate, but not do the climb, how can they support the cause?
That is where you can make donations if you wish.  If you would like to donate to my team or join us on Saturday you can do so here.
On behalf of Lake Country Family Fun, THANK YOU for your volunteerism.  THANK YOU for inspiring us and families and kids alike.  THANK YOU for being you, Kendyll!