Matilda Jane, oh how I love thee.  Well, the Matilda Jane clothing brand that is.  This is a clothing company that is anything but the run of the mill, bought from the mall and matchy-matchy.  That is what I LOVE about this brand.  I grew up in a family of quilters, and quilters have an eye for color that others don't always understand and Matilda Jane has that same vision.  I love the brand so much that I am hosting a trunk show on August 1st at Whelan's Coffee and Ice Cream Shop in Oconomowoc, the times that the trunk show is open are 9:30 am-12:00 noon AND 5:00-7:30 pm.  When you come let Jessica Nevermann, trunk keeper #359 that you heard about the event from Melissa Peterson from Lake Country Family Fun!
My daughter is a little firecracker, and loves all things girly and pretty.  So she loves to see new pieces come into her closet, and quite often she will surprise me and dress herself and she always grabs her Matilda Jane clothes first.
As hard as it is to believe that it is time to start thinking about back to school wardrobe, but the Fall 2014 collection by Matilda Jane Clothing is called "Secret Fields" and will have some of the most unique and adorable back to school fashions for both children, tweens and adults.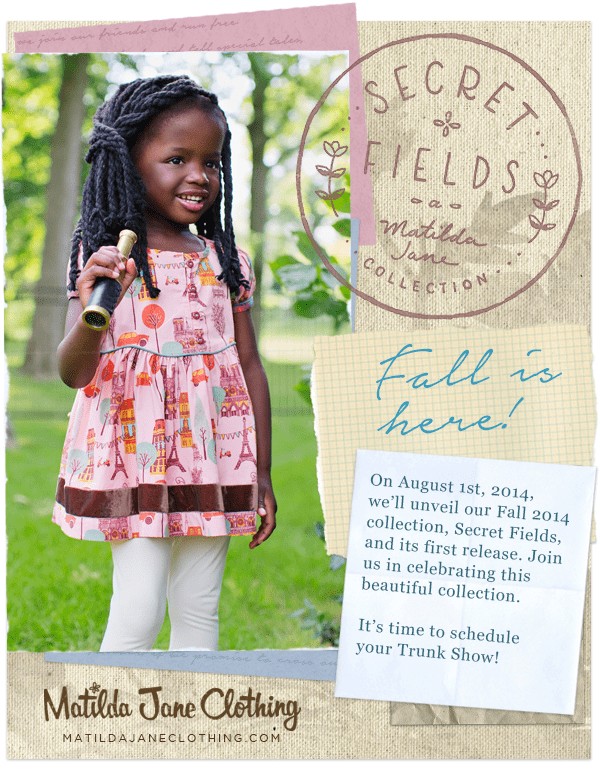 I am happy to add a few more pieces of clothing to Sigi's wardrobe as it feels as if the children are able to wear them forever!  Sigi is a solid 4 in tops and 3T in bottoms and she is still able to wear her 18 month lap dress as they are generous in the width in the smocking, and the no-knot and knot dresses there are ties in the back that allow them to be worn first as dresses and as the kids get taller as tops.  I love multi-year use and multi-use clothing.  The investment I make in her clothes seems trivial when I know she will be wearing many of her pieces for years.
To tease you even more Jessica has released 4, yes 4 $25 gift certificates to use to purchase your own Matilda Jane clothing!