This is a sponsored post.
Welcome to our fall family dinner series brought to you by Brewers Organics!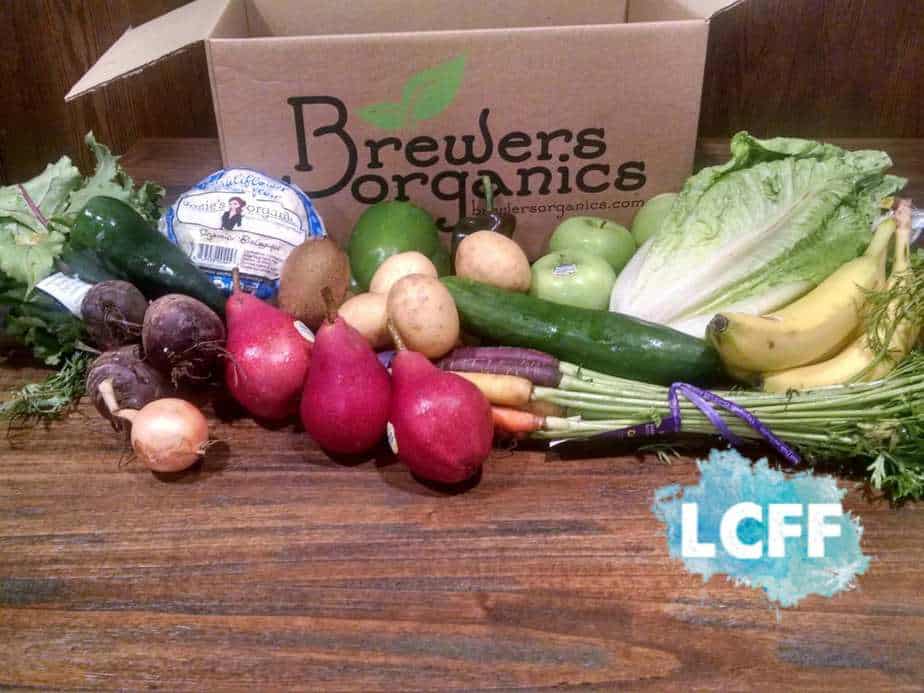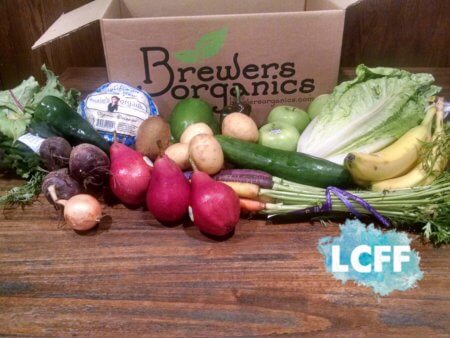 What is Brewers Organics? Brewers Organics is an organic produce delivery service company based out of Milwaukee, WI. They not only deliver organic produce right to your front door, but they also have a shop full of Wisconsin products – milk, eggs, meat, and cheese. When you go into their
shop
, you will find flour, fettucine, coffee, and tea, among many other products, even chocolate! All orders are completely customizable, and there are no commitments.
Many thanks to Chelsea Gloeckner with
Victae.com
, who does all the recipe planning with Brewers Organics and focuses on simple, healthy meals. Chelsea prepared the following recipe for our
Lake Country Family Fun
readers to enjoy with their families. Please find a code specifically for our readers at the bottom of the recipe to receive $15 off your first produce order!
Lemon and Garlic Chicken served with Pappardelle and Thyme Mushrooms
Enjoy the delicious flavors of garlic, lemon, and thyme at your next family dinner! Begin with preparing the chicken. While the chicken is roasting, begin to boil the water for your pasta. Then, make the thyme mushrooms. Finish by cooking your pasta. When the chicken has finished roasting and has sat covered with foil for 10 minutes to allow the juices to redistribute, plate your dinner! We love the garlic lemon sauce spooned over the hot pasta 🙂 Yum!
Lemon and Garlic Chicken
3 tablespoons olive oil
8 large cloves of garlic, minced
½ cup white wine
2 teaspoons dried oregano
½ teaspoon dried thyme
Zest and juice of one large lemon
4 skin-on chicken thighs, blotted dry with a paper towel
1 teaspoon olive oil for chicken, see directions below
Preheat oven to 400˚ F.
Heat olive oil in skillet over medium heat. Add garlic and sauté for 2 minutes.
Remove from heat and add wine, oregano, thyme, and the zest and juice of one lemon.
Pour garlic lemon sauce in a baking dish. Top with chicken thighs, skin-side UP.
Brush chicken skin with olive oil, and then season with salt and pepper.
Bake at 400˚ F for 40 minutes.
Broil for an additional 2 minutes to allow chicken skin to crisp.
Remove from oven and cover baking dish with foil, allowing chicken to sit for 10 minutes.
Stovetop Thyme Mushrooms:
1 lb. white mushrooms
¼ cup white wine
1/3 teaspoon dried thyme
Using the same pan as used for lemon garlic sauce, sauté the mushrooms for 3-4 minutes.
Add wine and thyme, and keep warm on low heat until serving.
Pasta:
Lemon pappardelle pasta, 4 servings
Prepare pasta (or any noodle of your choice) according to instructions.
Are you hungry yet? Enter the code LCFF16 at sign up to receive $15 off your first produce order.