Well technically John McGivern has already been to Oconomowoc filming Around the Corner With John McGivern but now he is coming back for the advanced community screening of the show.  For those of you who don't know John, you are missing out.  He is an Emmy Award winner, comedian, and show host among many other titles.  When you meet him you at first are thinking how you perceive him from watching his shows and stage performances can't be who he really is, that has to be his alter ego.  Wrong, he is as nice as they come.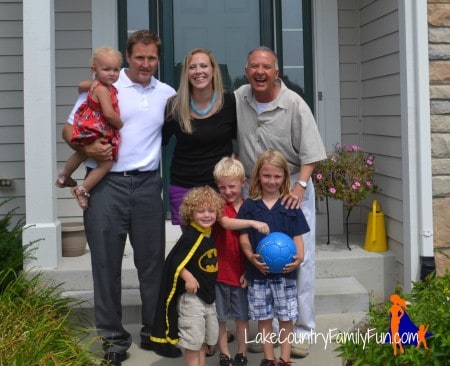 John and the crew from Around The Corner came to Oconomowoc in the summer of 2013 and went around to local hot spots, our own hidden gems, and met with families that had something unique within the community.  I was tickled when I heard that John would be heading to Imagination Station to highlight our universally accessible playground.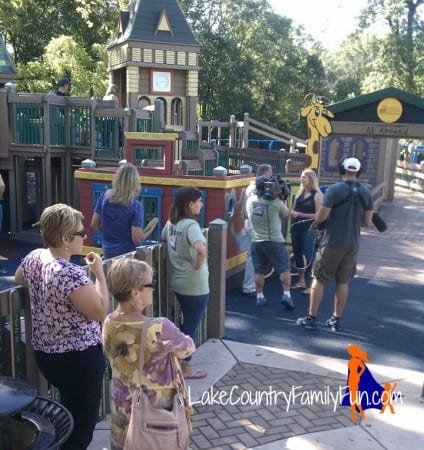 Two days later after filming at Imagination Station, John was headed to our house.  Yes, my house.  It was wild to have him there, but with our 4 children running around it was a good choice.  It was August and it was so hot and humid (forgive my hair, it wasn't playing nice that day).  The crew came inside and we were chatting, I asked them where they had already been that day.   She was working her hardest to pronounce Debbink, and I deciphered it and said did you say Debbink and my husband and I erupted in laughter.  She probably thought we were nuts, Terry and Dirk are my husbands Aunt and Uncle.  The next time we saw them we all got a kick that we didn't know the others were part of the taping.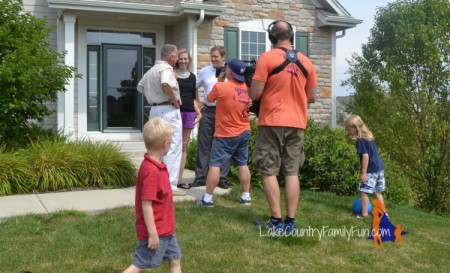 John was a sweet as he could be with the chaos that is my home, the kids were running around him going crazy as only a 6, 4, 3 and 1 year old could do.  Signe and John became friends as he picked her up and they chatted for a while.
The Around The Corner With John McGivern crew really went all around Oconomowoc and caught the essence of the city, but also of the eclectic mix of people that fill the area.  I know they went to Petite Chef, Imagination Station, The Roots Coffeebar & Cafe, went for a spin in the Batmobile, Brownberry Ovens, a few local residences and even the Roundy's Distribution Center as well.
I just received this in an email, it is a little more details on what will be highlighted on the Around the Corner with John McGivern Oconomowoc episode-
Historian John Gurda kicks things off by telling us all about the history of the city. And then it's off on a whirlwind tour with host John McGivern! Among the places, organizations, and people featured in the program are: the Burnt Toast Cafe, Imagination Station, residents Dirk and Terry Debbink and Melissa and Pehr Peterson (hey, that is me and my husband!!), Zion Episcopal Church, fisherman Ken Rizzo, Batman (Craig Schiefelbien) and Robin (Mike Judkins), Oakbrook Esser Studios, Oconomowoc Economic Development Director Bob Duffy, Lac La Belle, Roundy's, The Inn at Pine Terrace, Le Cheval, Maxim's Depot Restaurant, The Petite Chef, and realtor John Spheeris. Oconomowoc Mayor James Daley has the last word, describing why the city is such a great place in which to work, live, and play.
The advanced community screening of the Oconomowoc episode will be at the Oconomowoc Arts Center at 7:00 pm,  Monday, March 24th, 2014.  Join the City of Oconomowoc, Oconomowoc Area Chamber of Commerce, and Milwaukee Public Television (MPTV) for a free screening of "Around the Corner — Oconomowoc with John McGivern" before it airs on MPTV.   The public is welcome to attend, maybe we will see you there!
The episode of featuring Oconomowoc, will air on MPTV at 7 p.m. Thursday, March 27, on Channels 10.1 HD and 36.2. It will be rebroadcast at 8 p.m. Friday, March 28, on MPTV 36.1 HD.