Elevate is back with an opportunity to get a great workout in with friends while supporting a cause that is close to your heart! Race for the Reason at the Sharon Lynne Wilson Center in Brookfield is set for morning of October 24, 2020 – this year with a Halloween and socially distanced twist! It's the Halloween Hustle! 
Our favorite part of this event is that you get to pick the cause for your run/walk. 2020 will be Elevate's 4th annual Race for Your Reason: a unique 5K that highlights 5 charities/causes. Participants may choose one of our charities to have their registration go towards, split across our 5 reasons or write in whatever charity they support! 
In 2018, Race for Your Reason raised over $12,600 for over 20 charities. Join in this year for the 5K, 1 mile Run/Walk or Kids Run and stay to enjoy the post-race Brunch Bash. The race takes place at The Sharon Lynne Wilson Center in Brookfield. Please consider racing for whatever your reason may be!
What's the Deal?
Register to race here. 
10/14 ONLY: Buy one registration, get one 25% with code: BOGO
2020 Featured Charities
Chasing Chad
Good Friend Inc.
Sharon Lynne Wilson Center for the Arts
Milwaukee Homeless Veterans Initiative
Pancreatic Cancer Action Network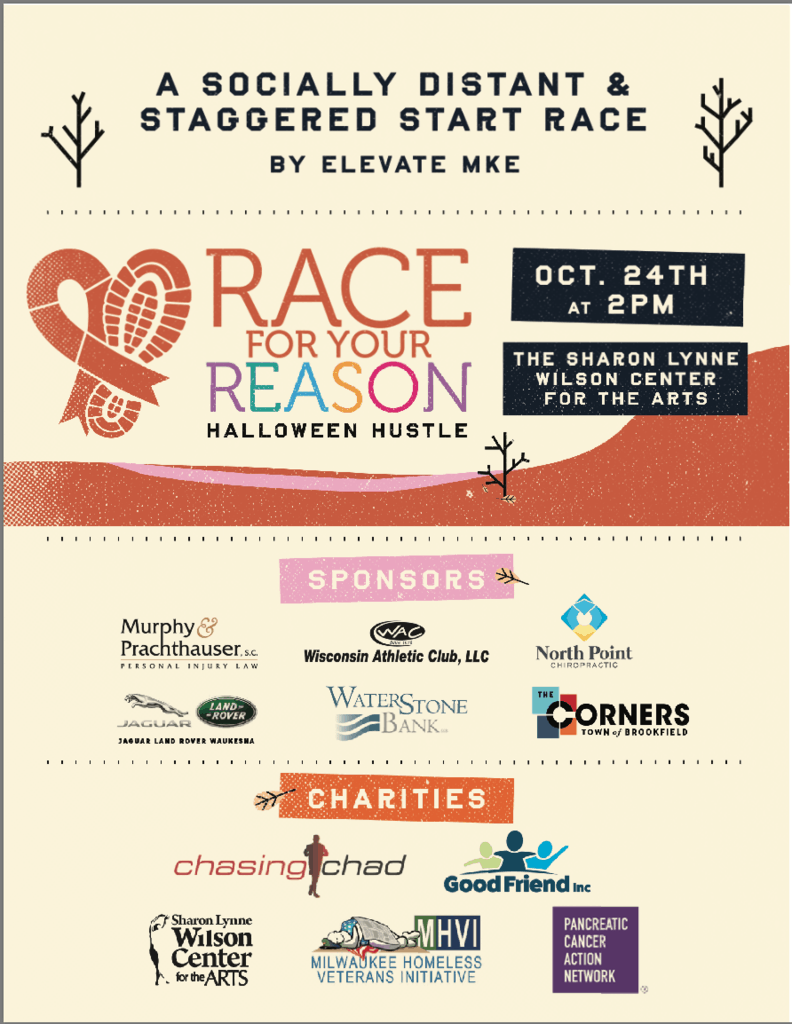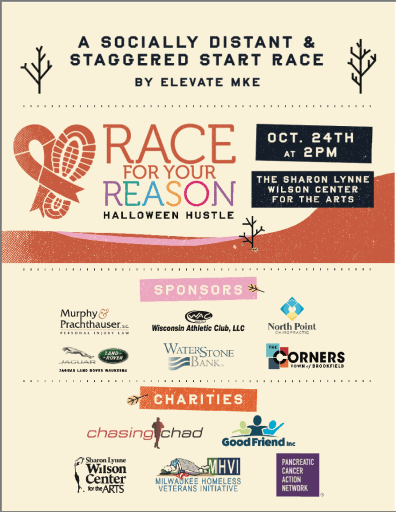 Quick Facts:
Date: Saturday, October 24, 2020
Time: 2:00 pm
Location: Sharon Lynne Wilson Center for the Arts in Brookfield
RSVP to this event on Facebook here.
Be sure to follow Race for a Reason and tag your fun on Instagram here.
About Elevate:
Elevate was founded to help lift others up and inspire through community events, races, competitions & fundraisers for causes that we're passionate about.

They are also the force behind the popular Rock the Burbs.
Related "City Love" Articles