Welcome to our series on relationships, because that is what life is all about ? This week Martha will tell us about looking out for yourself. Self-care is so important to our health and our ability to care for others. We hope you enjoy reading. Please let us know if you can relate and how you nurture the relationships in your life.
---
A Series on Relationships –
Chapter 5: Looking Out For Yourself
I've always been pretty independent. I'm the oldest child in my family, am typically pretty driven and find comfort in knowing that I can take care of myself. For a long time after I graduated from college, I was on my own – sure I had roommates who I loved and still love to this day, but for the most part, I paid my bills, kept myself alive and figured out how "adulting" worked. I didn't have anyone else depending on me for a roof over their head or their next meal. I made a lot of mistakes along the way, but am always really proud of that part of my life. Once Casey and I got married, we started to combine all of our assets, sharing insurance and all of the other responsibilities that come along with making big purchases and starting a family. The mentality that we have now is the money we make, the life we have together – it's all ours. We share some of the best and most important parts of life that a person would ever dream of; a home, a family, and some pretty great friends and extended families supporting us. I love sharing all of these things with my family and I would not change a thing.
Being Mama….
When I became a mom I began to realize just how much less you care about yourself and how easy it is to lose yourself in your baby and family. Raising a little human is all consuming. The pressure is overwhelming – there are a zillion "standards" for motherhood and guess what? They all conflict with each other! "Lose the baby weight fast", "Let yourself take it easy for a while", "Nurse your baby", "Formula is great", "Stay home and take care of your child", "Go back to work, it's fulfilling". Yeesh! My path looked like this: "Be easy on your body, you just made a miracle happen", "Try your best with nursing only for it to not work, feel like a failure and then slowly forgive yourself for not being able to nurse, because it's OKAY", "Go back to work because it is good for your sanity, and mental health". My choices are not the same as other moms, and I'm okay with that.
What's Your "Thing"?
This last chapter in my relationship series is extremely close to my heart – as it's the entire reason I started blogging in the first place.
When Dane was about two months old, I was going though the motions every day – but not really feeling back to normal. I knew that the old normal was gone, the days with very few commitments, being able to jump up and go out for dinner and not plan too much in advance… those days were pretty easy ones…I realized I needed an outlet that was something just for me, I'm a creative person by nature and had been working in digital marketing for a while, so I was familiar with blogs and the online space – enough to feel confident about designing a modest website. I also loved writing, taking pictures and documenting life's little moments, so I knew a blog was the right creative path to take. I talked to my husband and close friends about my idea and they all were incredibly positive about it and encouraged me along the way. Once I got going, I felt completely invigorated and excited about my adventure. The best part? It was mine. It was something that nobody else took part in, the creative direction was up to me, I built my editorial calendar, I created all the graphics and took the photos, it was me – through and through. This blog has been one of the biggest factors that have helped me nurture my relationship with myself over the past 7 months. My main takeaways:
It keeps me thinking – I'm always brainstorming up blog ideas. I think a lot about what people actually want to read? Why do they read my blog posts? Which ones are the most popular? I'm always analyzing my results and trying to improve.
It forces me to recognize and emphasize my strengths. I am not a supermodel. I can't artistically hold my coffee mug while sitting in a position to show my new boots while also strategically showing off my perfect manicure. However… I AM good at cooking. I love it, and it's fun for me… so I blog about my recipes and take food photos. There are few things that give me a better feeling than when someone likes my food – or I get a text from someone making a recipe I posted on the blog, asking a question about it. THAT is fulfilling, and it makes me proud.
It pushes me outside of my comfort zone – Yes, I'm an extrovert. I'm loud, not typically shy and like to be in the center of the conversation. I share a lot online and always have. But just because I'm an extrovert doesn't mean I'm super confident. The blog allows me to be vulnerable, and show parts of me that I guard, and I think it's an important perspective to have.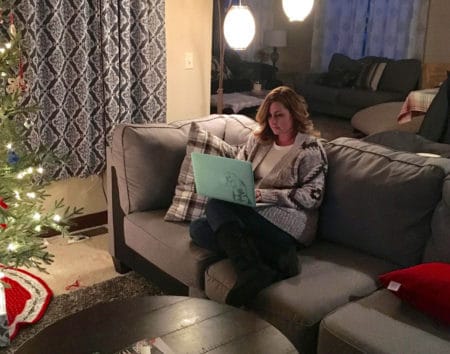 So my whole point here is, whether it's a blog – or yoga practice – or reading… it's important to find that thing that keeps you, you. Ask yourself what keeps you thinking? What forces you to recognize and emphasize your strengths? What pushes you outside of your comfort zone?? Nurture it, make time for it, and keep it a priority. It's easy to get wrapped up in daily life, but I encourage you to make time for you – because YOU MATTER. Yes, of course your partner and kiddos and whole family matter too, but it's incredibly important to look out for yourself too!
Instagram: @marthaherdy
We hope you enjoyed Martha's Series on Relationships! Be sure to read chapters one through four as well!